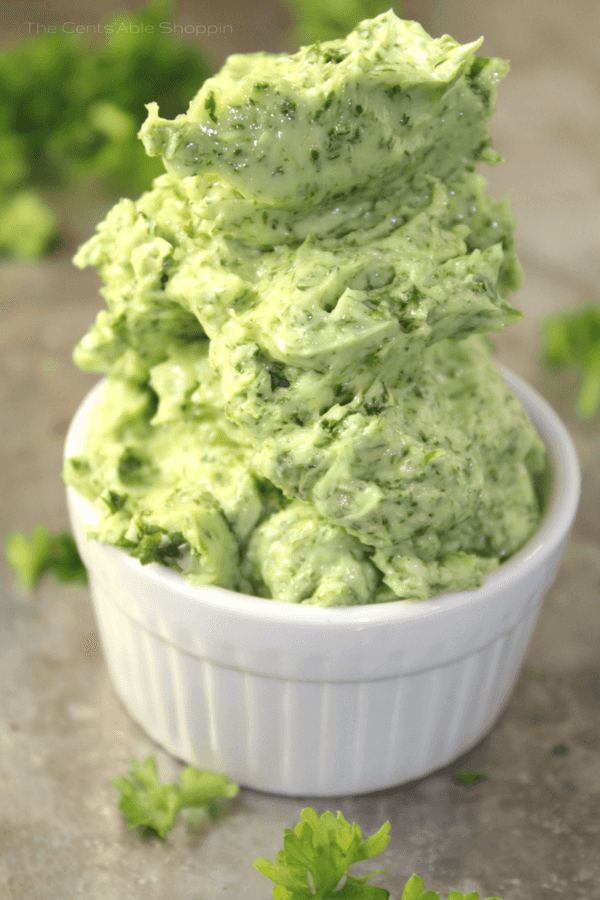 I confess.. I love parsley.
When it comes to having it on hand at home, I can't just buy a single bunch – I have to buy 2 or 3… I dump it in everything and then I realize I have more than I needed and I start to panic about how I'm going to use it up. Thankfully parsley is so incredibly hardy – it lasts quite a while in the fridge, and can flavor anything.
Parsley & Lemon Pesto is one of the first things I usually whip together with extra – Pesto can keep for a relatively long time. If I'm in a pinch I can pull it out of the fridge and mix it in with pasta – which works super when we are in a hurry to go to church and I don't have time to cook.
Not to mention Parsley Pesto works as a meatless meal when you combine with pasta – pretty important when there are lots of people at church who are vegetarian.
If you have some butter on hand you can use Parsley and Garlic to make a really nice herb infused butter, too. We had a friend give us some Wild Caught Salmon from up in Alaska, and this parsley butter tastes amazing when added to the top of the salmon with a little rice.
Herbed Parsley Garlic Butter
2016-12-29 22:36:30
An easy herbed parsley butter to garnish seafood, chicken, bread & more.
Ingredients
1 stick unsalted butter
1/2 C. chopped parsley
1 Tbsp lemon juice
1/2 tsp minced garlic
1/4 tsp salt
1/4 tsp black pepper
Instructions
Add all ingredients in the food processor and process until smooth.
Store in a covered container and use on bread, chicken, seafood and more.
Notes
Opt for salted butter and forego the additional salt.
Adapted from Epicurious
The CentsAble Shoppin https://www.thecentsableshoppin.com/