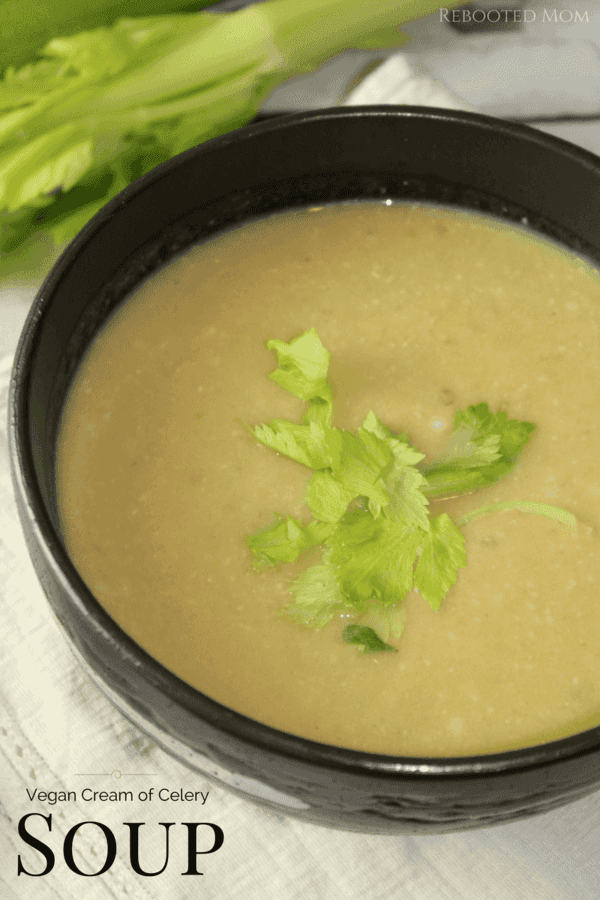 If there is one food that makes me say "ewww" it's Celery.
I just plain can't stand it. I'm not sure why.. but I just don't like it – at all.
Sure enough, we got celery in our CSA bag last week and I knew immediately what I wanted to do with it – I would use it to make food for church (that's always the solution, right?)
Every week, we are encouraged to bring a dish to pass at church fellowship – and every week I outdo myself by bringing not one, not two, but a whopping three dishes – I just love to make food.
In the past, I have taken celery and made cream of celery soup – and believe it or not, as much as I don't like celery, I absolutely LOVE celery soup (weird – right? That just makes no sense…) … so I figured I'd make a better celery soup. If I used celery for church I would have to modify my soup recipe because many people at church are vegan .. and so I'm up for a challenge in making sure the food I make can be something enjoyed by all.
The soup smelled amazing.
It was toted to church in our Instant Pot.
Time passes… the pot is empty. All of my kids were sitting at the fellowship table asking for a second bowl – the problem is, the whole pot of soup was gone.
I learned a very valuable lesson at church that day.
Celery Soup tastes amazing, even if you don't like celery.
Kids will eat anything if it smells good.
Kids will willingly eat anything you are equally as excited about.
The ironic thing about this whole ordeal was that the soup was all gone within minutes at church. Several days later, after school, I asked the kids what they felt like having for dinner and the oldest two responded with "the soup we had at church." ;)
We used Pine Nuts to make the soup a little more creamy. You can pick up pine nuts at Costco – they are fairly pricey (over $20 for a bag) but the bag lasts quite a long time as you only use a little at any given time. Use them to make pesto, too!

You will simmer the pine nuts right in the soup and then blend the soup with your immersion blender or your regular blender and make it extra creamy. Give it ample time to blend so that you can ensure you have a smooth soup.
Why Pine Nuts?
Pine nuts are actually the seeds of pine trees and contain large amounts of thiamine (vitamin B1) and protein. If you are trying to lose weight a substance in pine nuts may act as an appetite suppressant. (Source)
You could also use cashews too – we had pine nuts so we opted for them instead.
Find over 100 deliciously yummy Instant Pot recipes from vegan and vegetarian options, meatless, Mexican tamales and soups and more.
Vegan Cream of Celery Soup
2016-10-20 07:24:45
Serves 6
A creamy vegan version of cream of celery soup.
Ingredients
1 bunch of celery, chopped
1 medium yellow onion, diced
3 cloves garlic
1 Tbsp extra virgin olive oil
1/2 C. raw pine nuts
4 C. vegetable broth (+ additional)
1/3 C. all purpose, organic unbleached flour
Optional: fresh Thyme or celery leaves for garnish
Instructions
In the Instant Pot, use the saute function to saute the onion, celery, and garlic for 2-3 minutes.
Mix in the flour and make sure it covers all of the vegetables.
Pour in the vegetable broth and pine nuts, and place the lid on the Instant Pot, and close the valve.
Set the pot on high (manual) for 5 minutes... at the completion of the 5 minutes the pot will beep - allow the pressure to release on it's own for 5 minutes and then do a quick release.
Use an immersion blender to blend the soup - if you are without an immersion blender, carefully pour the soup into your regular blender (but be cautious as it's hot!) and blend until smooth.
Be careful when blending and work in small batches - hot soup expands in the blender and can blow the lid off if you aren't careful.
Pour back in the Instant Pot and season with salt and pepper to taste.. add thyme (optional).
If the soup is too thin, you can opt to add an additional 1/2 - 1 C. broth.
Serve with a garnish of fresh thyme or celery leaves and crusty bread.
Adapted from It Doesn't Taste Like Chicken
The CentsAble Shoppin https://www.thecentsableshoppin.com/