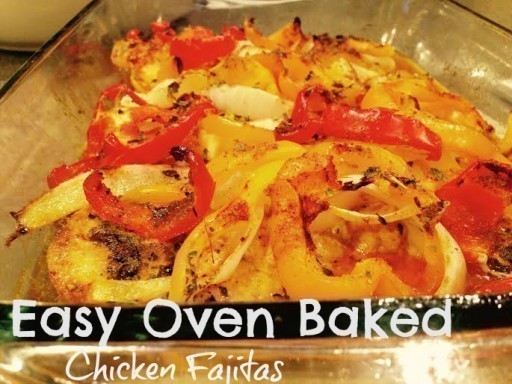 Do you have a ton of chicken? We do too ~ we stocked up on Zaycon and now my freezer is overflowing.
We love Chicken… and since we are trying to incorporate more vegetables into our diet, it seems to work well for us for dinners too.
I also visit the Ranch Market in East Mesa/Apache Junction weekly and every week it seems like I come home with a TON of peppers. Red Bell Peppers 5/$1, Green Bell 8/$1, and Yellow/Orange Bell are usually 4-5 for $1 too.
How can you not just want to get a ton?! That's my problem – and so using them is always a challenge. This recipe for Easy Oven Baked Chicken Fajitas will help you do that – it's healthy… and it's EASY too!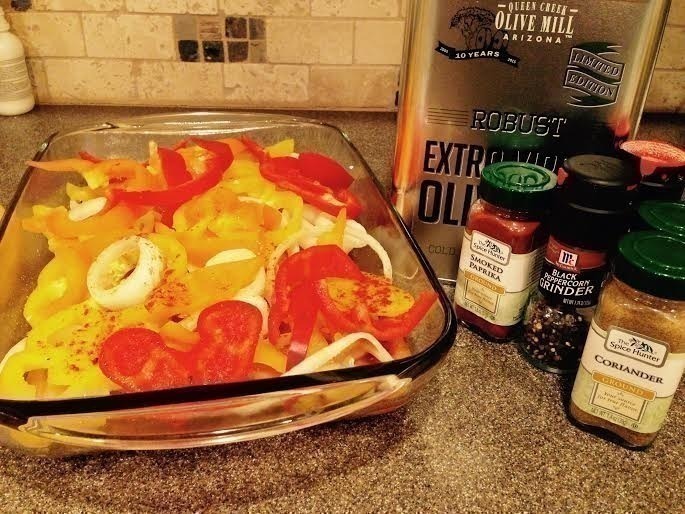 My Kids ate all the GREEN Bell Peppers (they have a tendency to eat the peppers straight from the fridge), so we just skipped those. We used a few extra spices too.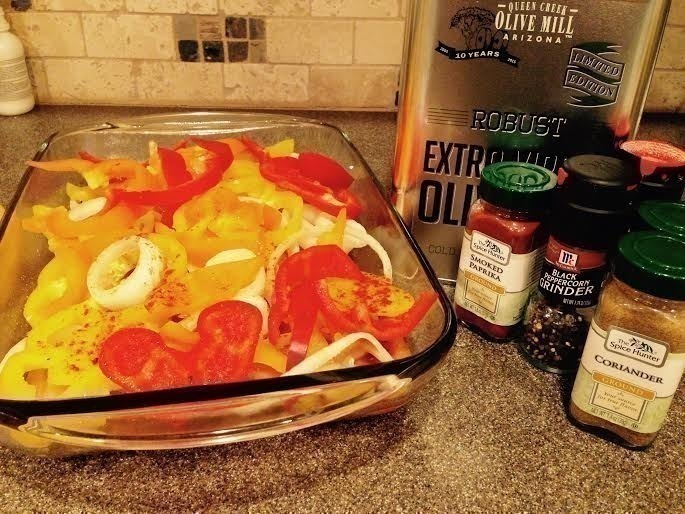 Oven Baked Chicken Fajitas
2015-05-11 22:38:44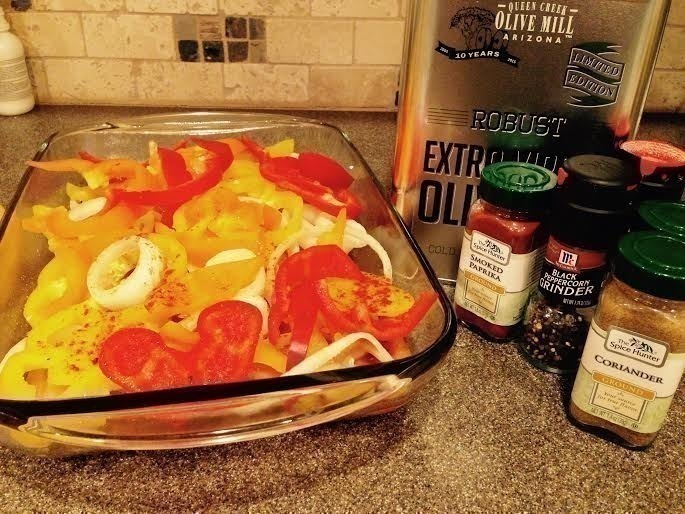 Serves 6
An easy way to serve up healthy dinner and use up some of those peppers and onions in your fridge!
Ingredients
2 - 4 Boneless Skinless Chicken Breasts (ours were LARGE so we used just 2!)
1 of each Red, Yellow, Orange and Green Bell Pepper - Sliced
1 White Onion - Sliced
2 Tbsp. Olive Oil
Spices: Cumin, Red Chili, Paprika, Salt, Pepper, Garlic Salt, Dried Oregano
Instructions
Thaw the chicken, and then slice into thin strips
Put the chicken in a Hefty OneZip along with the Olive Oil.
Add the spices - I didn't give you measurements because I don't measure! Use 1 tsp of each - use your judgement! :)
Seal up the bag, and ask one of your older children to toss it around as you slice the Peppers & Onions.
Then grease a 9x14 Casserole Dish with cooking spray, and pour the chicken in there
Top with Sliced Peppers, Onions and then season the top just a bit
Put in the Oven for 350 for 30-35 minutes or until cooked
Serve with Tortillas and Sour Cream
Notes
If you have more spices you are welcome to add - I used Black Pepper & Coriander too!
The CentsAble Shoppin https://www.thecentsableshoppin.com/