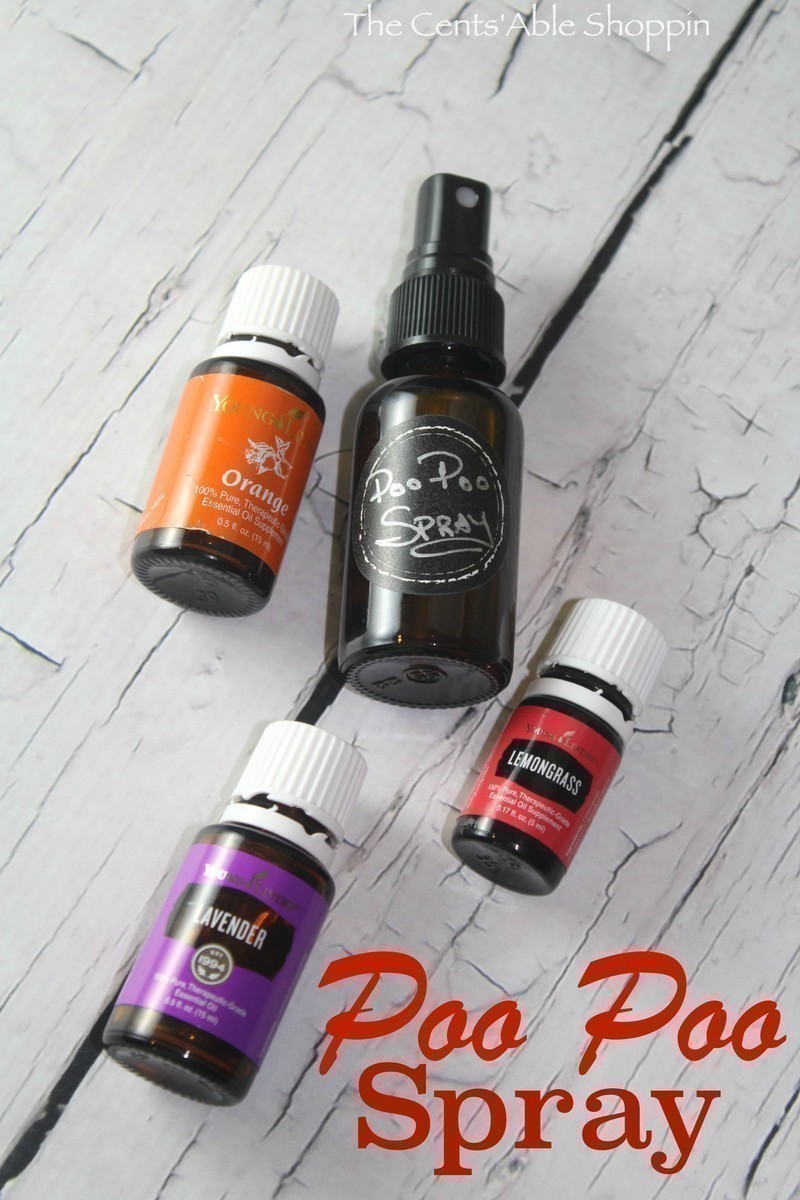 We have just two bathrooms in our house – and compared to some people with 4 or more.. I'm content with 2. Not too many to clean and not too few that we have people banging on doors screaming "HURRY UP! I have to go!"
What is Poo Spray?
If you look on Amazon you can pick up Poo Spray for about $10 – crazy quite honestly, who pays $10 for spray? It's probably cheaper to make it yourself – in fact, I know it is.

Hide the Embarrassing Odors
This Poo Poo Spray works great in the bathroom – if you wish, you can also make smaller size ones for portability – perhaps you or your spouse work in an office with a shared bathroom.
It would be effortless to have a smaller little sprayer to carry around that you can whip out of your pocket and spray as needed. If you use the small atomizers HERE you can skip the glycerin and use just 4-5 drops per each oil – top off with distilled water and a smidge of Witch Hazel.
To Use
Just spritz 3-5 sprays into the toilet bowl on the water's surface. Use the toilet as normal — the Essential Oils will crate a barrier – trapping that nasty smell under the surface before it begins.

Homemade Poo Poo Spray
12 drops Lavender Essential Oil
8 drops Orange Essential Oil
8 drops Lemongrass Essential Oil
1 tsp Vegetable Glycerin (find it on Amazon)
4 oz Distilled water
1 Tbsp Witch Hazel or Rubbing Alcohol (helps with suspension)
Glass 4 oz Spray Bottles (find on Amazon)
Just mix together and spray 3-4 sprays on the surface of the toilet water before you go… if you need to spray afterwards you can do that too. Use any Essential Oils that you absolutely love.

Read our last post to learn WHY we love our Essential Oils so much, and why we chose Young Living.
Thankfully Young Living makes it incredibly easy to score a wholesale discount on your oils – when you pick up their starter kit you get ALL of those oils above, and a diffuser – not to mention the opportunity to buy your oils at wholesale cost for the REST of your life.