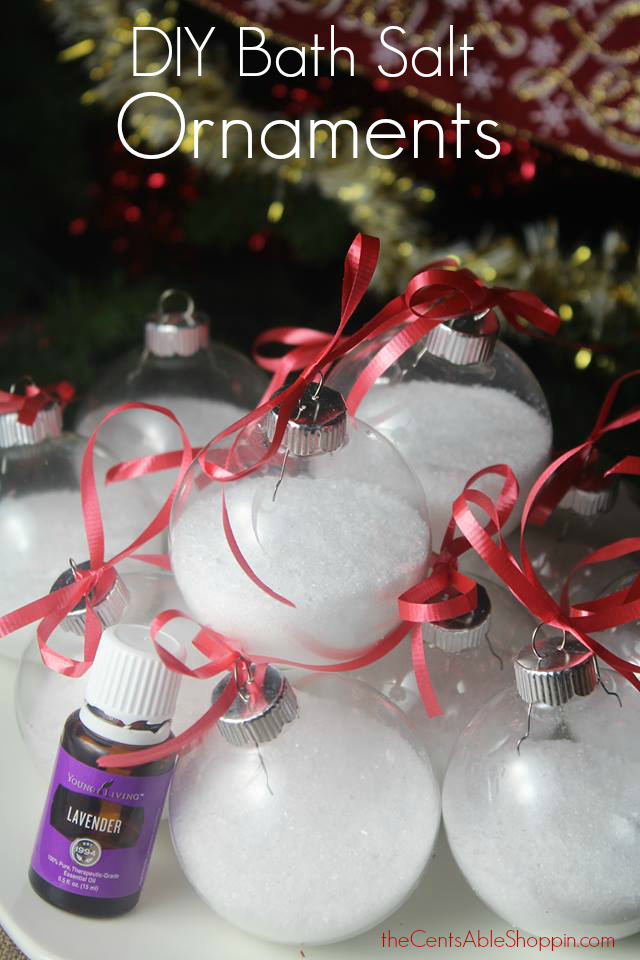 Here's a fun & inexpensive way to gift this Christmas!
We mentioned that we have done quite a few homemade gifts for a few people in the family this year – it has been fun because my kids have helped, and they love to do things with their hands… my 9 year old loves making things (what 9 year old girl doesn't though?)
If you are thinking of gifts for the office, or for some of the women in the family as part of of a beauty basket these would be GREAT. They are going to be too heavy to put on the actual tree – at least for us, they are going to be gifted as part of their Beauty Basket as a fun bonus.
I'm super excited because I think they are SO cute!
You will want to visit Hobby Lobby or Michael's & pick up the 12 ct Glass Ornaments – they were on sale at Hobby Lobby last week for $4.50 … but they were even LESS at Michael's though because for a few days they were 60% off.
I picked up the Epsom Salt at the 99 Only store – a 2 lb box was $.99 and plenty to make 12 ornaments. We used Lavender Essential Oil because it's so relaxing for baths.
Lavender Essential Oil: Used for it's relaxing & calming properties, eases tension.
Steer clear of those cheap Essential Oils you find in stores on shelves, many ARE cheap because they are processed with chemicals, and although they mention that they are pure, they are less than 10% of the actual plant oil and composed of up to 90% other materials. Since you are adding this to your bath water, and putting it ON your body it's important you know what you are using!
Ingredients:
12 Glass Ornaments from Hobby Lobby or Michael's
2 lb. Epsom Salt (you can buy at Walmart, 99 Only Store)
20-25 drops Essential Oil – We used Lavender (see what we recommend HERE)
Instructions:
Pour the Epsom Salt into a Metal Bowl (you can't use plastic with Essential Oils); add 20 -25 drops to the bowl and stir to combine with the Epsom Salt.
Take the tops off the Christmas Ornaments, and (we used a piece of paper shaped into a tube) to funnel the Epsom Salt into each one ~ fill 1/2 to 2/3 full. Then add the Ornament topper back on, and proceed to the next one.
The whole project MAY take you 30 minutes (if you don't have kids, then even less – but I had to keep stopping because they keep spilling salt!) We used ribbon to tie on the top.
Later on when we get back to the Craft store we will pick up some little chalkboard tags to add a Holiday Message.
We suggest gifting these in a gift bag with some tissue – they are a little too heavy to hang on the tree.
I LOVE and exclusively use ONLY Young Living Essential Oils – if you would like to read more about why we do, and how we started head HERE.