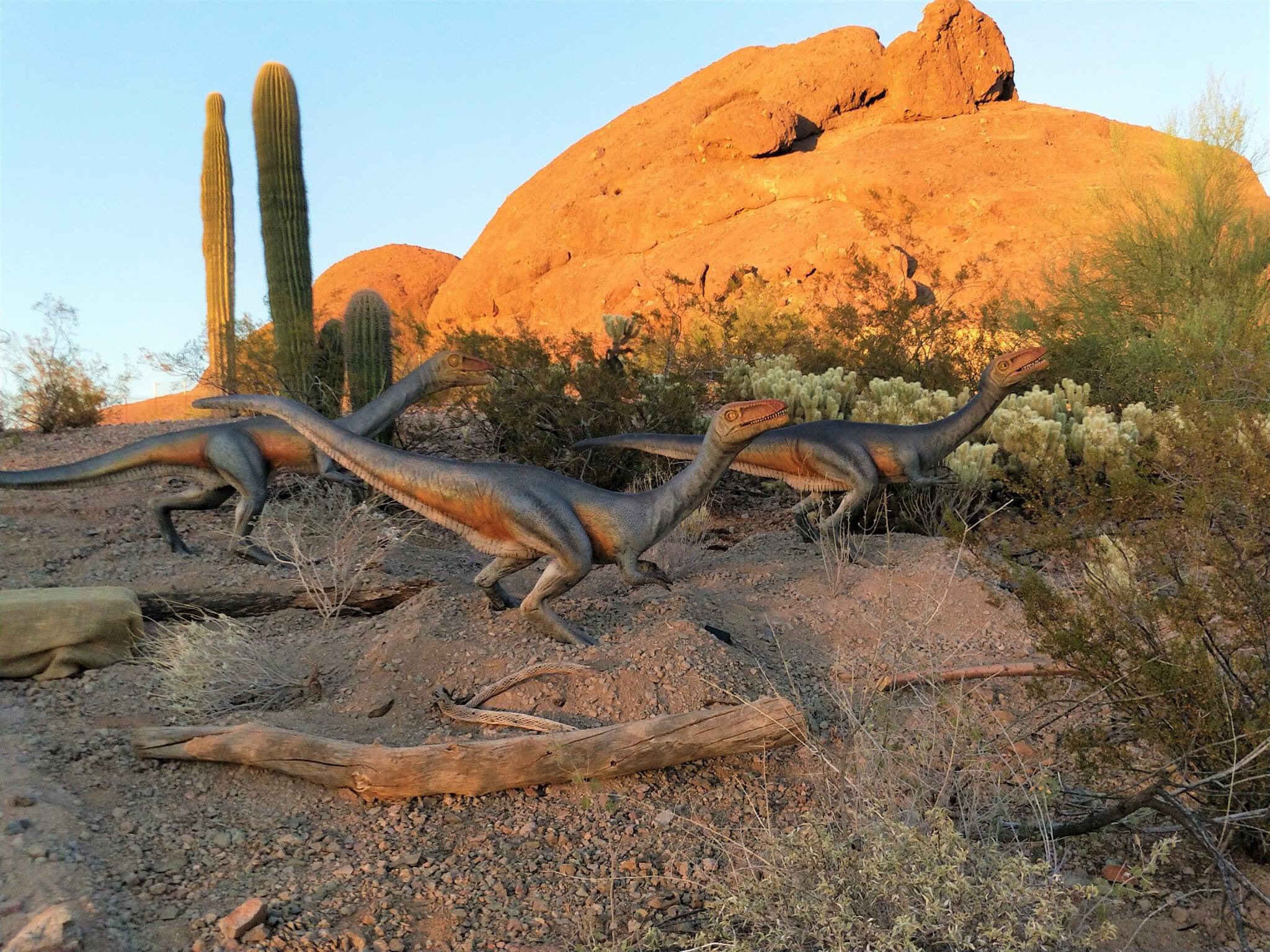 Through April 30th, 2018, when you visit the Phoenix Zoo you will also have the opportunity to see Dinosaurs in the Desert.
Entrance to Dinosaurs in the Desert is only $4 for members and $5 for the general public in addition to Zoo admission. Remember that POGO pass members will score FREE Zoo Admissions (2) with each POGO pass – Dinosaurs in the Desert will be an additional charge (well worth every penny!)
The Dinosaurs in the Desert experience is similar to the cost of Stingray Bay, the Giraffe Encounter, etc.
Twenty-three prehistoric creatures have officially descended onto the Phoenix Zoo's Desert Lives Trail. This is an unforgettable self-guided expedition into the land of the lost you won't want to miss.
If you don't have a POGO pass, this would be such a great time to invest in one – for one low cost you will get FREE admission to over 20 venues over a 12 month period.
Venues included in the pass are those noted below:
FatCats – 1 game of bowling per month + 1 Glow Golf per week
Urban Jungle – 1 visit per year
Wazees World Laser Zone – 2 visits per year
Ice Den – 1 visit per month
AZ Air Time – 2 visits per year
DBacks Games ~ 2 games per year
Phoenix Mercury ~ 3 games per year
Arizona Rattlers ~ 3 games per year
Enchanted Island Amusement Park ~ 4 visits per year
Golfland Sunsplash OR Breakers Water Park~ 1 waterpark admission
Stratum Laser Tag ~ 2 visits per year
Phoenix Rock Gym ~ 2 visits per year
Phoenix Zoo ~ 2 visits per year
USA's Skateland ~ 2 visits per month
i.d.e.a. Museum ~ 2 visits per year
Tempe Paintball AND AirSoft~ 1 visit per month
ASU ~ FREE Admission to ALL of the ASU Athletic Home Games (Soccer, Wrestling, Volleyball, Gymnastics, Baseball, Track and Field, Basketball & more)
Golden Pin Lanes: 1 Game per Week
Golf'N Stuff: 3 Visits
Arizona Adventures (Zip Line): 1 Visit
International Wildlife Museum: 1 Visit
Some facts about the POGO Pass:
ONE pass is required per person.
We recommend a pass for ages 2 and up.
Venues can change at any time!
You can print your pass OR log into your account to show your pass at the venue.
Some venues have specific hours to use your pass, so see the POGO website for more.
POGO Passes are personalized so you cannot "share" a pass.