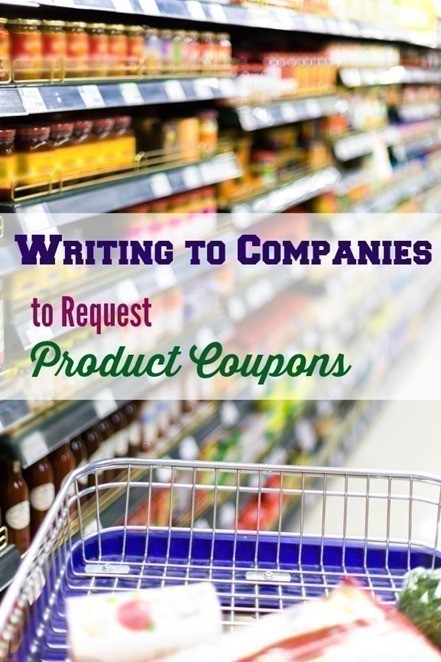 Over the last few years I have mentioned on many occasions how you can reach out to manufacturers in efforts to score product coupons.
Writing to companies is a great way to get some additional savings on products you normally buy – and in some cases, it can be a great task to work on with your kiddos.
A few months ago, I documented my success with writing – as I reached out to 5 companies daily for a period of 8 weeks. 
My goal was to request produce coupons since those are items that are hard to find savings on (see that post HERE for Fresh Produce Savings).
7 Simple Steps
Make a list of foods you purchase regularly, and write their names on paper.

Each day, set time aside to reach out to them via their website – look for the Contact Us link to submit your comments.

Within each comment, make sure you fill out your home address, and email – as many will respond back to let you know your email has been received.

Note on your spreadsheet who you have contacted so you can keep a tally of the responses.

In the contact form, keep your transmission brief – what do you like about their product? What do you dislike? What could they improve? Do you like the NEW flavors they have?

Document their response, if any.

If you DO receive coupons, make sure you reach out to them to thank them for responding so favorably.
Some companies will have an auto-response anywhere from immediately to 4-5 days later; others will respond within 24 hours to thank you for your feedback and some will respond to let you know they are sending coupons by mail.
Here's a great example of a letter structure you can follow:
Dear Turkey Hill,
I just wanted to let you know how much my kids love your Tea. I'm happy that I can always find it available in my local Kroger Affiliate – it's even better when I can use a coupon to reduce the cost.
We'd love to know if you had a few coupons you could send us by postal mail so we can pick up our favorite flavor in store. Thanks!
Should you wish to contact companies you can use this spreadsheet here – it has been a while since we have updated, but it's a great foundation as it's a clickable PDF – start at A and work your way down the list.
Don't see your company on the list? Just head to their website & find the CONTACT US link on the bottom of their page.
See past reader experience with Coupons for Compliments if you should wish to start writing – reading back here will give you some ideas on who you may want to reach out to first.