Brighten up someone's day with this Box of Sunshine Yellow Care Package – full of yellow-themed ideas from candy to beauty items, post-it notes and more!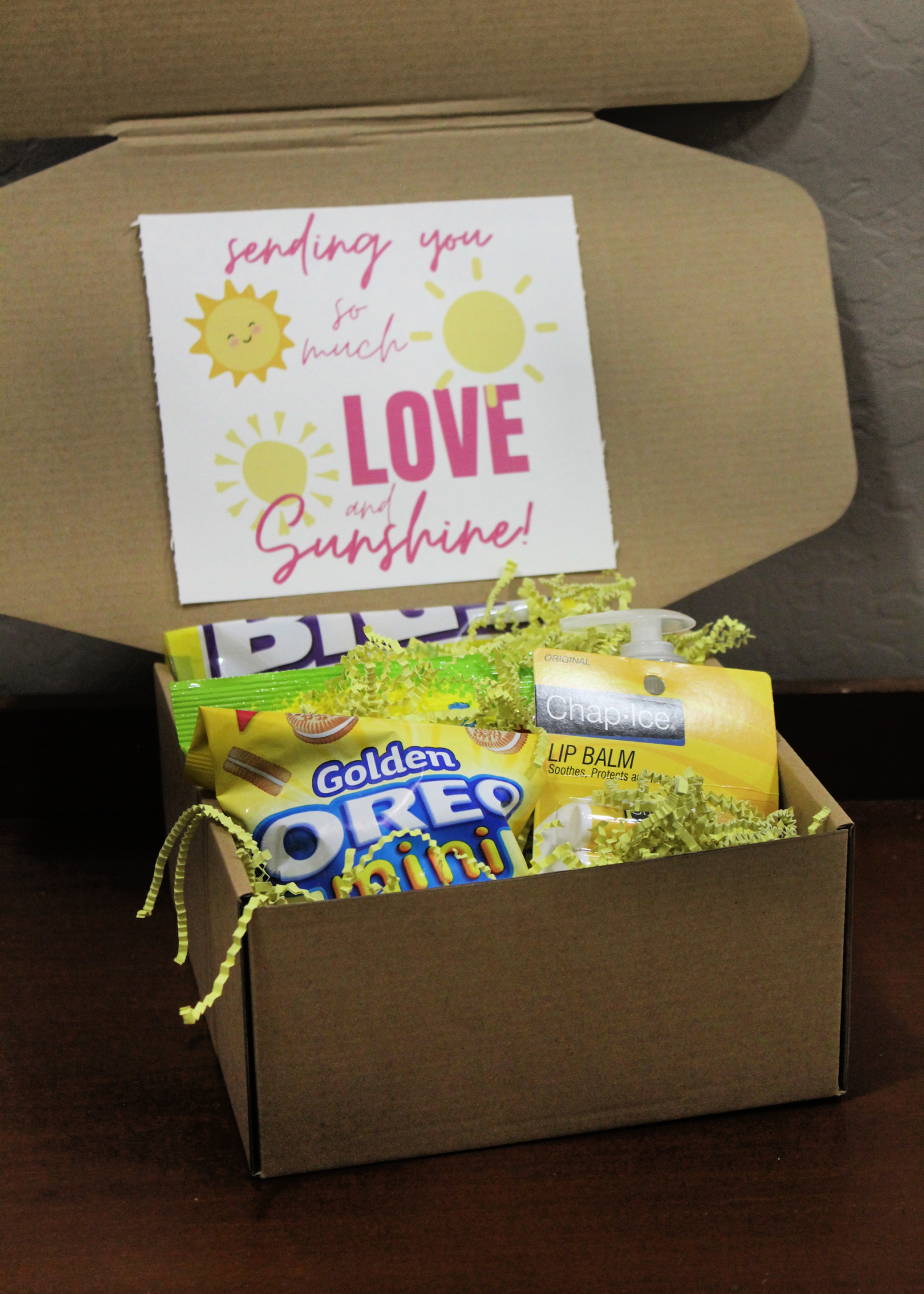 If you are looking to send a care package to someone in your life who is very special, you just hit the jackpot.
This Box of Sunshine care package is just that — FULL of SUNSHINE! 🔆 🔆
I have a LONG, long L O N G list of cute ideas for a box of sunshine for that special person. From food to books to candy to beauty items, this post will help you gather up everything you need that's perfect for cheering someone up at any time of the year.
What do you put in this box of sunshine?
Making a box of sunshine that's cute, crazy, FUN and awesome is simple.
Step 1: Start with a box, basket or holder of your choice. I love these 8x8x4 boxes I picked up on Amazon, but you can use any box that you have at home.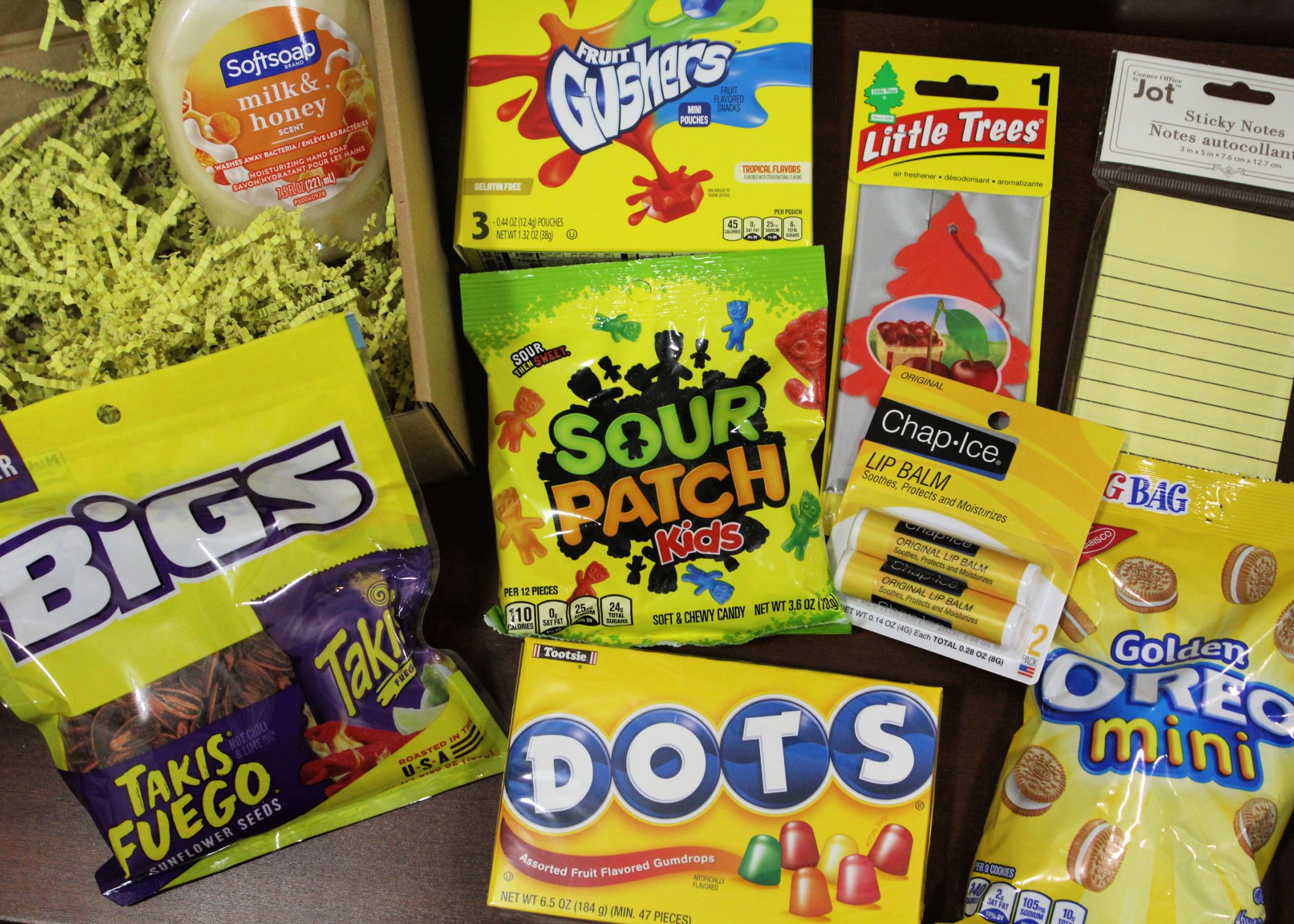 Step 2: Gather YELLOW items and put them in the containment device (box, basket, etc.) That's it! The best part about these care packages is that they are completely based on what you put in.
There is no right or wrong way to put one together.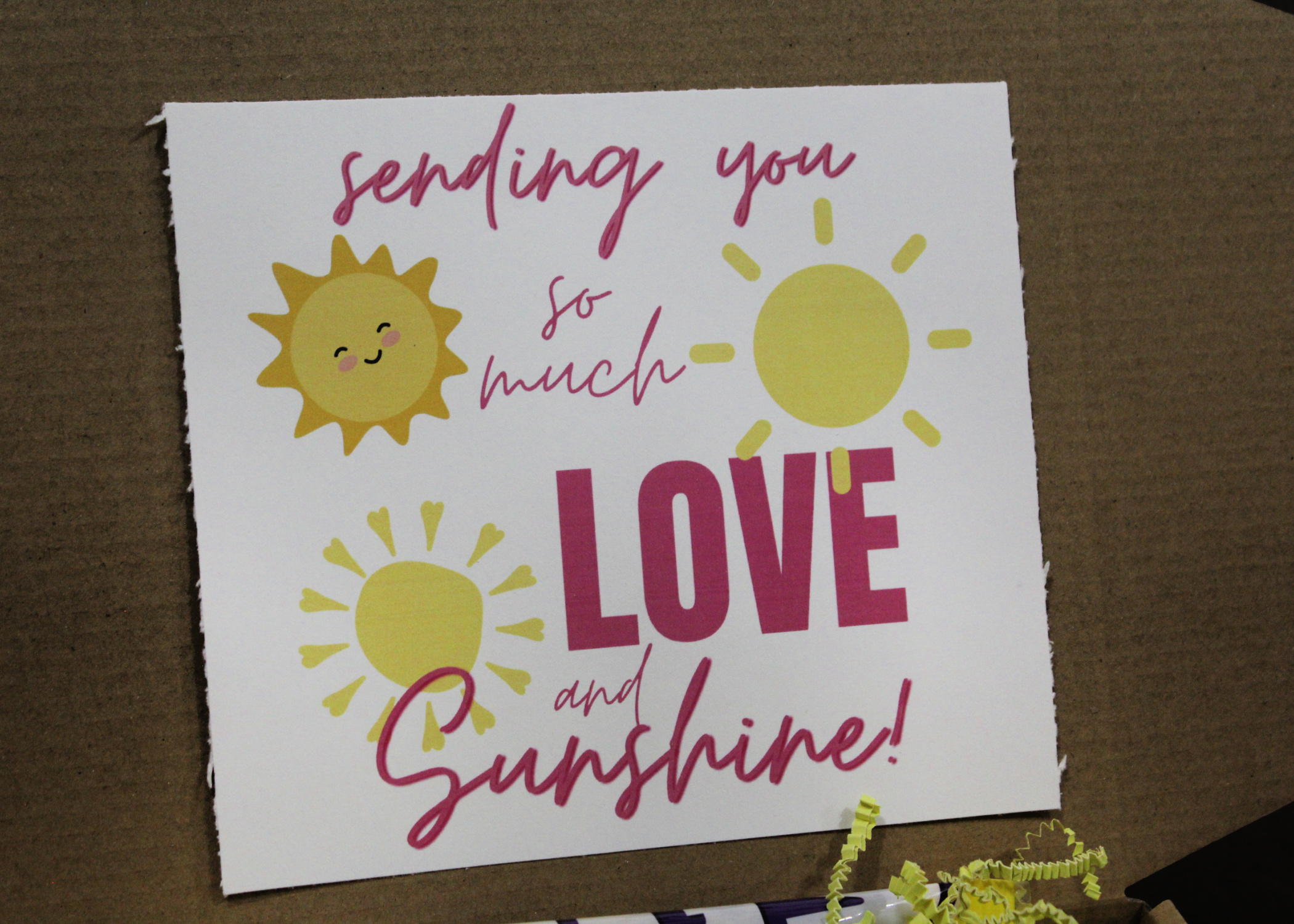 You can take it a step further and paint the box yellow…. or use box flaps that you design in Canva, or even go and use yellow tissue paper or yellow Kraft shred. Do what works for YOU in this case.
Just remember: it's the thought that you put into it. Anything you do will be a meaning impression – it's more about the love and inspiration you put in the box than it is how much "stuff" you buy.
When you are in doubt, always use food or common every day items – food never disappoints, and lip balm, hand sanitizer, or hand soap – those are all wonderful options, too.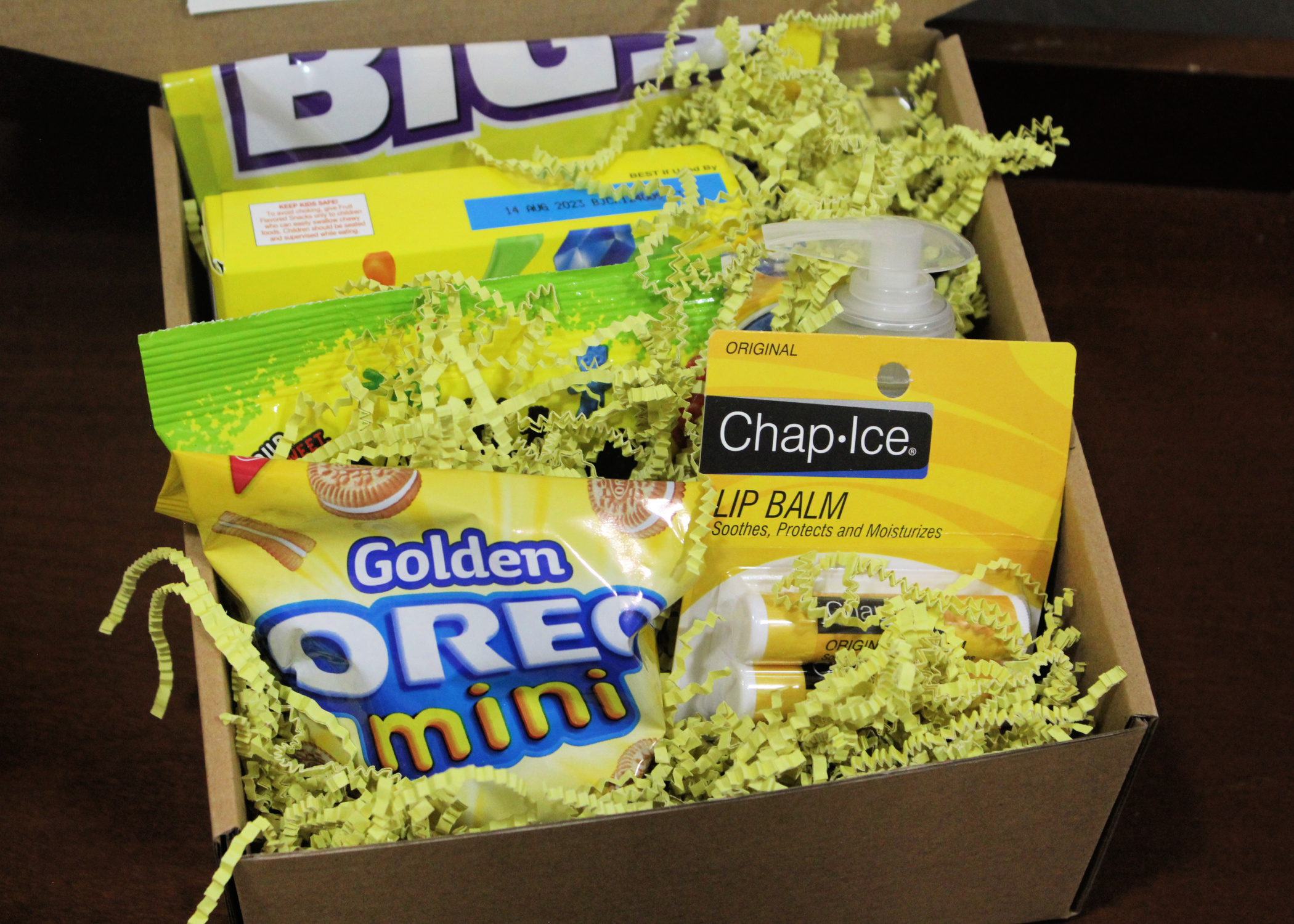 Yellow Sunshine Care Package Ideas
Here are some ideas to help you put together a YELLOW sunshine gift box/care package:
Lay's chips
Juicy Fruit Gum
Trident Gum (yellow box)
Nerds
Golden Oreos
Sour Patch Kids
Sugar Babies
Dots candy
Mr. Goodbar Candy Bar or Miniature Candy Bar pack
Lemonheads
Lemon Skittles
Yellow Hand Soap
Mrs. Meyer's lemon hand wash
Burt's Bees Lip Balm
Yellow hand sanitizer
Yellow Bath Bombs
Funyuns Onion Rings
Starburst
Lorna Done Cookies
Chuckles Minis
Kool Aid Packets
Wyler's Lemonade Drink Packets (about $1.29 at Walgreens!)
Popcorn (Jolly Time)
Play Doh
Tic Tacs
Nail Polish
Small Tissue Packages in Yellow
Soap – the Dollar Tree frequently has lemon bars that are yellow
Fuzzy Socks in the color yellow
Sticky Notes
Fridge Magnets
Cascade Ice Beverage
Vitamin Water in yellow
Butterfinger – miniatures or regular bars
Carmex
Little Tree car air fresheners in lemon (yellow)
Lemon Candles
Gardettos
Famous Amos Cookies
Yellow Glow Sticks
Yellow Stress Ball
Yellow Hand Lotion
Post-it notes
Yellow suckers
Walk up and down your aisles at the local Dollar Tree and look for yellow packages in any of these items:
candy
cookies
hand sanitizer
gum
jerky
nuts
lotion
chapstick
trail mix
card games
hot wheels or small toys
Go a Step Further
Cut wrapping paper to size and glue to the inside of the box. Or, decorate the box with box flaps that you print out on your printer and glue or tape on the inner flaps of the box.
I used this for my yellow sunshine care package box: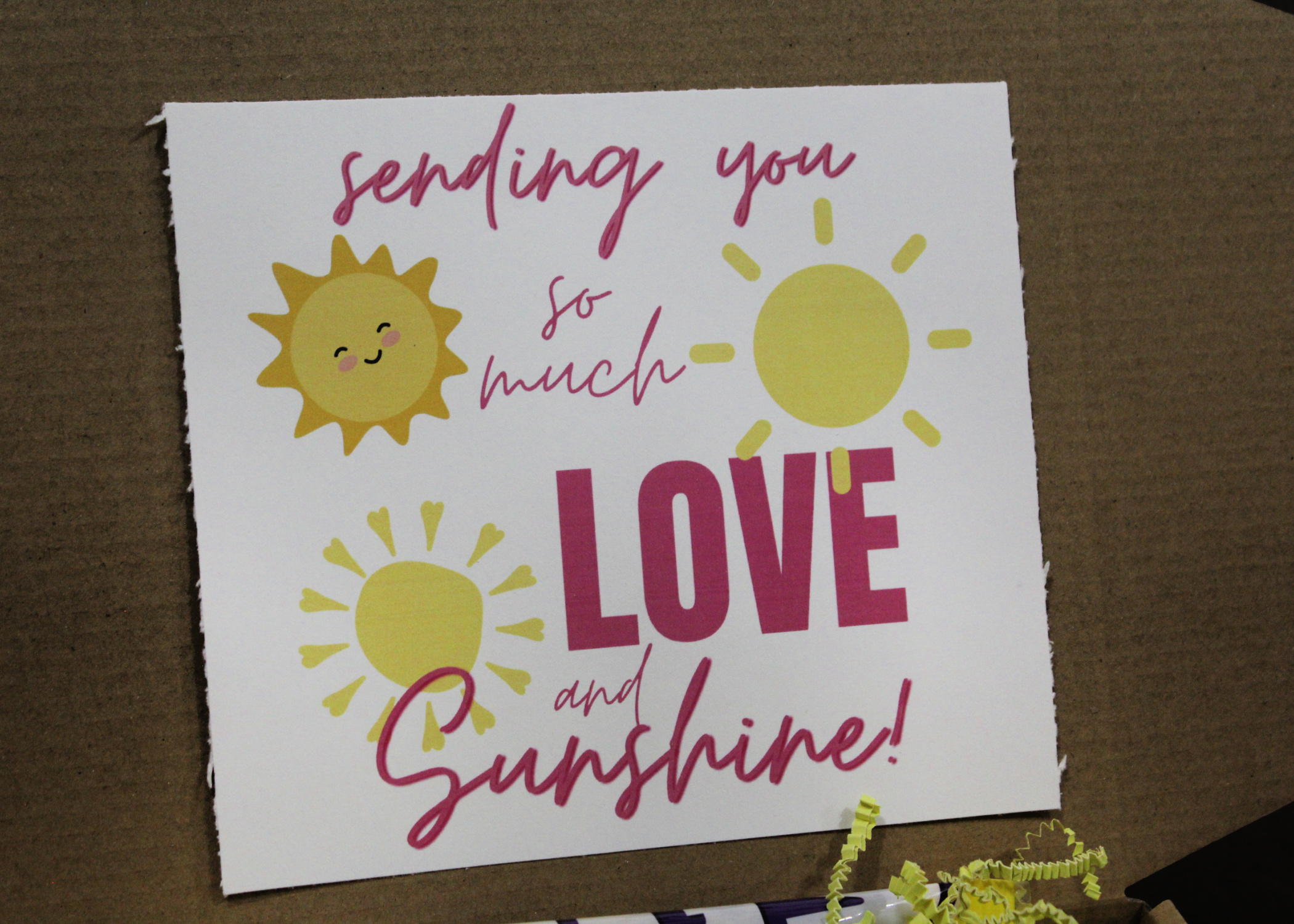 That prints on a regular 8 1/2 x 11 piece of paper – you can download it here.
Finish your Care Package
The final product ultimately depends on how creative you can be!
Advice: My best advice is to stick with one store. I suggest Dollar Tree or your local 99 cent store. Wander the aisles and look for anything that's yellow.
Depending on the size of your containment device (in my case, a box), aim for 8-10 items.
Then pick up coordinating tissue that's yellow, or Kraft shred that's yellow and finish up your box.
A Little Personal Touch
To add some mph to the gift, find a gift card to somewhere the recipient would like and "up" the value of the care package.
You could go with a yellow "Subway" gift card, for example, and include it separately in the box or in a card that you tuck inside. I suggest attaching the receipt showing the balance of the gift card, to the back of the scrapbook paper in case you run into any trouble at the store trying to redeem it.
Have you ever sent a themed care package?
What did you include? How did you add a personal touch?