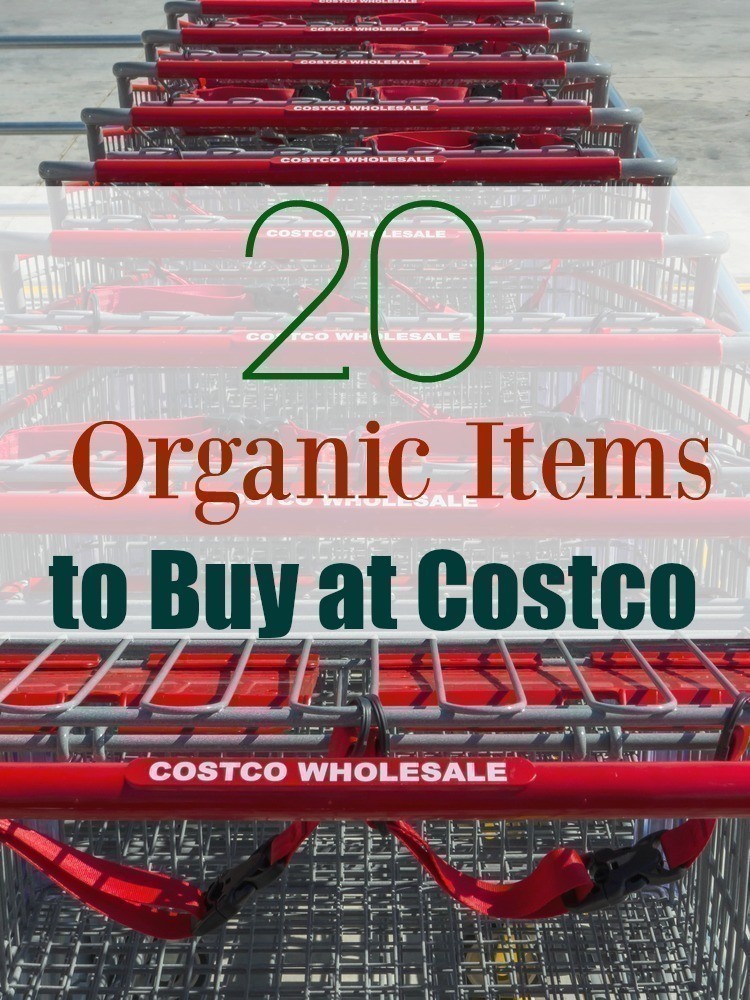 Although it never used to be my favorite place to go, Costco is an amazing way to shop for food, for less (in some cases) and avoid the work and effort of running store to store and finding empty shelves.
When coupon policies changed, it became even more important to check out alternative ways to save. And while the regular stores have the occasional great deal, having to deal with empty shelves, when you have 4 kids, limited time, and two full time jobs it is difficult to justify driving around.
We have a CSA at our local Farm that is weekly. LOVE that. And we purchase our Raw Milk from another local Farmer, and I LOVE that too. With both of these, we RARELY step foot in the grocery store. I love that the most
It seems like every trip we make to Costco, there is a greater selection – which is amazing.. because that must mean there is a demand for it. And that is exciting to know that more & more people are opting for those choices for their family. Many people think Organic items are much more in cost, and in reality, for some items (like meat and milk) the are – but for many items, they are just pennies more per ounce.
While not everyone wants to buy Organic or feels that it is a value, WE feel that it is, and we know that many of you do too. Organic items at Costco are VERY popular – which means there must be a demand. In comparison to most grocery stores, Costco has such amazing prices.
While stock varies from store to store, there are 20 Organic items we feel are a great value at Costco.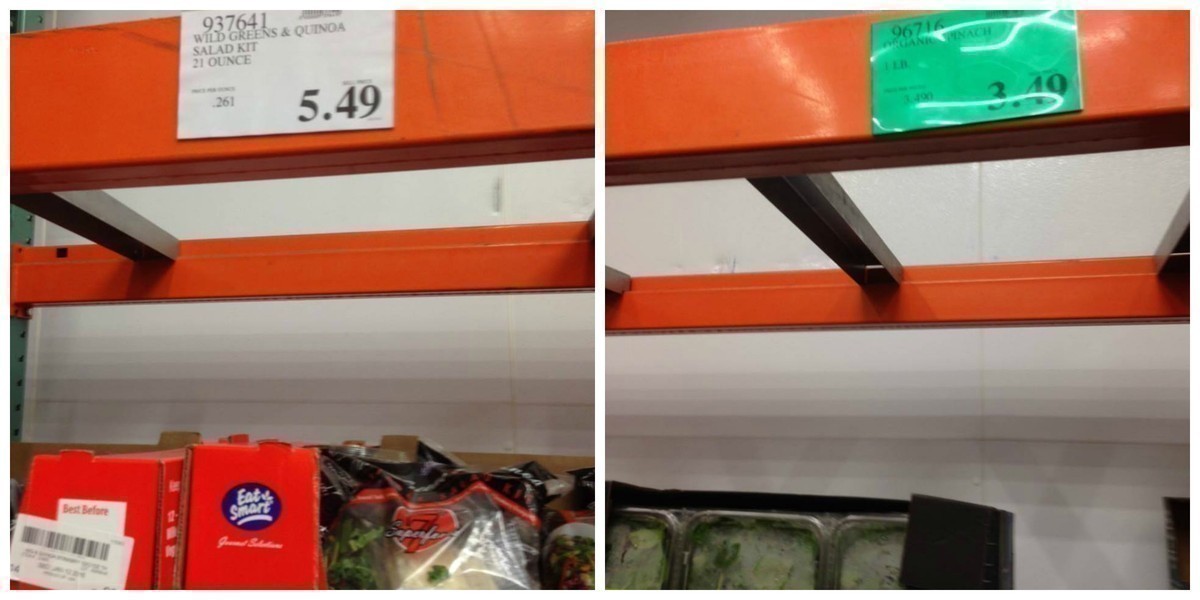 1. Organic Power Greens, and Spinach
Organic Power Greens come in a 21 oz bag for $5.49 – they are $.50 more than what you would pay at Sprouts but convenient if you don't want to make a trip – it's great for making salads each day at lunch or before dinner, or for smoothies if you have a VitaMix.
Organic Spinach is just $3.79 for 1 pound. Although you MIGHT be able to get Spinach for $3 – $4 in the regular store, you won't get Organic Spinach for that price unless of course you grow it yourself. Mix with your greens and eat a salad for lunch some tomatoes and sunflower seeds.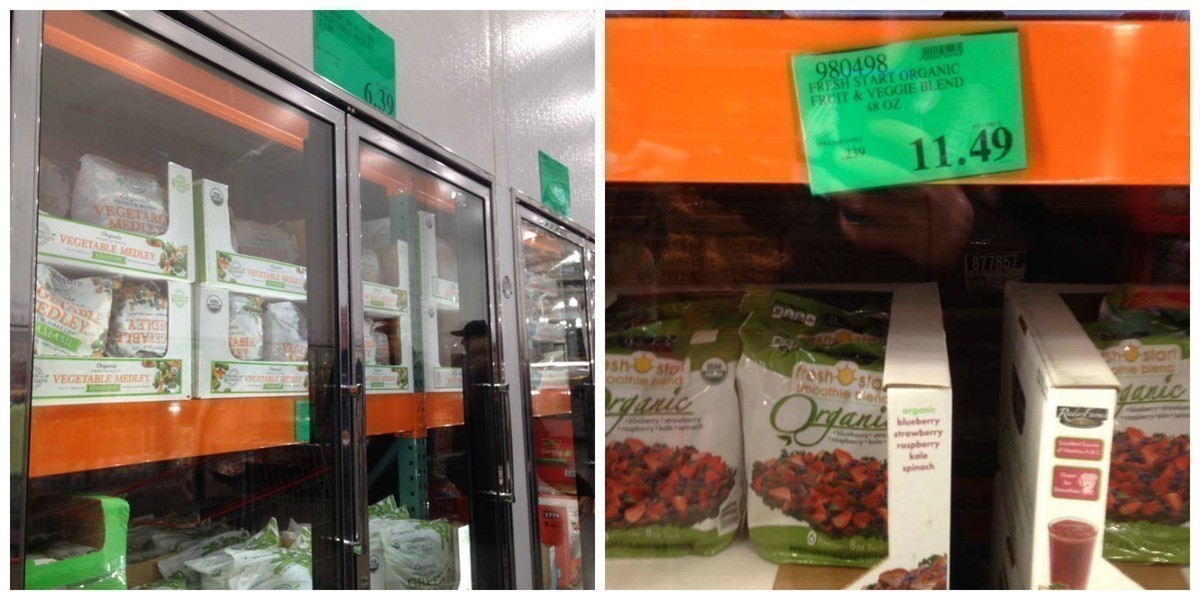 2. Organic Frozen Fruit & Vegetables as low as $.23 oz.
If you make smoothies regularly, you can score from a multitude of varieties of Organic Frozen Fruit from $.23/oz. It works great in smoothies.
Organic Frozen Vegetables start at just $.23 per ounce for the Vegetable Medley – they have everything from the Medley to Peas, to Broccoli & more.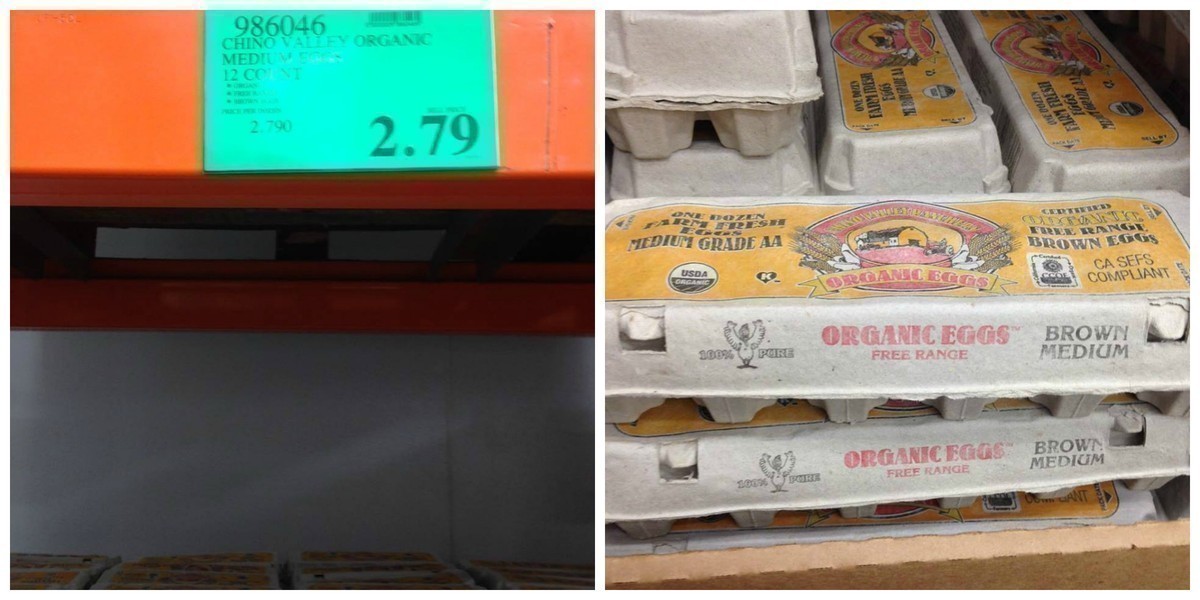 3. Organic Chino Valley Medium Eggs, $2.79/dozen
If you have an HOA, it's more than likely near impossible to have chickens – and although we'd love to support local, it's a hard bet to find organic eggs unless you wait until the Farmers Market in Gilbert or drive down to Schnepf Farms. Too far for us.
Superstition Farm doesn't have Organic Eggs, so Costco it is – and they are a whole dollar and a quarter LESS than Albertsons, which is the next best price of $3.99 per dozen. Even better, the Eggs are from Chino Valley — so in a way you are supporting a local farm.
3. Organic Ground Beef $5.50 lb
Ground Beef has risen in price SO MUCH over the last few years…. but right now you can find 4 pound packages of Organic Ground Beef for just over $21.50 at Costco.
We don't eat red meat at all … if we do then it's a rare circumstance (if we are out to dinner and that's all they have), but we do feel that it is incredibly important to buy organic ground beef.
Organic essentially tells you that they were raised an on organic, pesticide-free with access to pasture. They are also free of antibiotics and hormones.
Because 88% of our Corn is Genetically Modified, a cow that is 1,200 pounds will eat about 24 pounds of feed a day – and that GM feed is going is being passed straight to you. Remember.. that grass fed doesn't always equate to organic – grass fed cows are supplemented with feed, and unless that feed is organic feed, then it's not that much better than regular non-grass fed beef.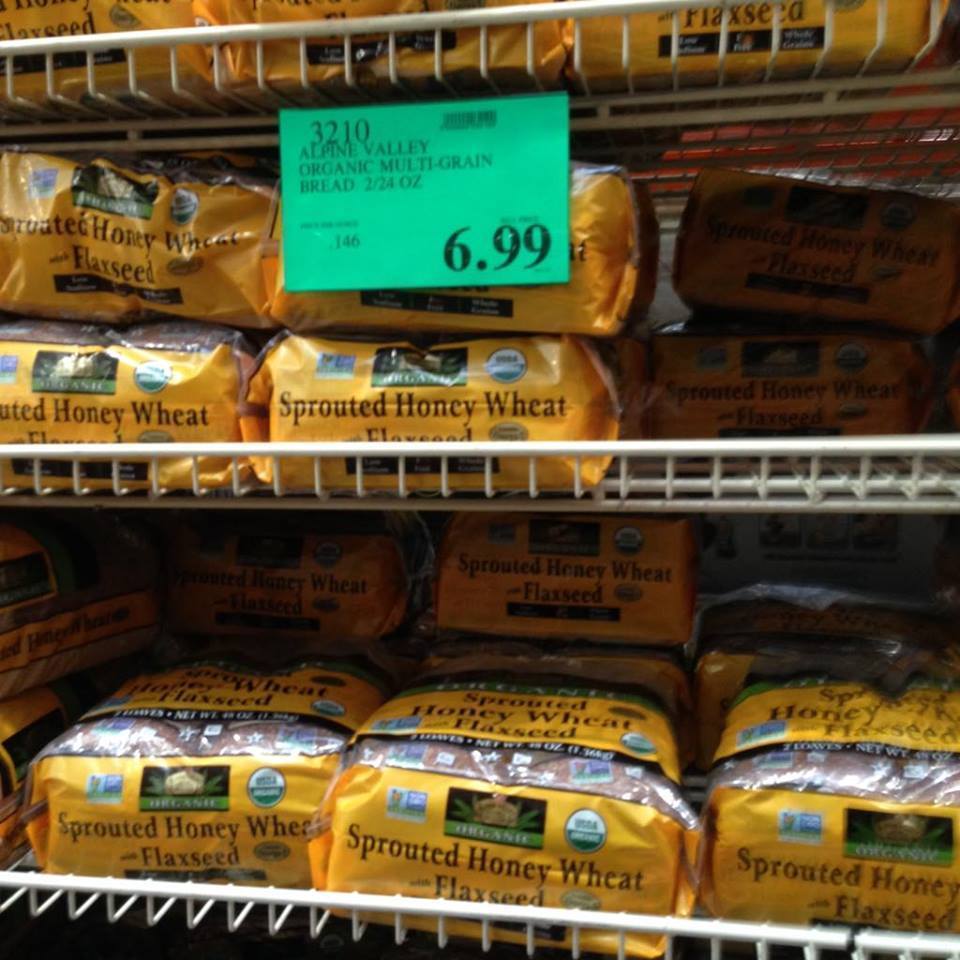 4. Organic Bread, 2 for as low as $6.99
Costco carries Alpine Bakery, and you can score 2 loaves as low as $6.99; OR, Dave's Killer Bread which is $7.49 for 2.
Alpine tends to be less in price but it is super sticky – we usually keep that in the fridge if we do buy it. Dave's is $3.99 – $4.49 at any grocery store (regular price), and rarely ever goes on sale. If it does go on sale it's usually $2.99 – $3.50 a loaf, so just about the same s Costco.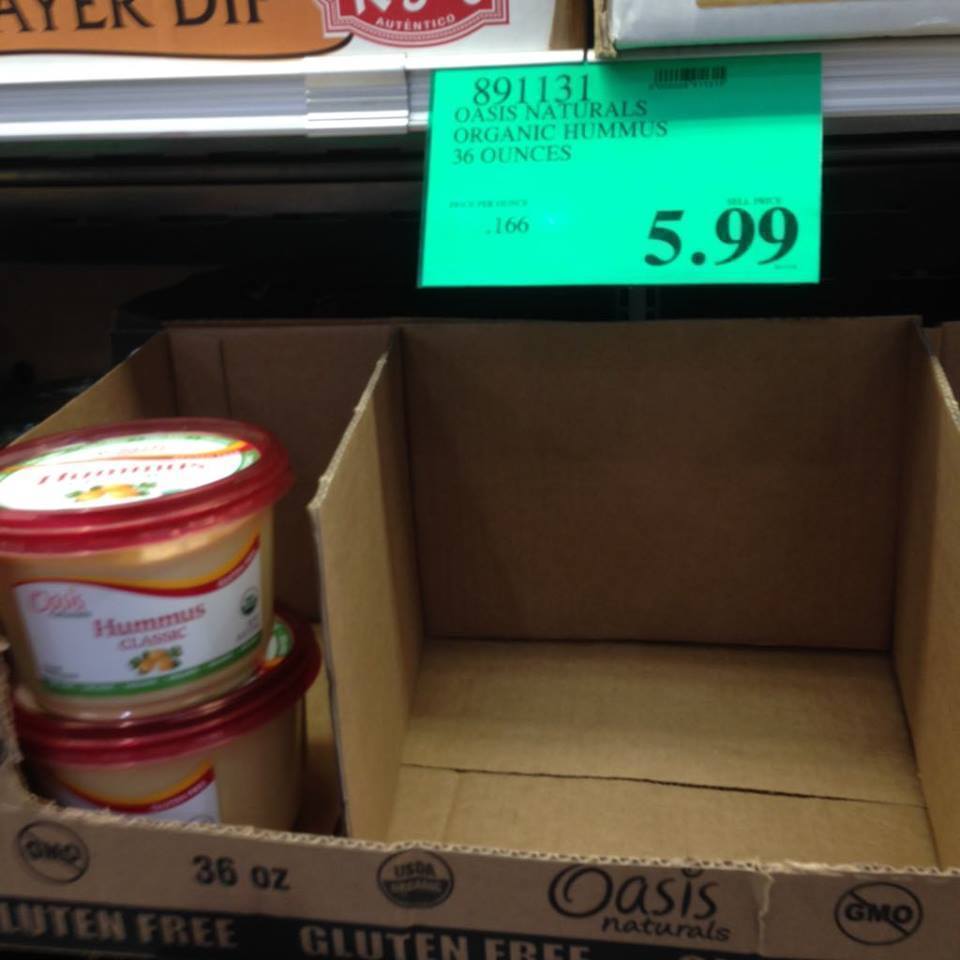 5. Organic Hummus, 32 – 36 oz for $5.99
There are 2 varieties of Organic Hummus at Costco – Oasis Naturals (36 oz for $5.99) and Pita Pals (32 oz for $5.99). Oasis Naturals is a bit less at $.16 per ounce. you probably couldn't even make it yourself for that.. if your kids love it as much as mine do on sandwiches it's a great (cheap) deal.
In comparison… the Fry's Simple Truth Brand of Organic Hummus is $.25 per ounce, or $2 per 8 oz Container, after sale and one time use digital offer.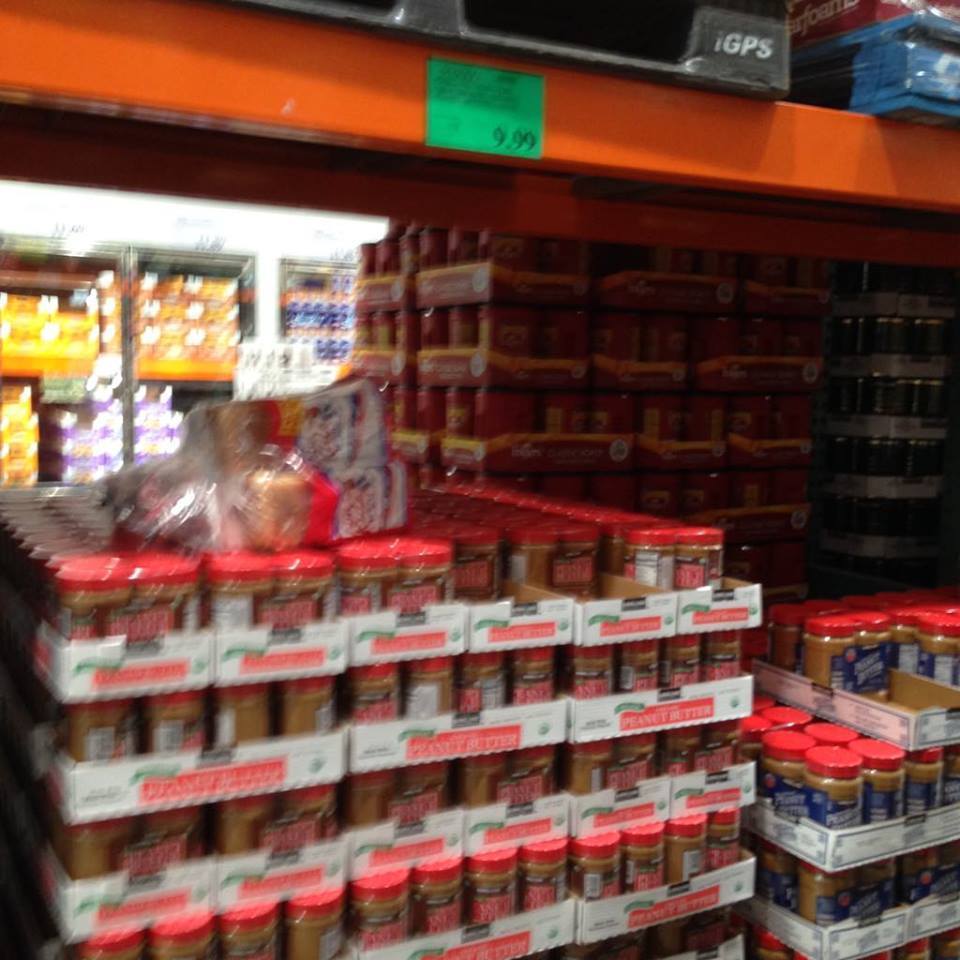 6. Kirkland Organic Peanut Butter, 2 – 28 oz Jars for $9.99
At just $.17 per ounce or $9.99, you get (2) 28 oz. Canisters – which is just a tad bit higher than the conventional peanut butter (which is $.14 per ounce).
This stuff is great – it's creamy (so if you are a crunchy peanut butter lover, I'm so sorry but this is NOT for you!)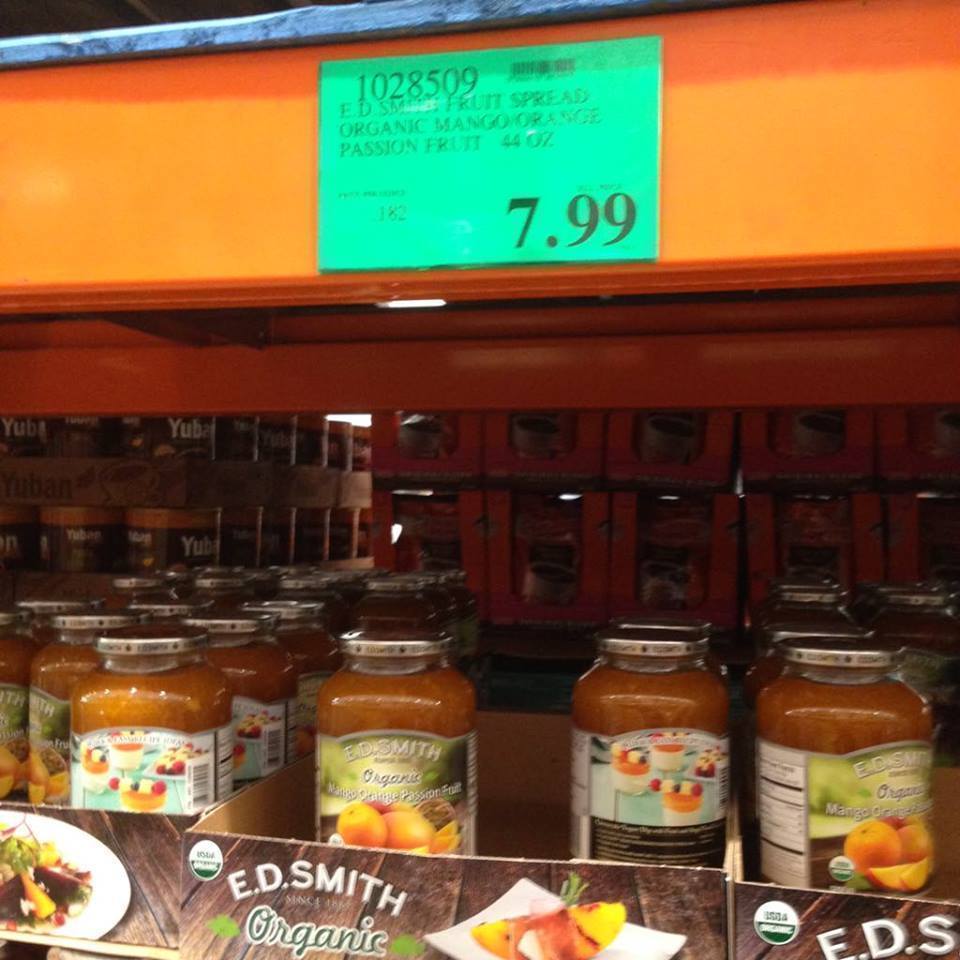 7. Organic Spread, 44 oz for $7.99
At $7.99 for 44 oz, this E.D. Smith Organic Spread (Mango + Apricot) is a great price compared to Organic varieties in the grocery store. Cascadian Farm Organic Spread runs $3.49 for 10 ounce – which is much higher than the spread at Costco.
Both Organic spreads have 10 grams of sugar per tablespoon – if you are adding it to a Sandwich or piece of toast .. all you really need is 1 small Tablespoon.
Sometimes Costco will have the Strawberry Preserves – but I haven't seen it for a few months – they mentioned that the Strawberry Organic Preserves will be back sometime in January.
8. Organic Canned Tomatoes, as low as $.56/can
Ranging in price from $.56 for Paste, to $.81 per can for Sauce, which is even less than most store varieties that are Non Organic – ditch the coupons and buy them at Costco to save yourself the time.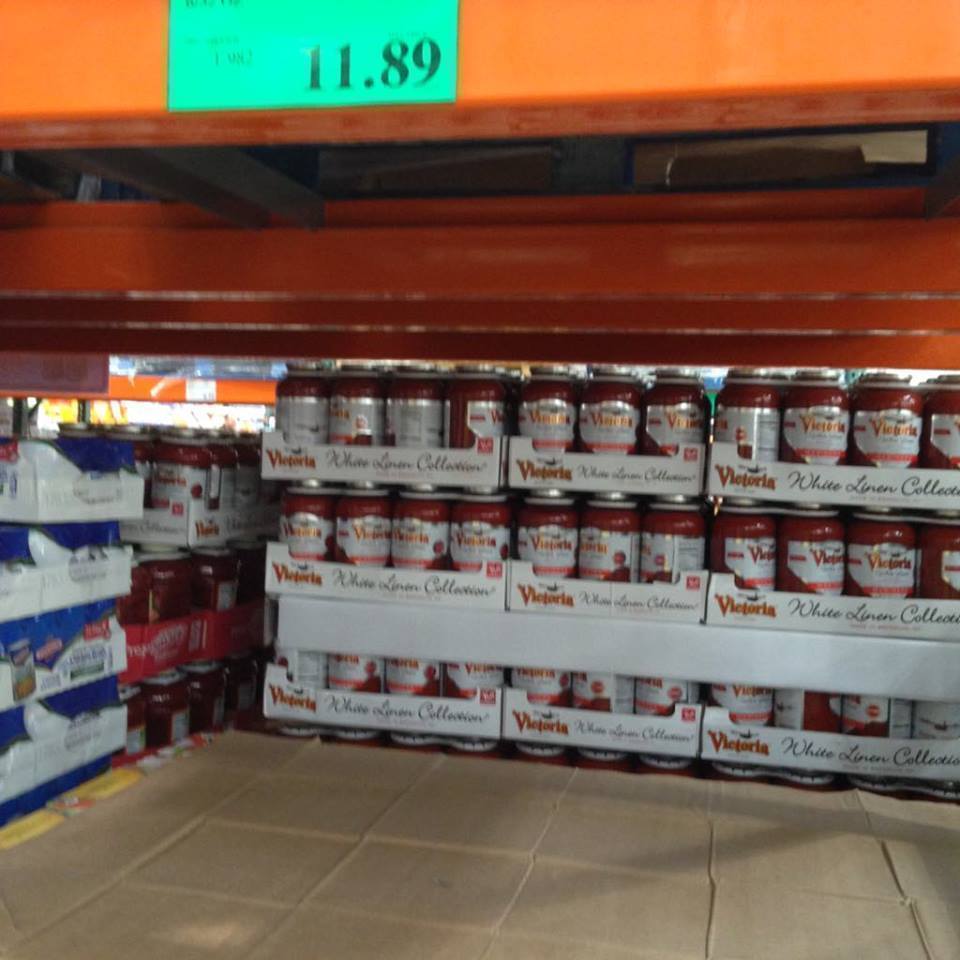 9. Kirkland Organic Chicken Stock, 6 for $11.89
A case of 6, 32 oz is just under $12 – the only way we can get it for that price or less at regular stores is with coupons… and even then it's not that often.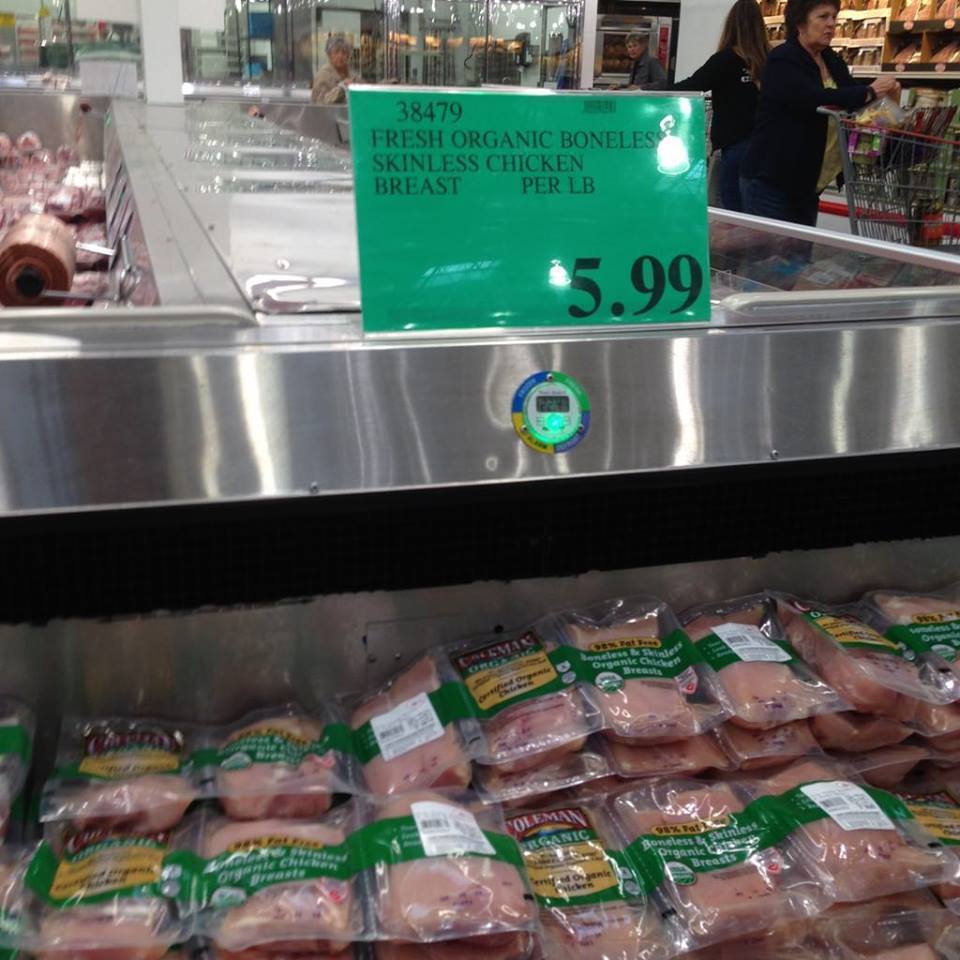 10. Organic Chicken, $5.99 lb
Pay $5.99 per pound for Organic Chicken Breasts – which is $2 LESS than the price at Sprouts ($7.99 lb) for the same item. When it comes to meat, we buy organic whenever possible.
Although we realize not everyone can afford to pay $5.99 lb, understanding WHY someone may want to pay $5.99 per pound is incredibly important. It IS possible to afford, it requires a shift in priorities though and perhaps adapting your menu to include more vegetables and less meat focus.
Organic Chicken Farmers must provide a living space that is healthy and natural for chickens – they have access to the outdoors, and they actually SEE the light and have space for grooming and exercise. By law, farmers who raise organic chicken cannot use any kind of growth hormones OR antibiotics. Not to mention their feed is Organic – considering almost all the corn in the U.S. is GM, that's pretty huge.
Although conventional chicken farmers are not permitted to use hormones, they ARE permitted to use antibiotics. Over 51 billion chickens are artificially hatched each year, fattened and slaughtered all within 42 days – when their lifespan is 10-15 years. Don't think that's crazy? Then I'm not sure what to say…
Chickens bred for meat are the most genetically manipulated animals .. forced to grow 65 times faster than their body would normally (HERE). Not only are they manipulated, they are fed grains – which consist of corn, and since 88% of corn in the U.S. is genetically modified, that is absorbed into their systems, you are being exposed to far more GM DNA. Cheap chicken might be affordable, but the price you pay long term may not be.
Can't afford to pay $5.99 lb? We suggest using LESS meat and supplementing with more vegetables at meals – the recommended serving of meat is only 3 oz, most Americans eat much more than that.
11. Organic Uncooked Flour Tortillas, 36 for $7
These are a staple for us – you can score 36 for just over $7, which is an unbelievable price considering you can't even get them for half that price in the regular store.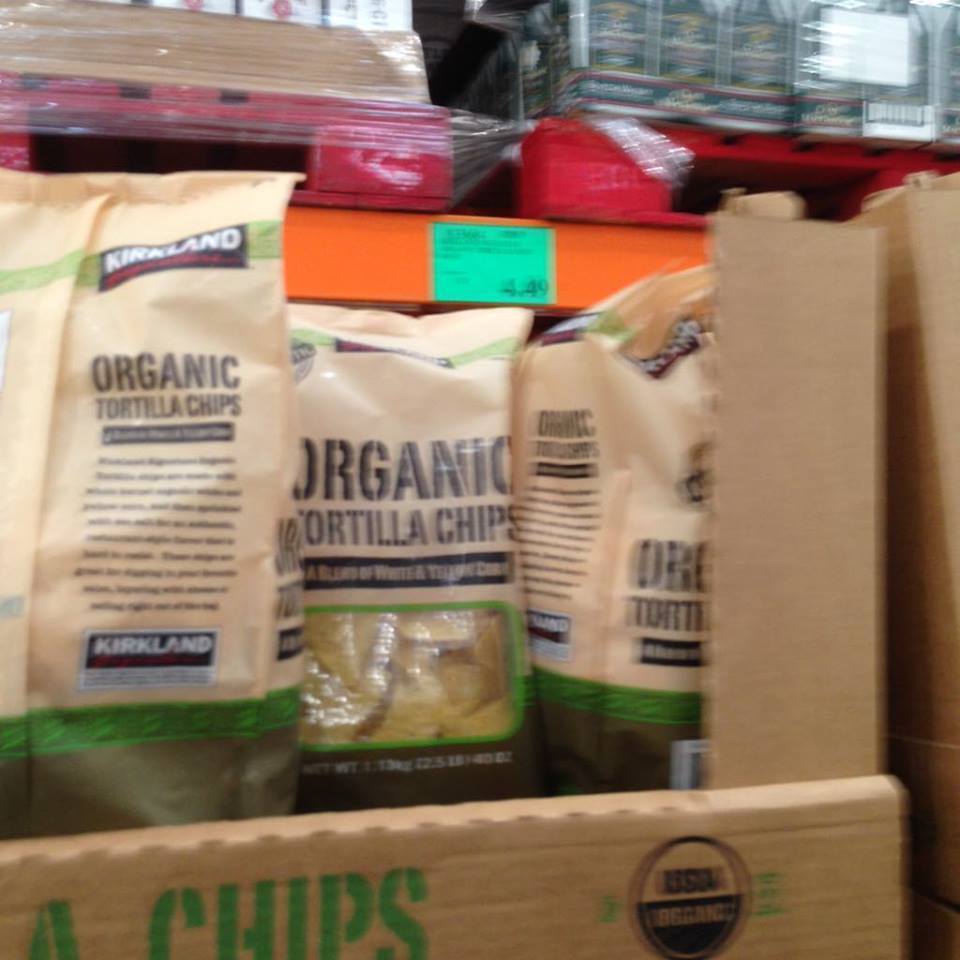 12. Organic Tortilla Chips, $.11/oz
I don't always like having these in our house, but if we do, we keep them in a special cabinet so that the kids can't find them. The last thing I want is them eating chips, even if they are the better type.
You can score the HUGE bag for just $.11 per oz – great for a last minute vegetable taco salad for dinner. That would make a 15 oz Bag just $1.65 – which is actually the same if not less than what you would pay for conventional. Given that 88% of Corn in the U.S. is Genetically Modified Corn (that stat is from 2011), I'll stick with the Organic chips.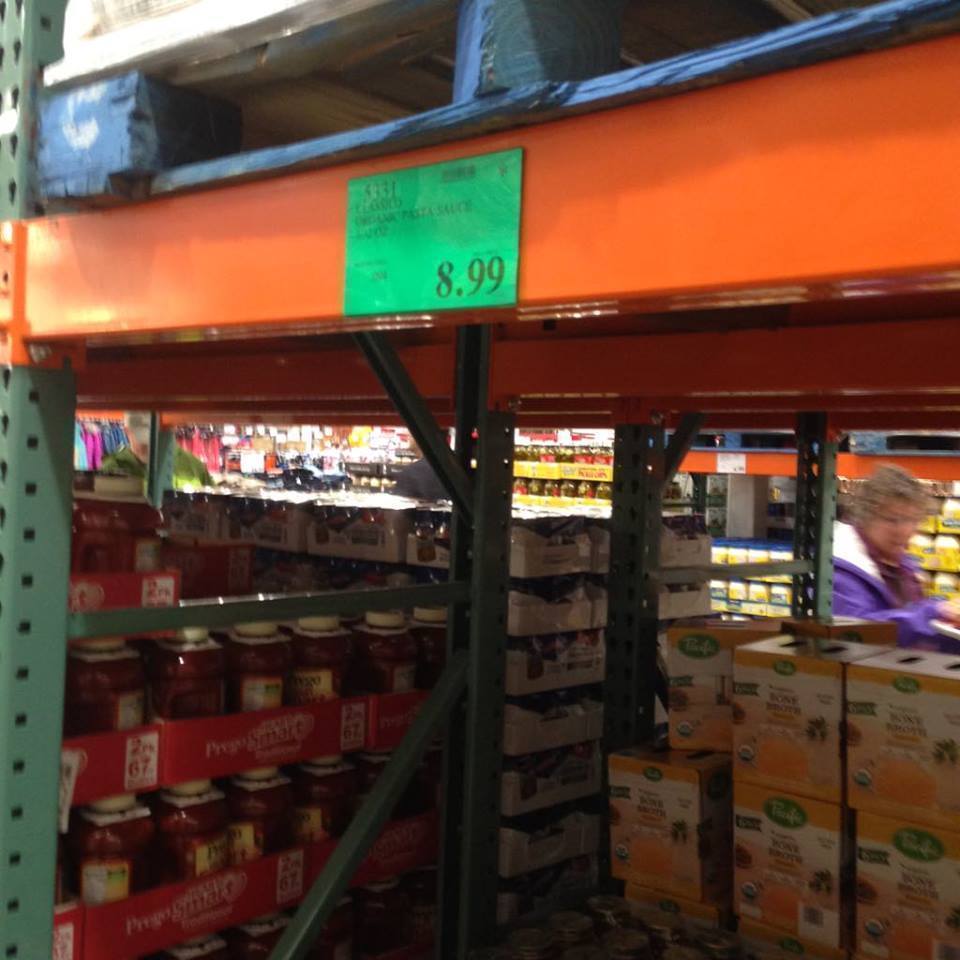 13. Organic Pasta Sauce, $.09 per ounce
You can score the Classico Organic 32 oz jar, 3 pk for just $8.99 – which is $.09 per ounce. At this price, you are paying $1.35 for a 15 oz jar – in comparison, you can score Classico for $1 or less on a GOOD sale at your local grocery store, but their variety probably isn't Organic.
As a comparison, the regular Ragu is $.05 per ounce this month – and it's NOT Organic- so for just a few pennies more, you can pick up a better deal.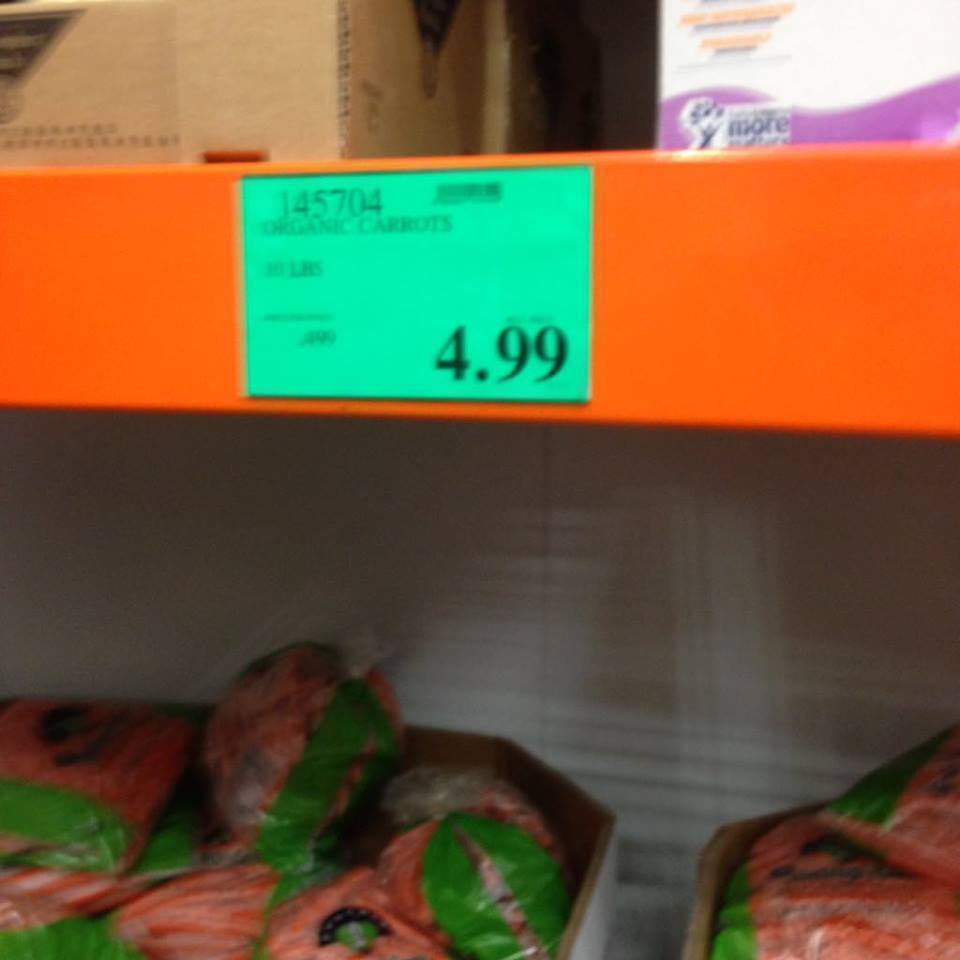 14. Organic Carrots, $.49 lb
You can't really get any better than this – a 10 pound bag of Organic Carrots is $4.49. If you want the Mini Carrots that are peeled so you can put in your child's lunch, a 5 lb Bag is just $4.99 – so $.99 a lb.
15. Organic Beans, as low as $.85 per can
If you like having beans in the pantry for soups and stews in the winter/fall, or even for Chicken/Rice Bowls for dinner, you can't really go wrong with buying the beans at Costco. Organic Black Beans are just $.85 per can, in a case of 8.
In comparison, we can usually pay $.50 – $.75 per can at the grocery store – AFTER coupons & sale, but NEVER for Organic. Those are usually much higher.
In comparison, sometimes Fry's will have Simple Truth Organic Beans for $.88 per can.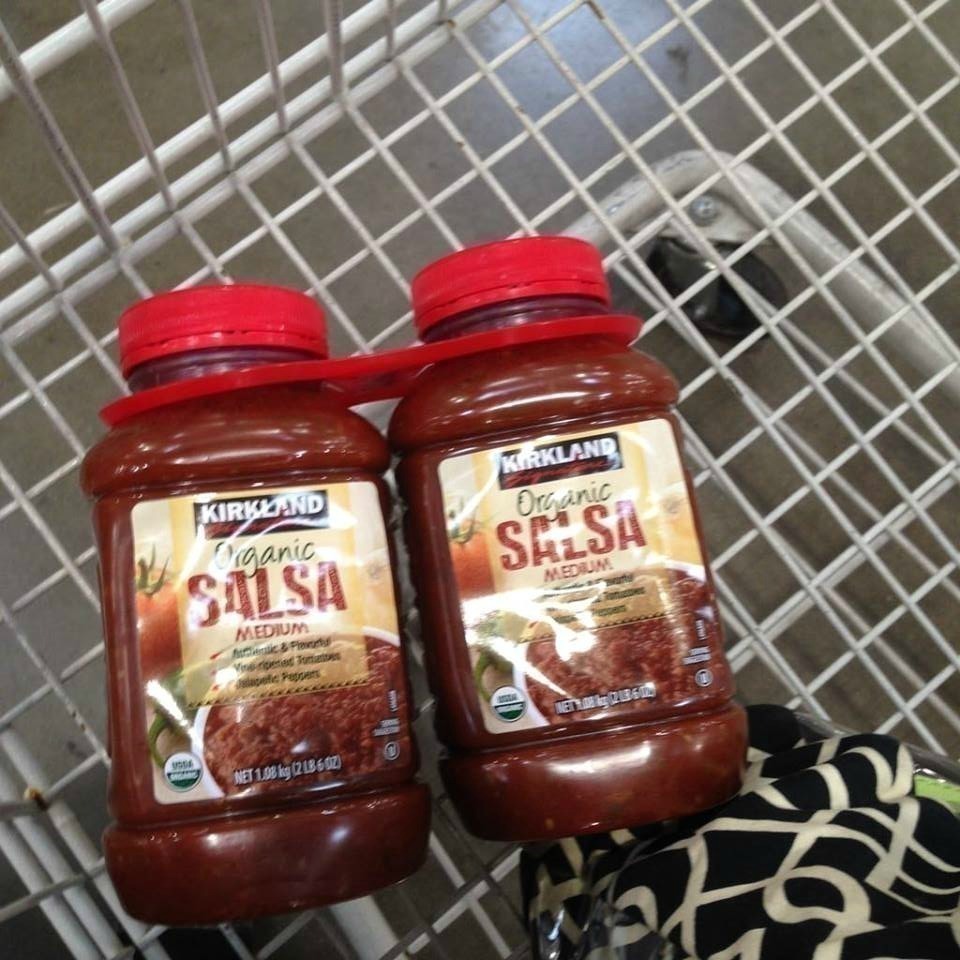 16. Organic Kirkland Signature Salsa, $.10 per oz
Although you can make your own, it'll probably run you much more, unless of course you have your own garden. Organic Tomatoes are not cheap, nor are Peppers… so these jars work out pretty sweet if you have a crazed addiction for salsa.
Pick up 2, 32 oz Jars for $7.69 – which is $.10 per oz (or $1.60 per Regular Jar).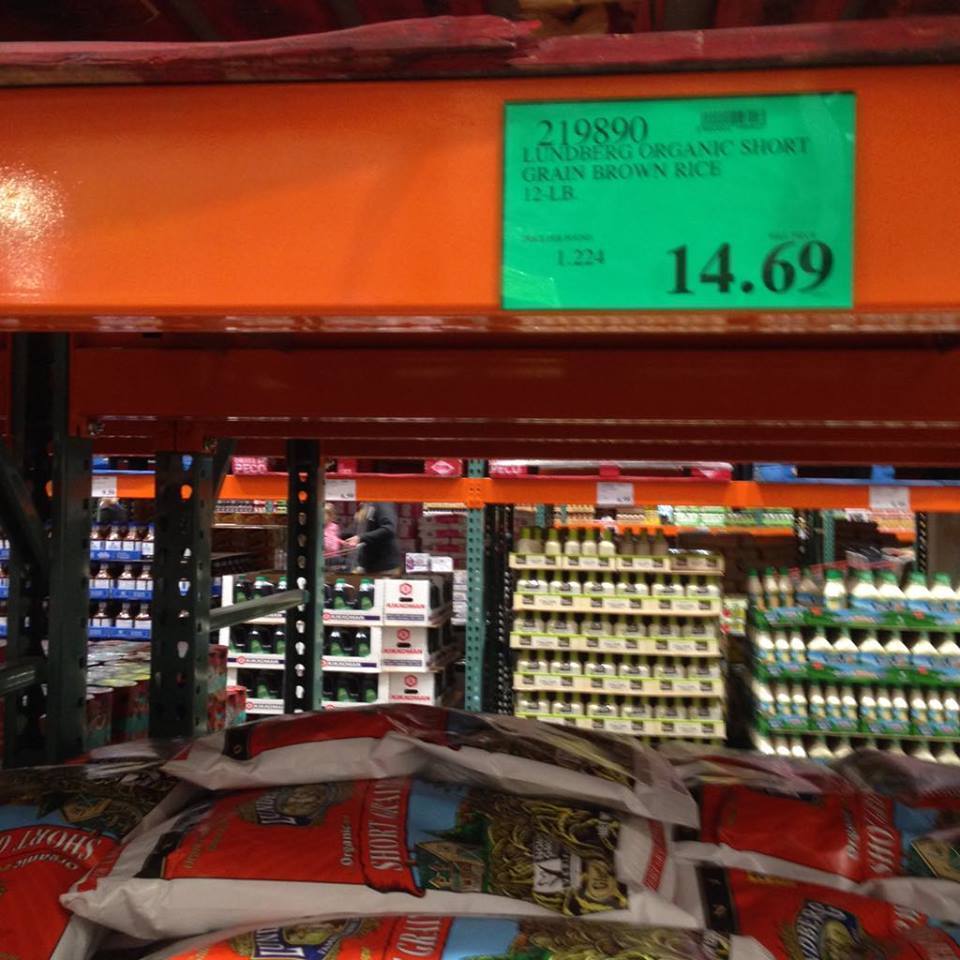 17. Organic Rice, $1.22 lb
Although you can pick up regular brown or white rice for much less, we think that the Organic Lundberg is a really great price at just $1.22 per pound (the 12 lb Bag is $14.69). That's actually just a bit more than the conventional rice at Fry's without a coupon.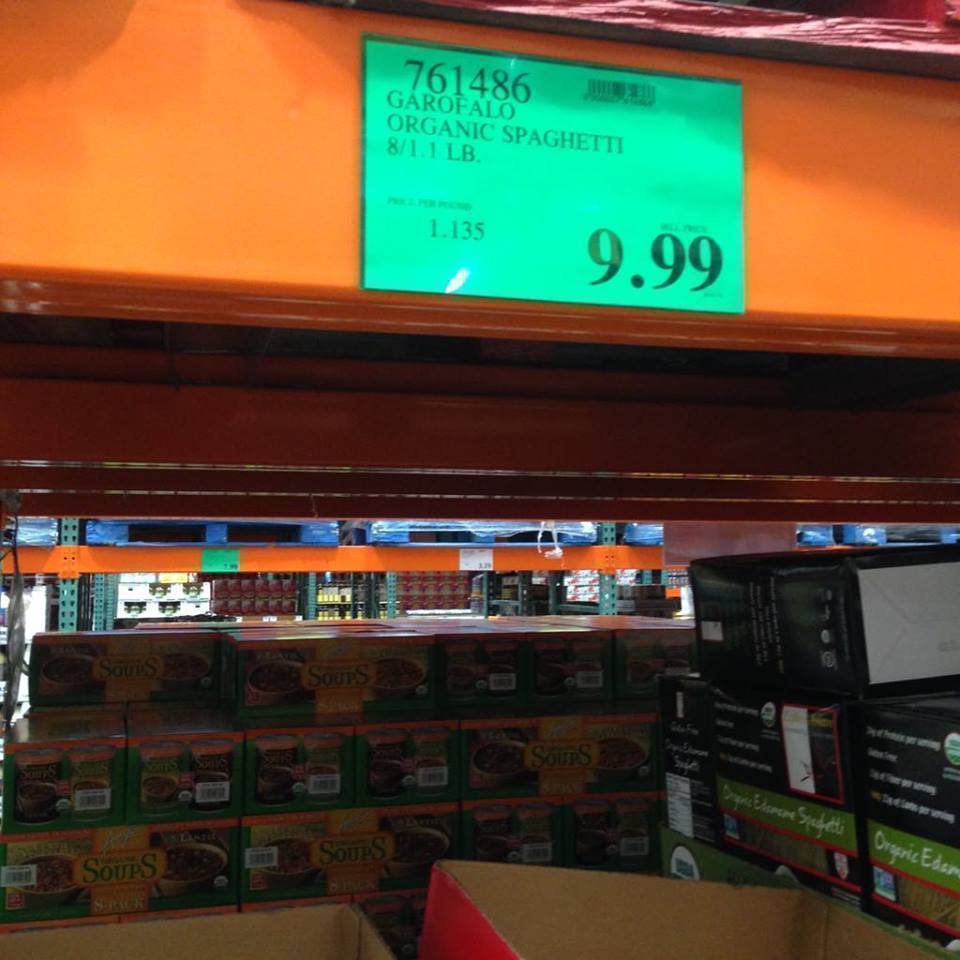 18. Organic Spaghetti, $1.13/lb
You can pick up Garofalo Whole Wheat Organic Spaghetti for $1.13 per pound – 8 pounds are just $9.99, which we thought was a great price.
You can pick up Ronzoni for $.50 – $.75 a box (sometimes free) at the store on a GOOD sale at Fry's – but the use of Glyphosate (the active ingredient in the herbicide Roundup) has risen over the last 15 years…
The use of Glyphosate on Wheat Crops has risen with the rise of Celiac… it actually correlates well to a higher degree than glyphosate usage on corn/soy products.
And while gluten-intolerance doesn't necessarily stem from GMO's (Genetically Modified Organisms)…. it MAY relate to the use of that Glyphosate just before the harvesting of Non-Organic Wheat Crops – Glyphosate ills the rye grass (which is a weed issue for Wheat Growers), but that Ryle DOES help to rebalance the soil – so for that reason it IS beneficial.
Most of the Non-Organic Wheat Supply now is contaminated with Glyphosate – and since most processed foods are made from wheat, it helps explain why many have problems with their Gut or, in some cases, have Celiac disease.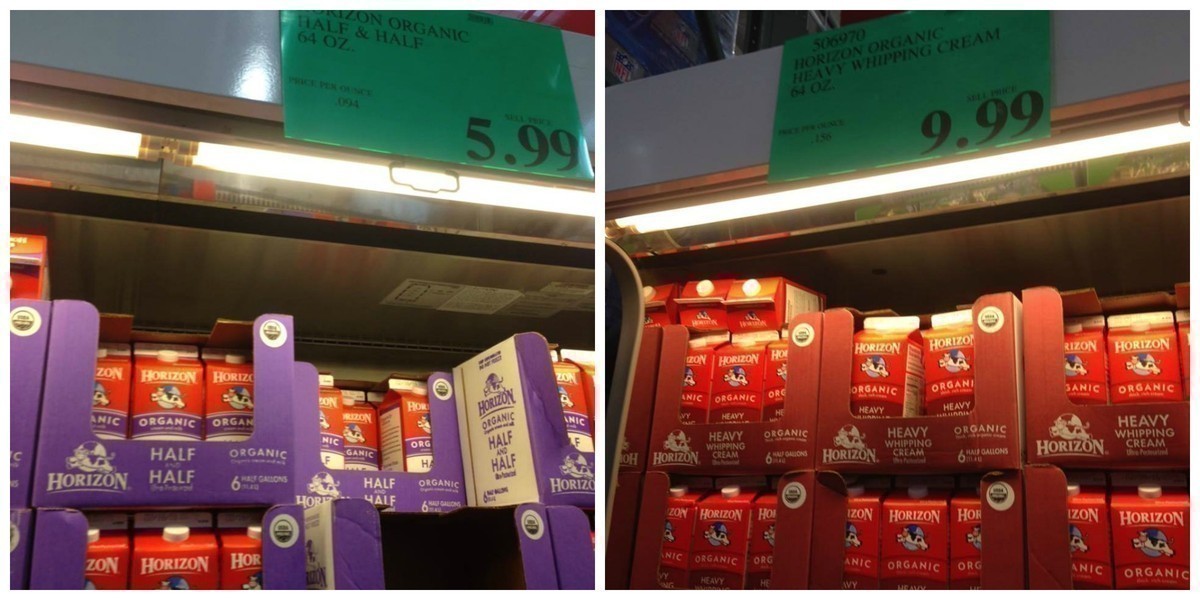 19. Organic Creamer & Whipping Cream
I use so much of this at the holidays, and I pay so dearly for it. This past Thanksgiving I needed whipping cream and I did NOT have time to battle Costco. My mishap drove me to Bashas, where I paid $8.99 for 32 oz of NON-Organic (because Organic was NOT available).
Fry's was sold out as was Safeway. Safe yourself the hassle – remember Costco.
And Organic Half and Half is a great price too – for a half gallon spend $5.99.
In comparison, you will pay $2 for the 16 oz Simple Truth Organic Half and Half at Fry's, when it's on sale. Organic Valley is MUCH higher – say $2.99 for 8 ounces, and find that at Sprouts.
20. Organic Coconut Oil, $.23 per oz
Costco sells the 2 pk of 42 oz Organic Coconut Oil for $19.99 – at least this month of January. Which is $.23 per ounce. You probably won't be able to find it for that price anywhere else – every so often the price of Carrington Farms drops on Amazon but it has been consistent the last few weeks.
Obviously there are many other items too – but these 20 above are those we felt were the BEST value. We'd love to hear what you think is the best value so leave a comment!