The Arizona State Fair kicks runs through October 29th this year – are you planning on making a trip?
If you plan on making a trip there this year, you'll want to try to save in every way possible.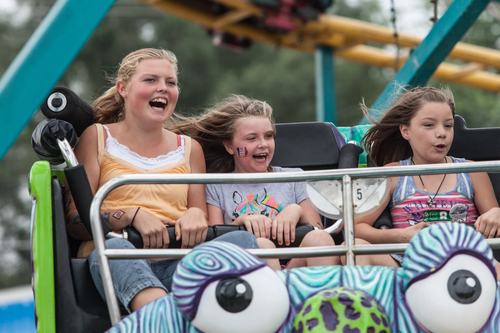 To help you save cash… we rounded up 15 ways you can save – from Admission to Parking & more.
15 Ways to Save HUGE at the Arizona State Fair
$2 Taste of the Fair. On Fridays from 12-6 p.m., sample some of the best State Fairy Foods for just $2. See the state fair program for more.
Fair Friends 55+ Day. Presented by Humana – on October 18th, the Arizona State Fair has a deal for you with valid ID. Click here to request your ticket.
Unlimited Wristband Day. Unlimited Ride Wristbands are available to purchase on:
Thursday's 12 noon to 8pm for $30
Sunday's 12 noon to 8pm for $50
We Care Wednesdays. Each and every Wednesday bring 5 can goods for Sanderson Ford's Operation Santa Claus, anytime before 6pm and get free admission into the fair.
Thursday FREE Admission. Head to the fair between 12 noon and 1 p.m. each Thursday for FREE Admission.
Game & Ride Discount Wednesdays. $2 Rides & Games until 7 p.m.
Weekend Admission just $5. Stop by the Arizona State Fair on Saturday & Sunday for $5 Admission before 2 p.m.
3 Everyday $3 Discount. Score $3 off your Regular Price Admission when you bring in a receipt showing the purchase of a Milk, a Cheese and a Yogurt Product (all in the same transaction) – ONE offer per receipt. Any brand is accepted.
FREE Fridays from Fry's. Spend $50 or more at any Fry's location through 10/27, and score 2 FREE Admissions. $50 purchase must be in a single transaction and excludes tax, alcohol, tobacco, prescriptions, fuel, & gift cards. Valid any Friday from noon to 6 p.m.. Limit two (2) Admissions. Original receipt only. No copies accepted. Receipt must be surrendered to receive discount.
Arizona Lottery. Monday, September 25, 2017 – 4:00 AM to Saturday, October 21, 2017 – 11:59 PM. Only available at Circle K stores that are authorized Arizona Lottery Retailers. With each single-ticket Powerball purchase of $10 or more, you will receive one 50% off regular admission voucher to the Arizona State Fair! Offer limited to the first 250,000 qualifying purchases while supplies last.
Armed Forces Day. On Friday, October 20th, the Arizona State Fair is honoring America's active duty, reservists, veterans, and retired military personnel and their families by offering FREE admission to the Fair. Enter through Encanto admission gate, located on the NE corner of the Fairgrounds. Military ID required. Available until 9pm… and there is a limit of 5 family members.
Read & Ride, Students ages 5-14. Students can read 3 books & earn 3 Carnival Rides FREE – Books must be approved by your teacher/parent and appropriate for reading level. Download the form & bring to the Guest Services Booth during the fair. Students must be present. Kids 6 and under may draw pictures.
Groupon: Check Groupon – for a limited time, you may be able to save up to 47% on admission.
Parking Discounts. Park in the 20th Avenue Lot on the SW Corner of 19th and Encanto for $5.00.
Bring your Own Food/Drink. Guests attending the Arizona State Fair may bring in their own food and drink… but keep in mind that all purses and backpacks are subject to search. Certain areas, exhibits, or events within the fairgrounds may have different restrictions.