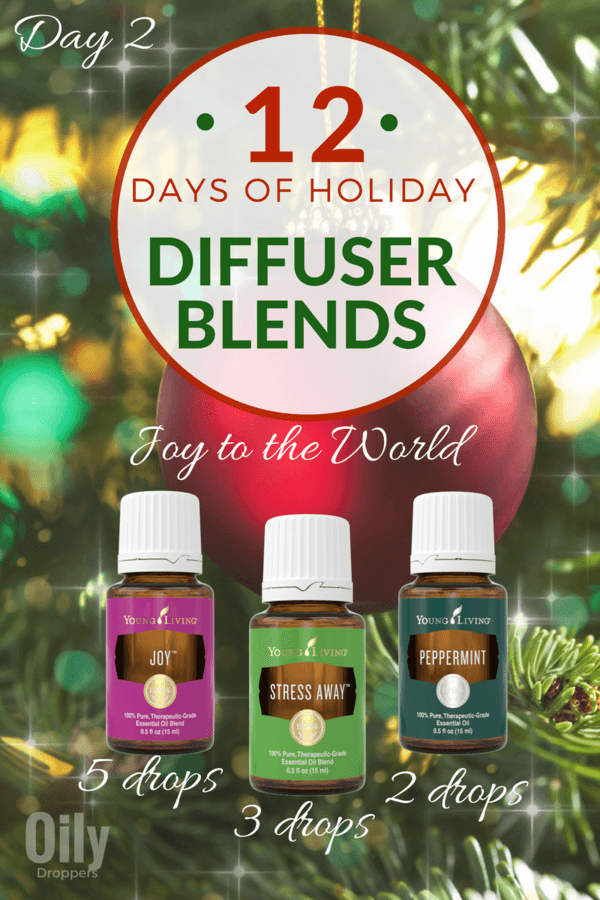 Who doesn't love a house that smells amazing .. while at the same time boosting your well being and helping you support a healthy immune system?
Diffusing Essential Oils at this time of the year is amazing ~ I've never met anyone who doesn't love the smells associated with the holidays.
We are sharing 12 Holiday Diffuser Blends to encourage you to "toss" those candles and get healthier through diffusing.
Today's blend (day 2) is Joy to the World – it comes 3 essential oils:
Joy Essential Oil:
The aroma of Joy™ invites a sense of romance, bliss, and warmth when diffused. When worn as a fragrance, it invites togetherness. It's great for supporting women's hormones, a healthy spirit/mood and can be used as a fragrance on wool dryer balls for an uplifting scent.
Stress Away Essential Oil:
With an aroma that is the perfect blend of tropical and citrus, Stress Away is uniquely relaxing and comforting. Copaiba and Lavender help support a healthy equilibrium. Cedrol found in Cedarwood and Eugenol that occurs naturally in vanilla can help support occasional nervous tension.
Peppermint Essential Oil:
Peppermint essential oil's scent invigorates the mind and senses, while inspiring a sense of peace. It works wonderfully to support healthy muscles, support seasonal changes, elevate mood, and help to provide relief to occasional headaches.
One of the best ways to get started with Essential Oils is to pick up this deal here – which has 11 Oils and a Diffuser – you'll grab a wholesale discount on oils for life and be able to get started with some of the best oils to take care of your wellness.
We use Young Living for many reasons, the main two of which are their purity and the second – their transparency (visit the farms ANY time and participate in the harvest!)
Once you have a diffuser you'll realize you will want/need another diffuser in your home since that one won't be quite enough for you… So we rounded up 5 of the BEST non-Young Living diffusers to invest in as extras for your home.