Rhuddlan Castle is a castle located in Rhuddlan, Denbighshire, Wales. It was one of a series of castles erected by King Edward I in 1277.
One of my most vivid childhood memories was touring castles in the UK with my parents and siblings. My mother is from Wales, and both sets of grandparents were also from the UK. With an abundance of family overseas, we visited several times through my childhood years.
Over the last few years, we have dragged our kids to lots of fun places within Arizona, Nevada, Texas ..Minnesota and everywhere in between. But traveling across water on a long flight to see something much different is an experience to remember.
My mother is from Wales and received her citizenship in the U.S. in the 90's. Thankfully, I have had many opportunities to visit many castles in and around Wales. .. and am now thankful to have the opportunity to take my kids. It's such an incredibly learning experience!
Touring Rhuddlan Castle in Wales
When visiting the UK, doing a trip in Wales is something I highly recommend. It is beautiful and chock full of historical places to see. Castles are definitely among the most interesting of these places, and most are within a short drive if you're staying in Wales. They are also inexpensive to visit.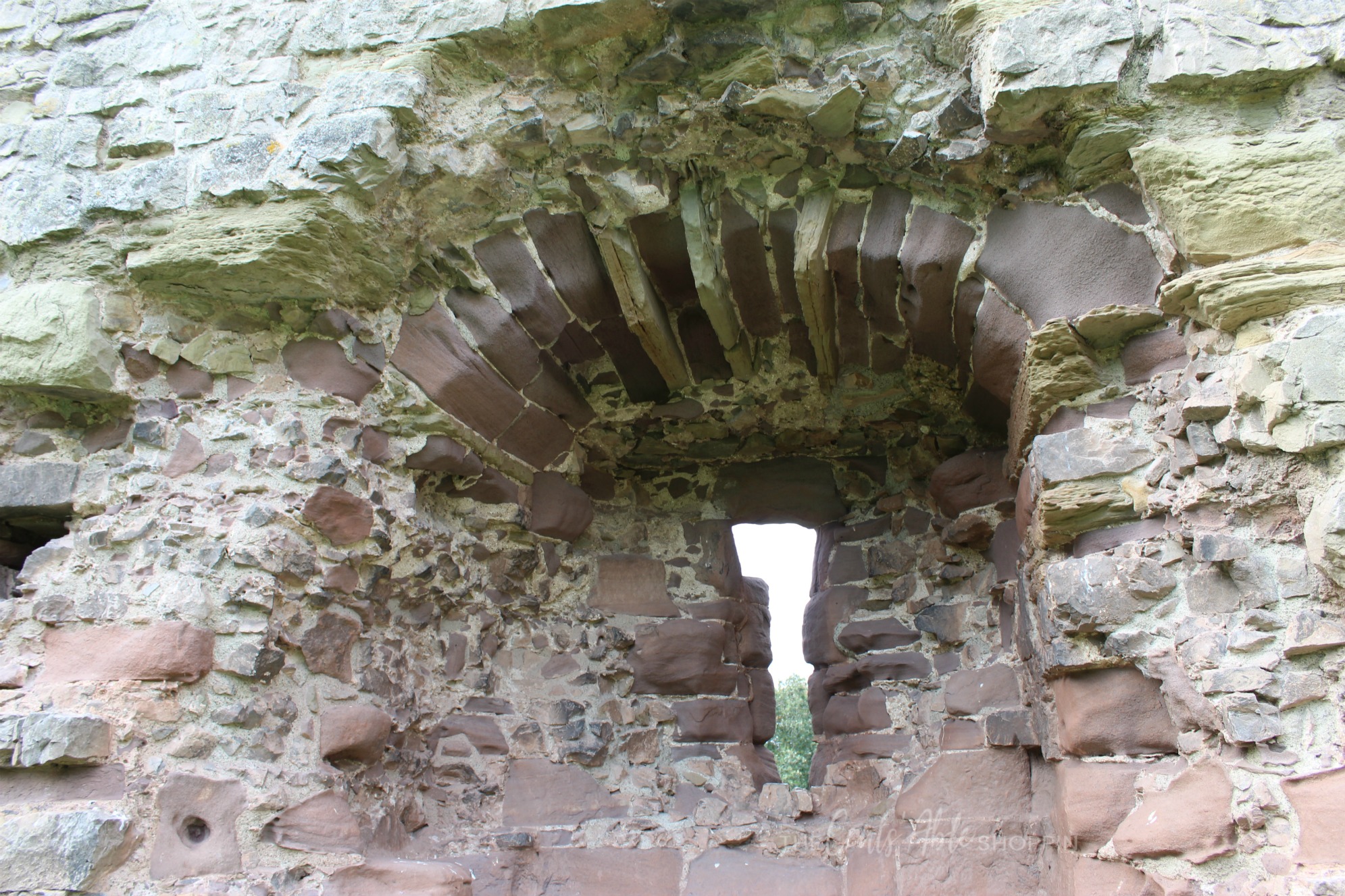 Rhuddlan is a small town in Wales. It could easily be overlooked because of its size, but one that is great to visit if you have a few hours to spare on a day trip.
Rhuddlan Castle is a 13th century fortress built and overseen by Edward I. Driving up to the castle is a surprising sight. It is situated right next to a row of houses and just outside a very small town.
The Meaning of Rhuddlan
It is located beside the River Clywd and near the town of Rhyl, which is a fun little beach town that is also worth checking into. The castle is faithful to the Edwardian principle of seaborne access Rhuddlan.
Rhudd is the Welsh word for "red" and glan means "bank". The Normans left them with the world "roe" — which is derived from the French "le rous" — meaning redhead. Roeland is mentioned in 1086, but by 1277 it was titled Rhuddlan. It was Edward I's choice for a scary castle.
The castle has access to the sea to keep supplies at their best. So Edward I diverted the River Clywd for over two miles to provide the deep water channels that the ships would need. If you visit, you might notice the remains of a river gate that still exists in the outer ring of the walls.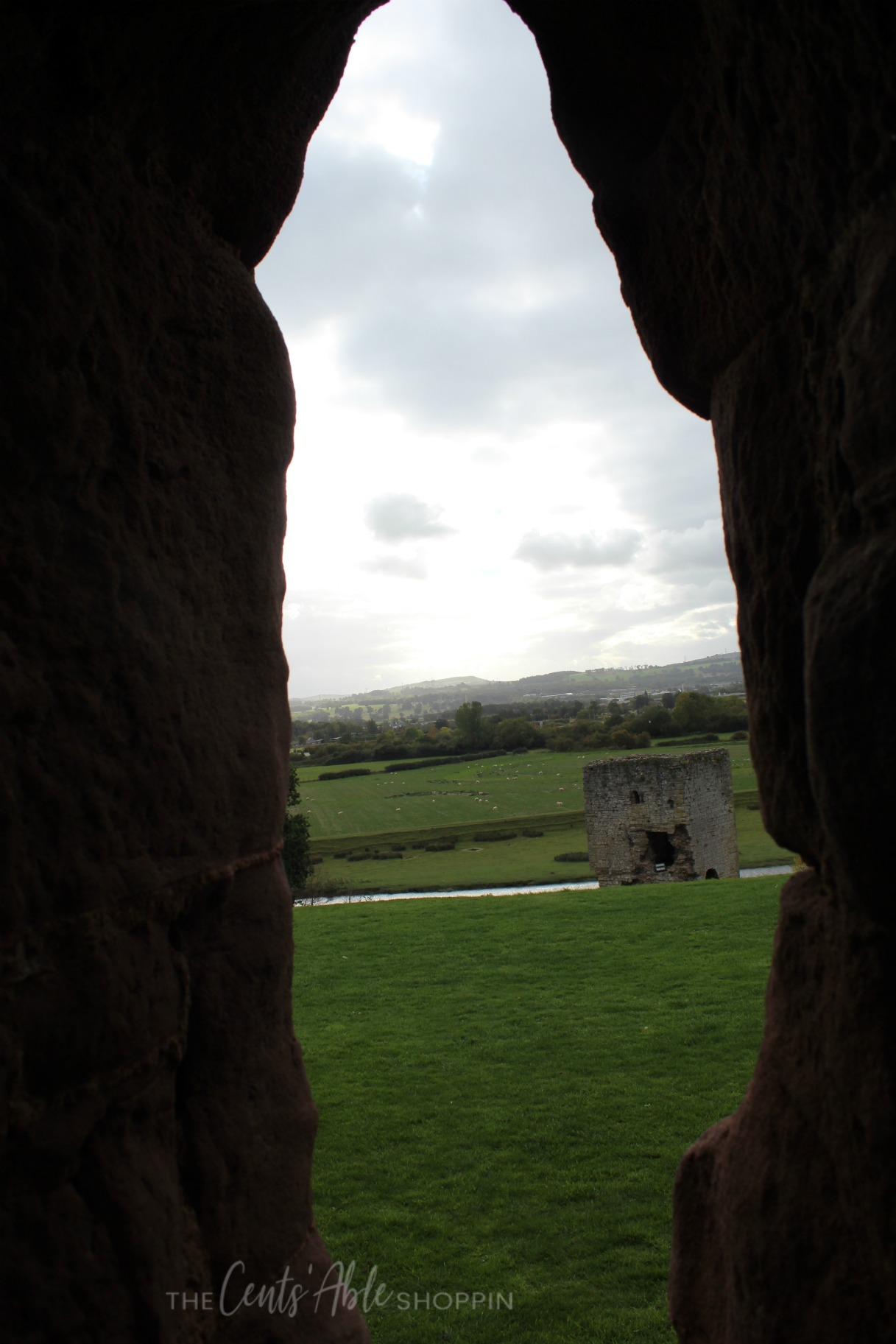 Rhuddlan Castile is entirely different compared to the other castles we've been to. The other castles seem much larger in size because of where they are situated. Sometimes the sheer size is much more obvious upon approach.
As you approach Rhuddlan Castle, it's more of a shock — once you come around the corner within the little neighborhood, it's right there.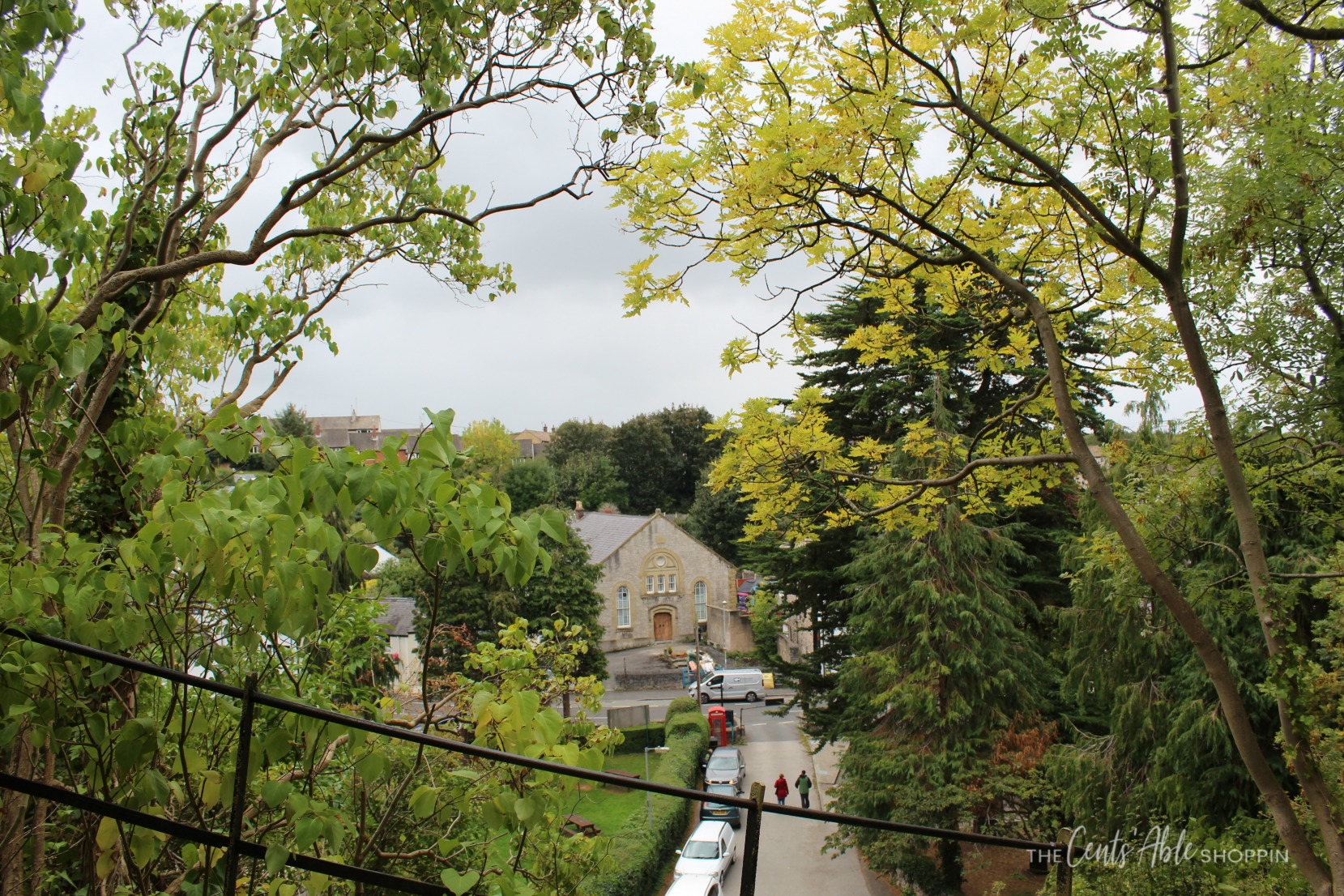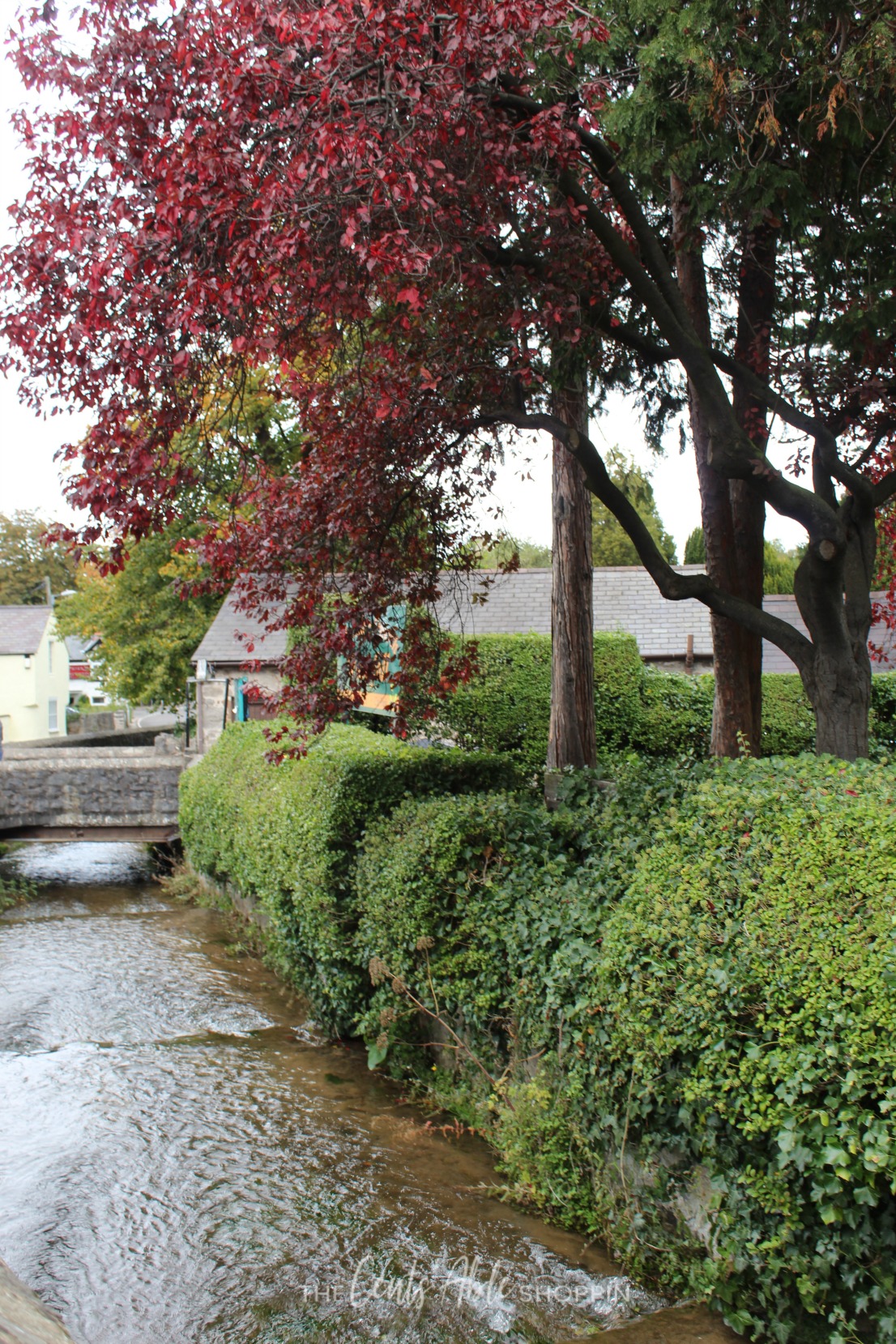 It is on a lovely spot of very green land, with the moat still surrounding it. The view is picturesque – so lovely, with a bridge and river area to view.
Rhuddlan Castle Cost, Parking and Shops
Visiting Rhuddlan Castle involves a small fee. It is worth noting, however, that they offer free admission on some days as well. It's always best to check the website before you visit – just in case!
There is a small parking lot and a little gift shop that sells fun and unique gifts and souvenirs and also some snacks. Overall, the castle and the little shop are not huge. Though it is a shorter tour than some of the other castles in Wales, it is well worth the visit.
If you have pets on a leash, you may not be permitted to walk the stairs to the castle ruins – so take note if you have pets.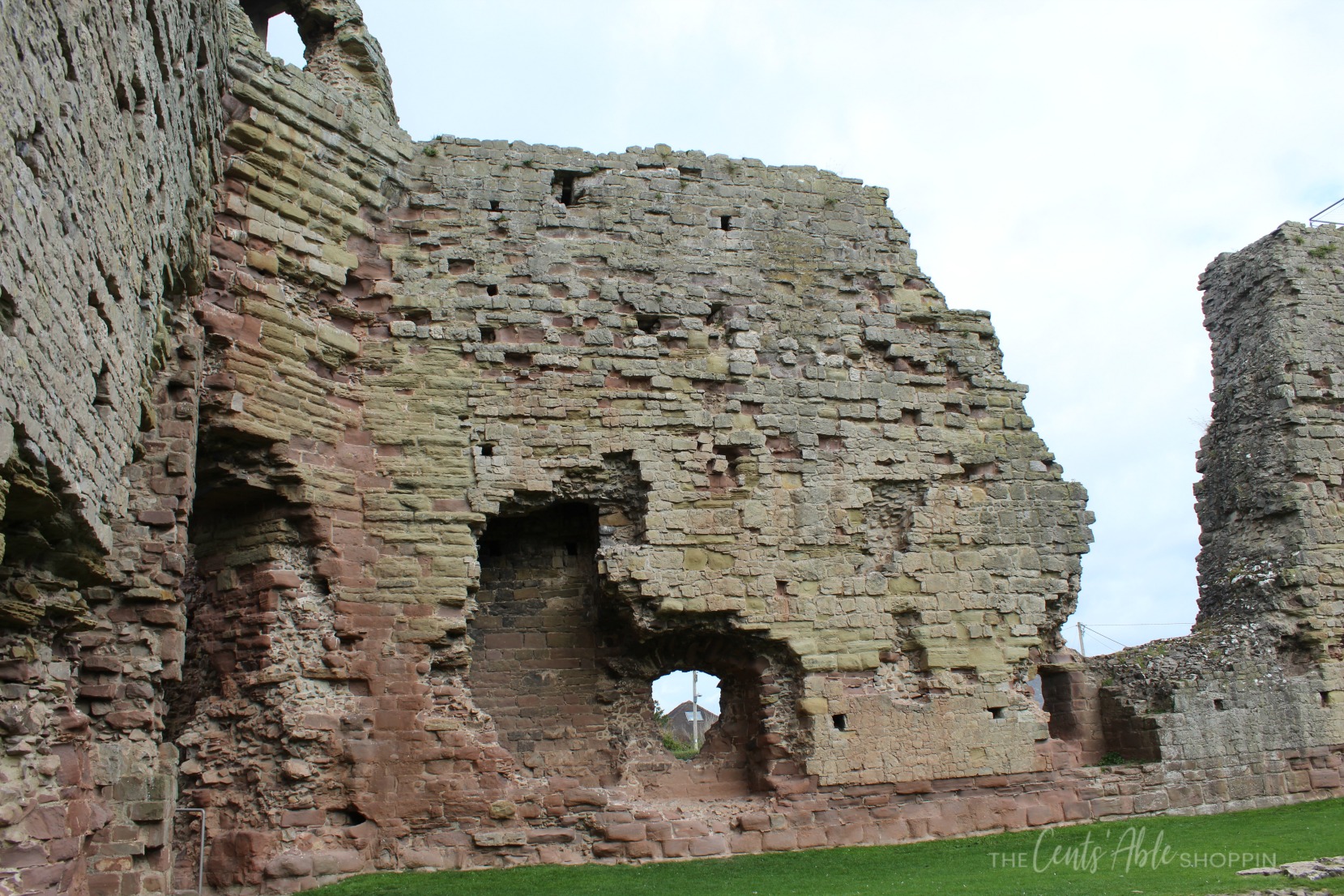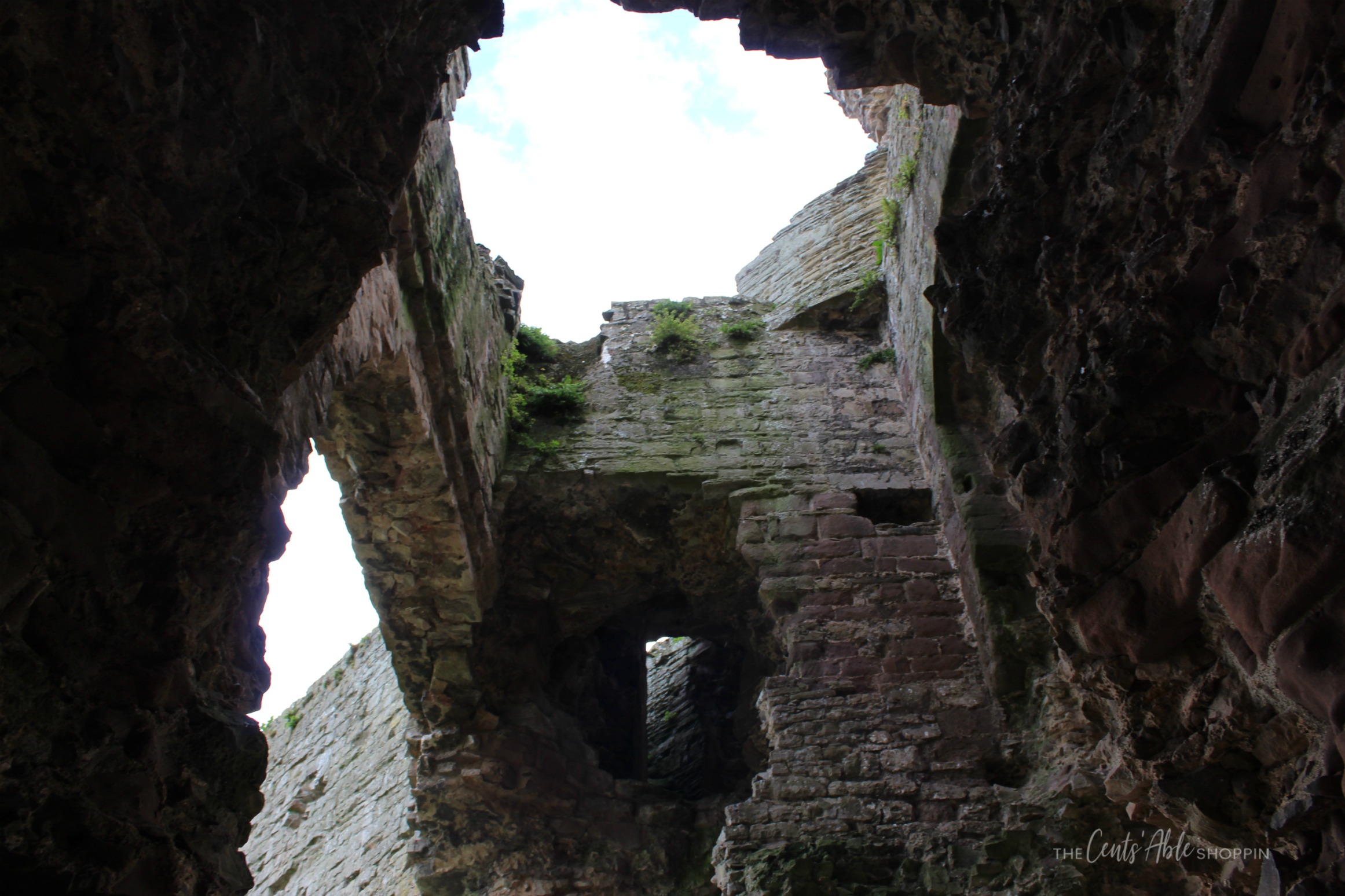 History of Rhuddlan Castle
Rhuddlan was the first location Edward chose to build a castle and it took about 5 years to build.
At this point in time it is more of a castle "ruin" that an entire castle but there are areas that are still in tact enough to walk up beyond the first floor.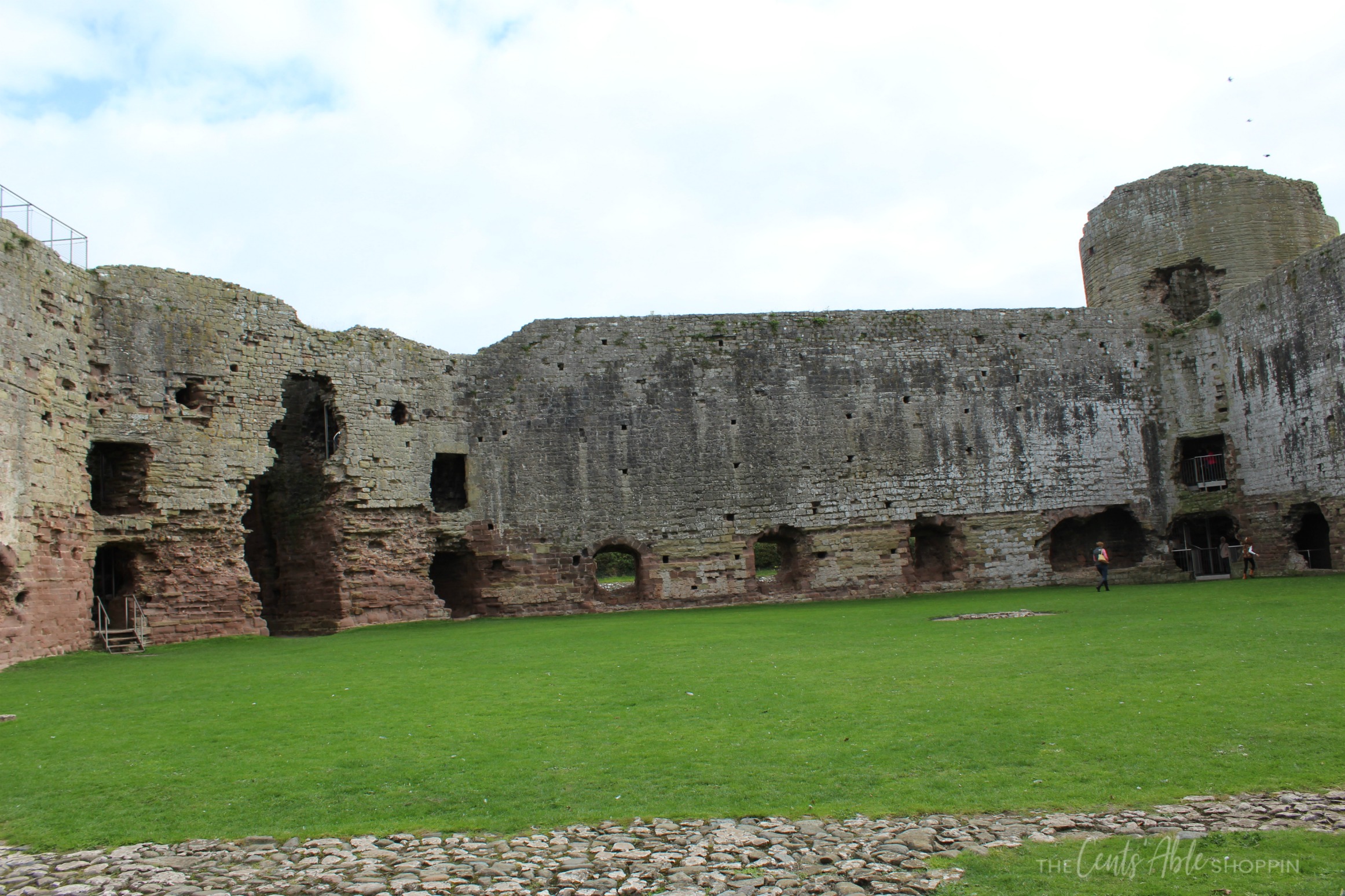 The center of the castle is open and grassy, and it is a great view to stand in the center and take it all in. If you go on a windy day, do expect to be chilly in there as the wind can make for cold temps in the tower area as well as the center courtyard.
In addition to visiting the castle, Rhuddlan is also a great spot for just relaxing and taking lots of incredible, memorable pictures. The castle gives a different vibe – as there are lots of pet parents walking their dogs. There are also parents of small children playing in the green, grassy areas.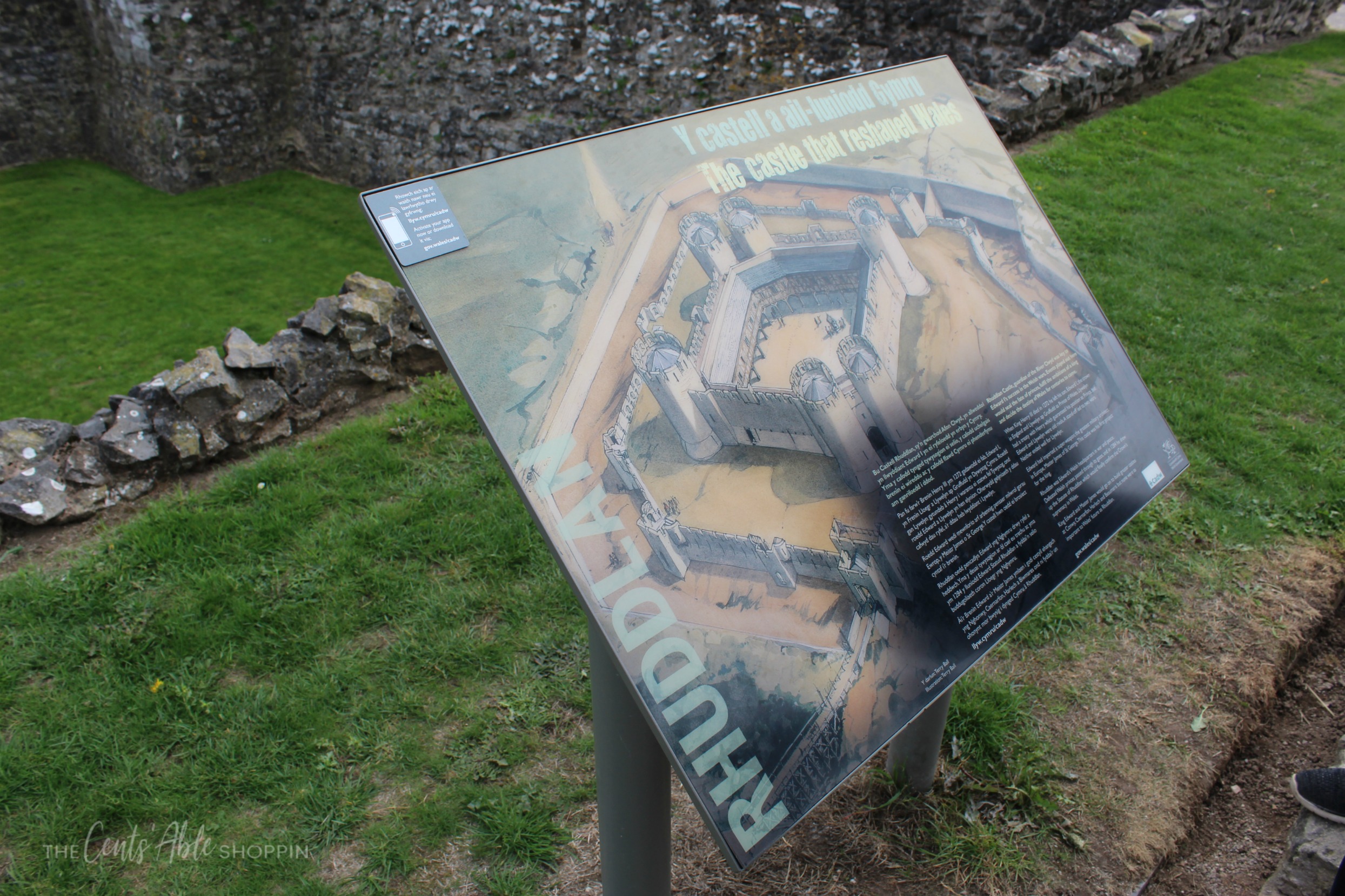 Though they do have some informational displays on its history, there isn't as much as some of the other castles in Wales.
The archways and curves of some of the roof areas and the insides of the towers are beautiful, even in this state and it gives you a good idea of how it was laid out and would've looked in its prime.
You can find some more information at: https://cadw.gov.wales/ … and see other places to visit as well on this website.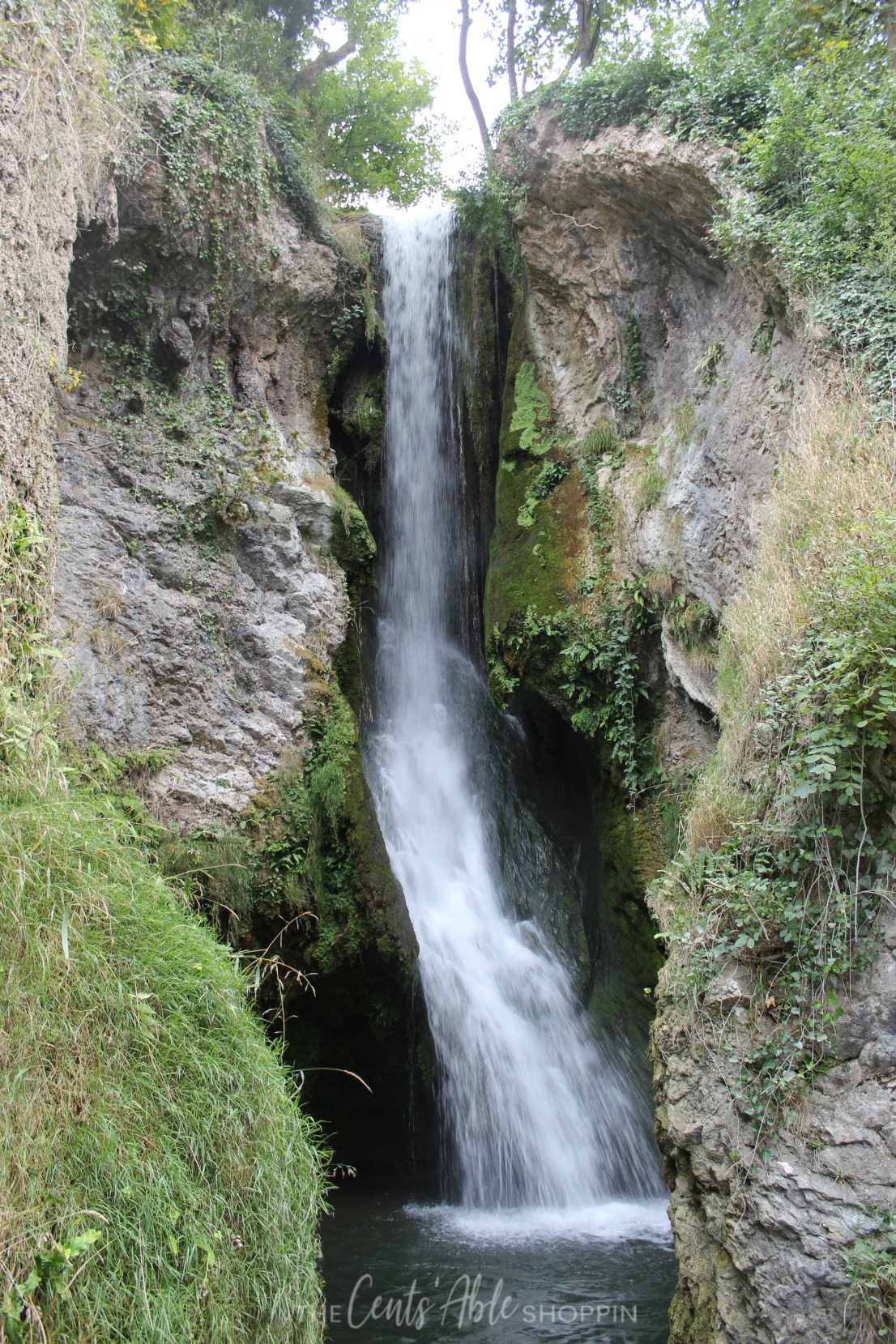 Dyserth Waterfall
Another great spot to see when you are in this area is the Dyserth Waterfall just outside Rhyl. The waterfall is 70 feet and flows down to the River Clywd past the Castle.
It is a very well-kept little spot that is right in the heart of the town. There is a parking area, in addition to a lovely church and cemetery, as well as a cute ice cream shop with nice little tables you can sit and snack at.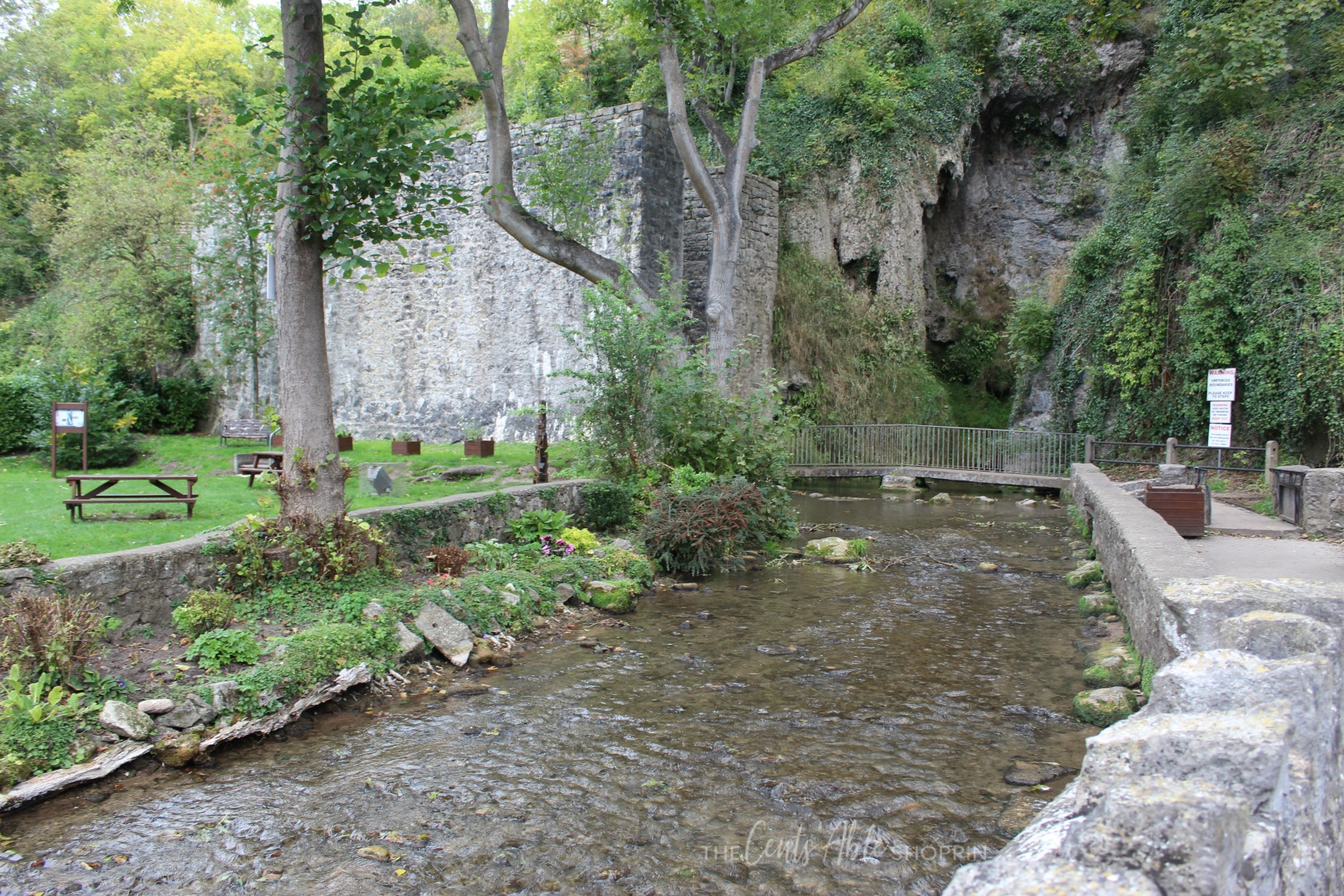 The waterfall has a recommended admission with a drop box for the coins as you walk up. There is also a nicely lined walkway and bridge, plus a larger trail that goes up the side of the mountain and above the top of the waterfall. You can choose to climb (or not) — but if you do, be prepared – it's gorgeous!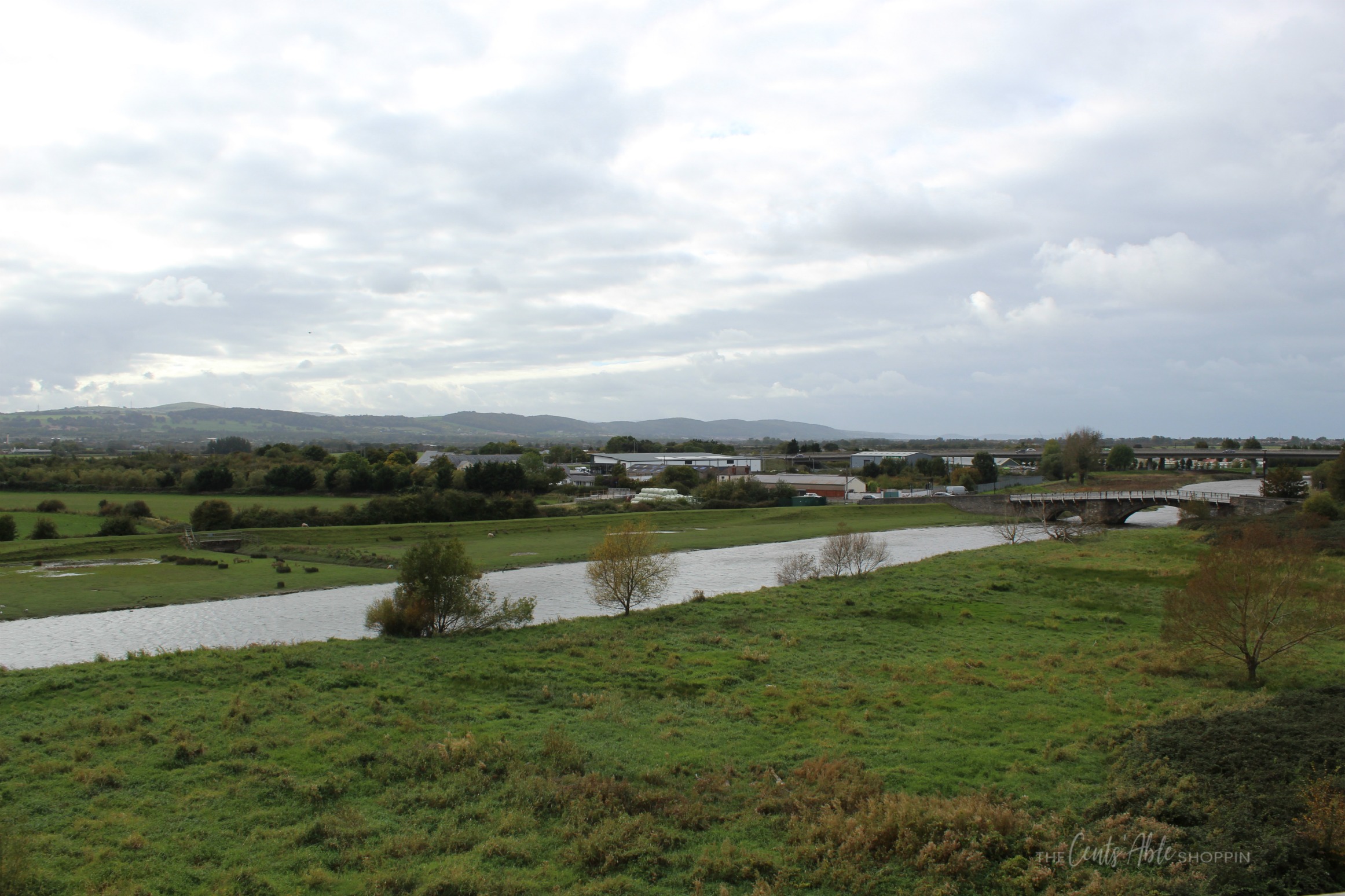 As you climb, you can see out over the town. After the first flight of stairs, there is a small sitting area where you can stop and take in the view (and rest!) I highly recommend going at least to the first flight of stairs.. the views are absolutely stunning!
Ancient Roman History
Beside the waterfall is a large pair of walls. Though you won't find much of any information posted on these walls, they are a part of ancient Roman history from the Middle Ages.
The walls were erected to support a water wheel – they are very strong, thick walls that you'll spot as you walk past the waterfall. There is also an ancient Roman bath house nearby to this, but we didn't have time to investigate it in depth.
Outside the Castle
The area outside of Rhuddlan Castle is just as gorgeous as the castle itself! Take the time to enjoy the drive up and around the hills and mountains of Wales.
Outside of the castle are opportunities to shop as well as little restaurants to enjoy. It's relatively easy to make a full day of the area, but it can also be a good stopping spot if you are traveling to a an area that's farther.
Wales has so much to offer and our family loves to check all these little places out. There is so much history, fascinating architecture and scenery everywhere that I highly recommend it.
Looking for more castles or attractions to tour on your visit? Here are a few!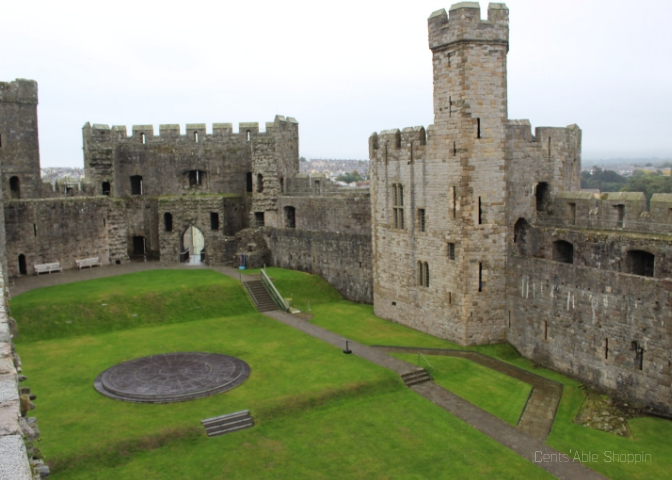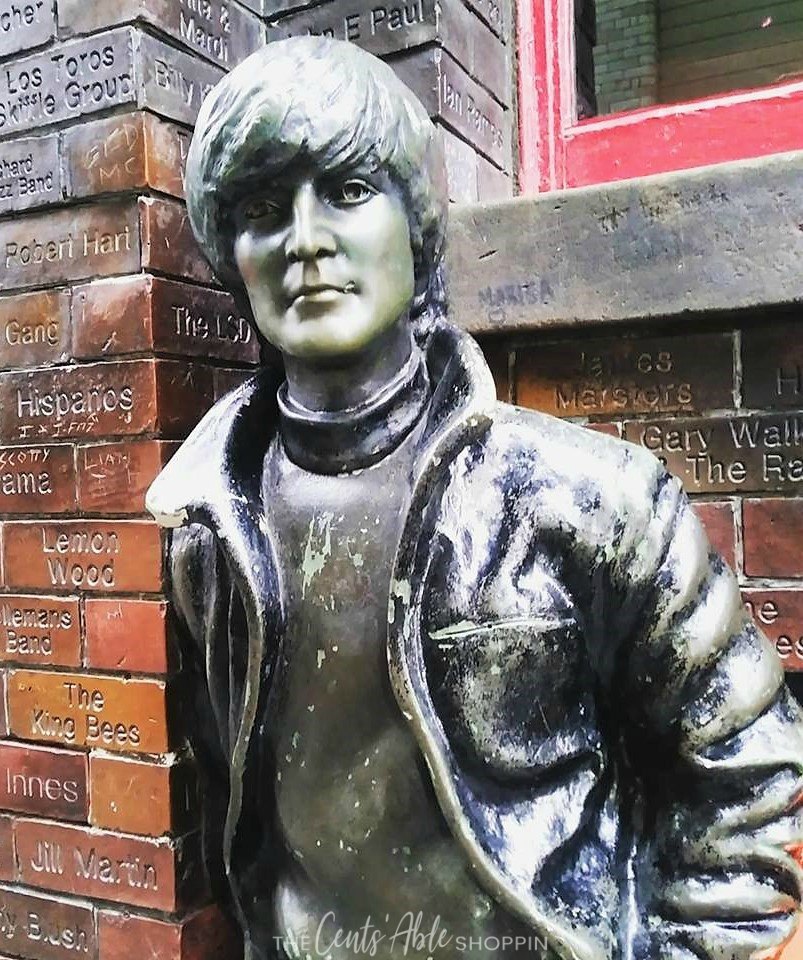 Liverpool, England (Things to Do)