Arizona summers can get hot! Cool off at any of these indoor play parks in Arizona and let the kids run wild while keeping cool!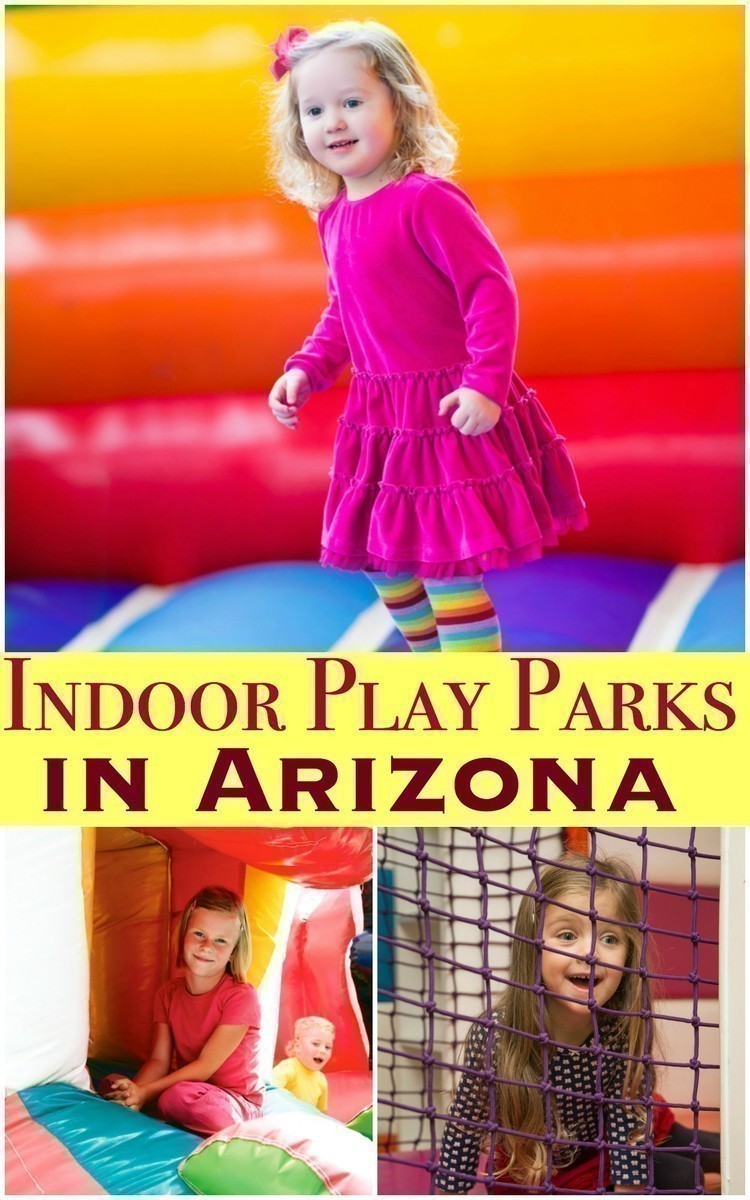 Considering we live in a state that can get quite hot in the summer with temps well above 115… sometimes it's great to have a list of fun things to do. Things you can do indoors with your kids that keep them active and engaged, but also cool.
Best Indoor Play Parks in Arizona
Here are some of the best Indoor Play Parks in Arizona ~
Makutu's Island, in Chandler, is an adventure for children of all ages and a perfect way to beat the Arizona heat. The place is designed with a tropical theme, Makutu's is a lush, exciting indoor "island" with towering trees, climbs, bungees, zip tracker, arcade, cafe, theater, toddler zone and mysterious caves.
The indoor tree (which is their centerpiece), is filled with tunnels, tubes, mole-holes, fire-poles and slides, and offers hours of fun and adventure.
Funtasticks Family Fun Park in Tucson has fun for people of all ages. The park includes Tucson's largest Indoor Laser Tag, Miniature golf, go-karts, bumper boats, and 5-ride Kiddie Land, arcade, batting cages and more.
They do birthdays, and corporate events too!
Located in Gilbert, BounceU is a great place for kids to jump and release energy. They have all open bounce, birthday party opportunities + more.
They have awesome inflatables, fantastic games, and wall-to-wall fun. Bring socks – they'll take care of music, games, and everything else!
Located in Tucson AND in Scottsdale, AZ Air Time is over 25,000 sq.ft. in total that caters to fun for all ages.
Play dodgeball, shoot baskets, jump into a huge foam pit, practice tricks, or just jump for fun. Jumping on a trampoline provides a low impact, aerobic exercise that results in amazing health benefits for all ages and it's SO MUCH fun!
Plus, score 2 FREE admissions per year with the POGO pass!
Climb to your heart's content with more than 15,000 square feet of 30-foot high faux-rock walls at the Phoenix Rock Gym. Exercise muscles you never knew you had while you explore more than 150 climbing routes that range from leisurely to ultimate daredevil.
Test out faces, cracks, chimneys, and more (or at least find out what they are).
Plus, score 2 FREE admissions per year with the POGO pass!
Jumpstreet is a fun place for the kids. They have 20,000 square feet of wall to wall trampolines that you can jump, and tumble on. For kids 7 and under, they have an Earthquake Kids Zone, and they also have mechanical bull, too. They also have birthday party packages.
Located in Glendale, PlayGrounds Fun Zone is 3,500 of indoor play space in a self contained environment. Kids 10 and under can crawl and explore. If you have younger kids, they can play in their own toddler area. Parents can enjoy food from the full scale cafe, too.
They offer a special discount when you sign up for their text promotions, too.
An indoor play park in Mesa with climbing walls, spider tower, ball blaster, super slides, and a mega play structure in a self contained environment. Voted Mesa, Arizona's best family play place by the readers of Family Magazine.
Urban Jungle Fun Park is a super cool indoor facility where that has taken some of the best action oriented activities of an amusement park and a playground and mashed them all together into one really cool, super sick place.
Plus, score 1 FREE admission per year with the POGO pass!
With over 325 locations in multiple states, My Gym in Tucson is located on Oracle Road. The gym is perfect for kids from 6 months to 13 years of age. They have structured classes – including classes for dance, music, rhythm, art + more.
They also offer summer camps, too!
Krazy Air is a 28,000-square-foot indoor family fun center with attractions and activities for all ages and fitness levels with several locations in Phoenix. They also have one of Mesa's food favorites inside the park – Steve's Krazy Sub. They are open Monday – Saturday. Krazy Air is the perfect destination for some after school fun or a weekend outing for the family.
Designed by the creators of rides at Universal Studios and the Forum Shops in Las Vegas, this 18,000 square foot indoor play park is truly an out-of-this-world experience. Up to 60 players can play in this techno and giant fog-filled labyrinth. There are over 90 towers, bridges, and ramps, with over 15 different levels along with an intense sound system, light show, and interactive targets. The arena is filled with 3-D artwork from the country's best arena artists, as well as the black hole time travel simulator.
Plus, score 2 FREE admissions per year with the POGO pass!
BouncePark is an inflatable theme-park inside Bounce-A-Rama, where bouncers can race through challenging obstacle courses, explore hidden paths, and conquer two-story slides. All of their theme inflatables are custom designed.
Bounce a Rama is geared to ages 12 and under, and children under 62″.
Plus, score 2 FREE admissions per year with the POGO pass!
These indoor play parks in Arizona can change at any time. Prior to making a trip, we always recommend giving the location a call to ensure they are still open and you can visit.

A POGO Pass is a one-stop pass to fun. With this POGO Pass promo code, save big on passes and never run out of things to do!
POGO Pass Facts:
ONE pass is required per person.
We recommend a pass for ages 2 and up.
Venues can change at any time!
You can print your pass OR log into your account to show your pass at the venue.
Some venues have specific hours to use your pass, so see the POGO website for more.
POGO Passes are personalized so you cannot "share" a pass.