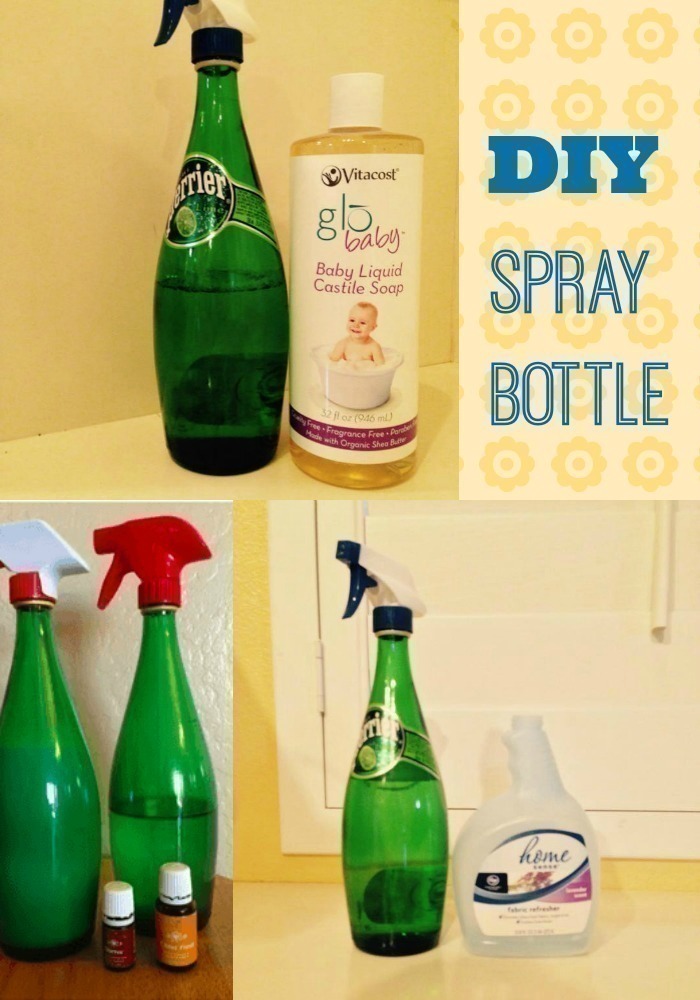 I'm in LOVE with glass spray bottles. I completely despise plastic bottles…and so every opportunity we can get our hands on cheap or FREE plastic bottles I will dump out the contents and use for making glass.
It's a great way to make your own cleaners – and if you use Essential Oils (not the type in the grocery store but REAL Therapeutic Essential Oils) that break down plastic, you MUST use glass. So it is a great alternative to buying the expensive glass ones available on Amazon.
To make your own:
Buy a Bottle of Perrier Water, 1 Liter in size – they run anywhere from $1.25 – $1.75 at Walmart or Fry's, even Safeway too
Take off the top, drink the contents or use it another way (I would pour into another jar, and save it to water your plants – just make sure it's flat!)
Get a Plastic Bottle you don't use and remove the top (in this case, I used a Home Spray Bottle from Kroger because it was a "FREE" product they sent me in the mail with a coupon – since I use my own home cleaner sprays, I dump out the contents and keep the topper)
Place the topper on the bottle…
Mix up your own cleaners (we love Castile Soap and Water, combined with a little Tea Tree Oil)
Love Essential Oils? If you do, or even if you aren't using them you can read more on our last post here – including a monthly promotion to pick up a great deal on a starter kit with $50 in BONUS items!