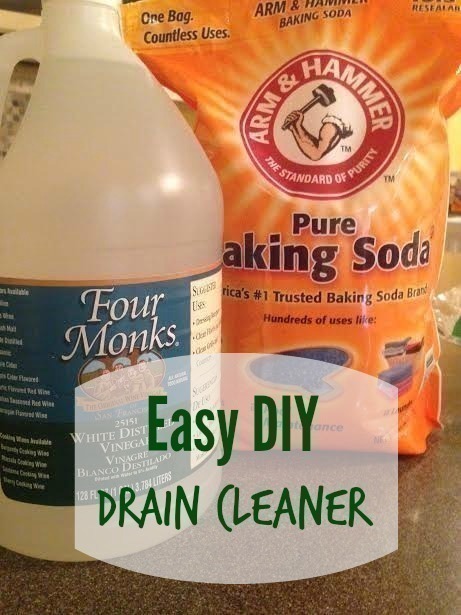 Many of you, including myself, constantly battle clogged drains. I cleaned ALL of the drains in the house this morning and it literally took half an hour to do the entire house.
My daughter and I have VERY long hair, so we battle with clogged drains.
We KNOW we aren't supposed to put our hair DOWN the drain but guess what? It happens….all too often. It is a pet peeve of mine to be brushing my teeth and have water that won't go down the drain – that's when I know I need to do some magic to open it up.
Fixing the drain is something you can do with a few simple ingredients – right in your house. You don't need to spend huge bucks on Drano – just a few things from the cabinet.
We buy Baking Soda and Vinegar in Bulk at Costco and it comes in handy for all kinds of things at home – if you are a member there, throw it in your buggy next time you shop.
Easy DIY Drain Cleaner
1/2 C. Vinegar
1/2 C. Baking Soda
Step-by-Step:
First, Baking Soda down the drain, let it sit a minute or two.
Then slowly pour the Vinegar- it should fizz.
Let it sit 15-20 minutes like that, at least. Then pour VERY hot water down the drain (use caution!)
The gunk should work itself out and if not, then the $3.00 plunger from Dollar General should come in handy. We have the black plunger from Dollar General – it stays in the bathroom just in case.
I have one of those long, white plastic things with "hooks" I got from the Home Depot a long time ago – it "hooks" to the stuff that is stuck. They ALSO sell them at the 99 Only Store too.
If you can stick it in that far – we keep one in the TOP cabinet away from the smaller kids, and when we need it we use it to help us pull any "gunk" out before we attempt to pour stuff down the drain to remedy a clog.