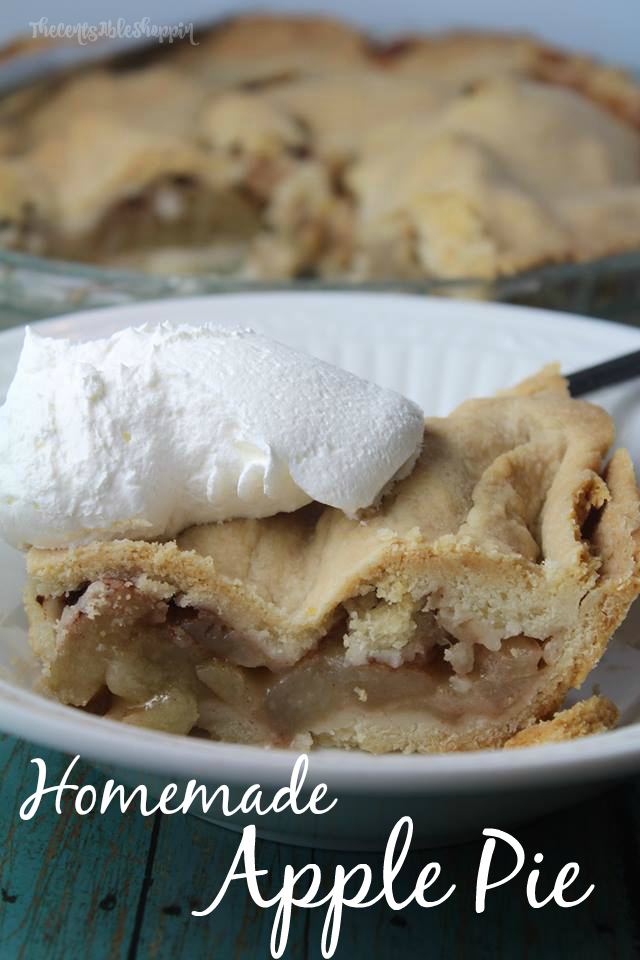 Do you make your OWN pies or do you buy them? I can't say I have ever opted to buy them – we make ours, and they are SO easy to do… not to mention they taste SO much better than buying one in the store.
Apple Pie is the MOST popular in our house, my kids had dug into this one before I could even get my OWN slice … it was pulled from the oven and not even 30 min later 2 pieces were cut and gone. Clearly, not me.
I personally love the cust more than the pie itself – I always opt to make my own crusts – they are effortless! SO much cheaper to make your own than buy the ones that are premade, and you can definitely taste the difference. Mine turn out buttery, and flaky .. just how we love them!
We really don't follow a recipe for my pie, a little of this and a lot of that, it works out well EVERY time. But for sake of putting a recipe IN this post, we'll try to work one out that'll lead way to a really tasty pie…. if you make this, let us know how yours turns out!
Homemade Apple Pie
2015-11-13 20:51:01
Crust
1 C. Butter (Cold, Cut in Pieces)
2 C. Flour
2-3 Tbsp Cold Water
Filling
6-7 Large Granny Smith Apples, Peeled & Sliced
3/4 C. Sugar
Shakes of Cinnamon (use your judgement!)
Pinch of Ground Nutmeg
1/4 C. Butter, cut into small pieces
Instructions
Before making the filling, you need to make the crust. In your KitchenAid, throw in the butter (cold and cut into pieces), and the flour.
Turn on that mixer on high, and let it cut through the butter. Add 2-3 Tbsp Cold Water to bring the dough together.
Scrape sides and beater and form into a dough - it should be a moist ball - but not TOO moist!
Form up that ball with your hands - then divide into TWO.
Flour your counter WELL. and lay each ball to roll out carefully - the size of the pie pan/plate
Roll out just enough to stretch the pie plate, not too much that you make it too THIN to move TO the pie plate
fold over the top of the rolled circle, transfer to pie plate, and unfold to lay in the plate, poke holes in the bottom with a fork.
Onto the filling... peel & slice the apples, and toss into a large bowl
Add sugar, and cinnamon, take a spoon and toss to mix well
Pour the filling into the pie plate, top with the 1/4 c. butter you cut into pieces
Then roll the last of the dough balls onto a nicely floured counter top, large enough to cover the TOP of the pie plate.
Once rolled, dust with flour one last time, and fold the dough once, transfer to the top of the pie plate and unfold over the top of your pie
Cut an X onto the top of the pie (to let it breathe) and pop in the oven for 45 minutes at 350.
If your crust is cooking TOO fast, cover the edges with foil (we don't have this problem but you might!)
Notes
Serve it up with Whipped Topping and maybe even a little Vanilla Ice Cream.
The CentsAble Shoppin https://www.thecentsableshoppin.com/