This homemade dog shampoo with essential oils is a wonderful alternative to commercial dog shampoos that can contain a myriad of chemicals. It's SO easy to make and is incredibly effective!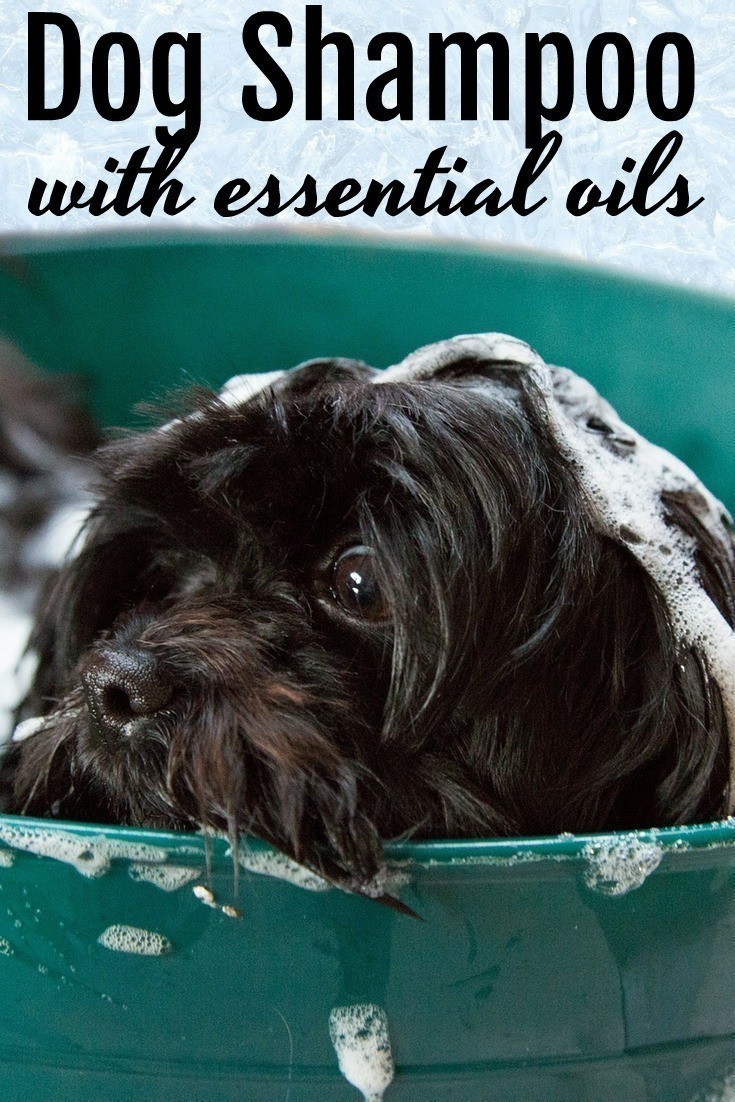 Chances are you clicked on this post to find a recipe for homemade dog shampoo with essential oils – am I right?
Of course – and rest assured, you are in the right place! Did you know that homemade dog shampoo can be just as effective as store bought varieties? You can really save quite a bit of money by making yourself, not to mention you can control the ingredients.
There are so many store varieties of dog shampoos. Unfortunately, many have a laundry list of chemicals that can be hazardous to your pet over the long term. Just like commercial beauty products can be unsafe for people, they can also be quite toxic to pets.
Just like we watch what we put in our body, we need to be just as mindful of what we apply to our skin. The same goes for pets as well. I personally love making my own beauty items because I am really particular about what goes in them.
Believe it or not, your homemade pet shampoo can lather up and smell just as incredible as those varieties in store.
It's also pretty liberating when you make your own products, and uncover that homemade items can be incredibly awesome. That feeling of satisfaction and success almost makes you want to do cartwheels on your front yard and shout to the rooftops.
(Wait.. maybe that's just me?!)
Lets talk about basic dog shampoo ingredients – you have castile soap, coconut oil, distilled white vinegar and essential oils. Coconut oil moisturizes while castile soap cleans, and vinegar helps with yucky smells.
Be careful when choosing essential oils for pet shampoos – avoid tea tree and remember that a single drop goes quite a long ways.

Use a foaming pump for your pet shampoo to get a nice lather and you'll be surprised at how effective it is at getting the job done. You can find a pack of 2 or 3 foaming pumps on Amazon for just a few dollars.
They work incredibly well for making your own hand soap, too. In fact, the more the merrier because you can make your own hand soap for every bathroom and to have near the kitchen sink, too.
Homemade Dog Shampoo with Essential Oils
Ingredients:
8 oz water
1 Tbsp castile soap
1/4 tsp Vitamin E oil
3 drops Lavender essential oil
1 drop Cedarwood essential oil
2 drops Peppermint essential oil
2 drops Roman chamomile essential oil
To make:
Add the water to your foaming pump, along with the essential oils. Slowly add the castile soap followed by the Vitamin E oil. Then, place the cap on before tipping back and forth to combine (avoid shaking because it will foam and foam and make a big big mess).
Use as needed when bathing your dog – as with any soap, avoid using around the eye area even though it is largely diluted.
Do you DIY your dog shampoo? If so, what is your favorite recipe?