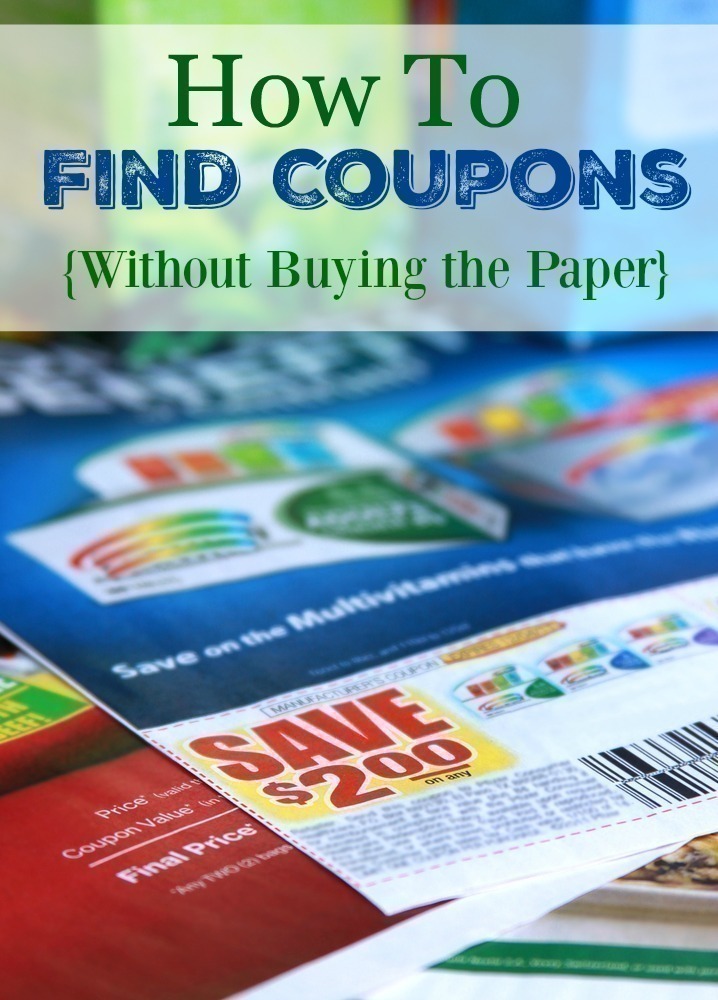 If you are new to couponing or, if you have couponed for a long time, chances are you have (at some point) gotten coupons from the Sunday newspaper.
Usually that's one of the first things people do when they start to coupon. If you already have a subscription to the newspaper I'd say keep it – at this point, it makes more sense to continue that subscription than to let it go.
But if you don't yet get the Sunday paper, I would wait for a while – it's not that I don't believe IN the paper (because I do..) .. it's just that there are SO many alternatives TO the Sunday paper – where you can get coupons for free. (Not just that but the Arizona Republic can be VERY pushy about a subscription – after your promotion ends they are really persistent about calling..)
It's been a LONG time since we have gotten a Sunday paper – we don't even have a subscription to the paper (and I never order coupons from a clipping service either). I am not telling you to take my route, but we really just don't find it necessary to pay for a paper because we have other bases covered – in abundance!
There are so many ways you can score FREE coupons without buying the paper ~ here are just a few ideas to help you get started:
#1 ~ Ask your Friends or Family for their Inserts
If you work at a job full time or part time, ask your co-workers for their newspaper inserts – you might be surprised at who's willing to bring them in for you. Family and Friends are also great to ask – in most cases, they will usually get tossed out with their recycles every week.
#2 ~ Print Coupons
Every day (and even week) we have a number of new coupons to print – in most cases, they can be the same value or more than newspaper insert coupons. Sometimes they are only available for a short period – no matter what, we always try to mention the great ones so you can print.
Considering you can print 2 prints per computer, most of us have additional computers and even our mobile device to allow extra prints – which is great … especially if you have a cost-effective laser printer. Check Coupons.com, Red Plum, Smartsource, and even Manufacturer websites and Facebook pages for savings.
# 3 ~ Local Library
Some libraries will have coupon inserts from the Spanish Paper, or even the local newspaper available for free certain days of the week. In most cases they will be free – but only while supplies last.
If I really need inserts I can sometimes stop into my local East Valley library and pick up free papers for just the inserts.
#4 ~ Trade Coupons
Join a Trade Group – or, trade with people on Facebook or, who live near to you. If you don't use dog food coupons and your friend doesn't use baby coupons, you might be able to swap so that they go to great use. You can also find forums online to trade (Hot Coupon World has one).
#5 ~ At the Store
So many times we find coupons in blinkie machines, booklets, or even on the display in store. it always pays to keep your eyes open, perhaps even teach your kids to look for them too. If there are plenty of coupons, pick up a few – and hopefully you can use them to snag a great sale that comes up.
I would not recommend taking coupons off of a product though – if you find a peelie coupon .. it's intended for the purchase of that item, at that store.
#6 ~ Local Church
Visit with a local church and let them know you are looking for extra inserts – in some cases, the congregation may set out a basket in the fellowship hall to collect inserts. Even better, if your church has a pantry, you can also mention your willingness to help donate it forward for their generosity.
#7 ~ Starbucks
This is a GREAT place to go – usually people frequent Starbucks on a Sunday or Monday morning for their coffee & newspaper and, leave behind the Sunday coupons.
Know anyone who works there? Ask them if they can look before they leave their shift – around 1 or 2 p.m. people may start leaving and the paper becomes less attractive as it's strewn around tables. Those inserts may just be a little pile of old in all that mess.
#8 ~ Recycling Bins
In some areas (I say some because what works at one may not work at all! it is permissible to pull anything out of the bins that you may need. Now it may not be legal in all areas, so you will need to check with your city first – but if it is permissible in your area, it can sometimes be a great way to get extra inserts.
#9 ~ Go Digital
Since double coupons have ended, Fry's has been pushing their digital coupons pretty hard – There are over $400 in savings on the Fry's Digital Coupon portal. It's unbelievable.
All you need to do to go digital is load coupons to your card – this goes for Cellfire (use at Fry's), Fry's Digital Coupons, SavingStar, even Target Cartwheel.