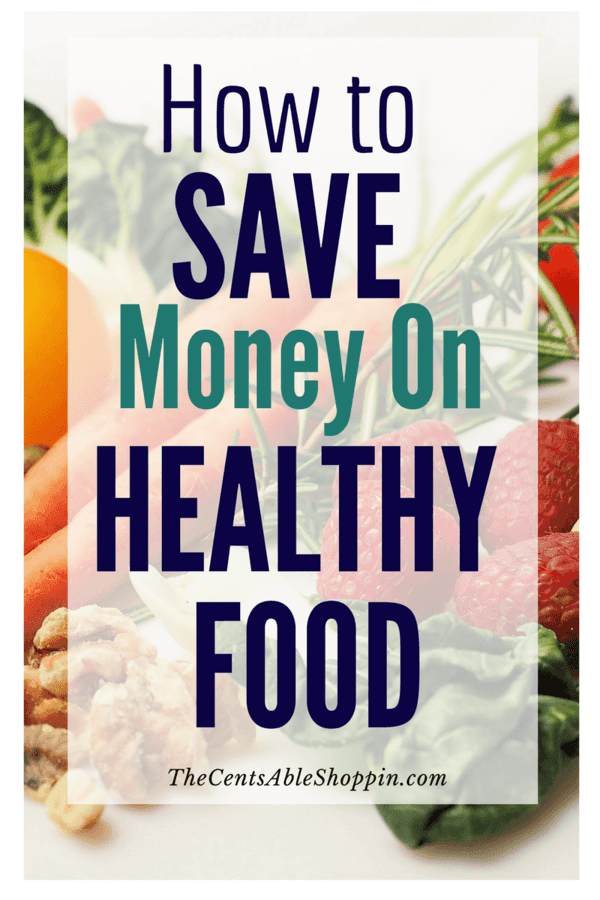 Healthy eating can be incredibly affordable, if you look in the right places. It might be expensive to eat, but it is more cost effective to choose your food wisely.
Your eating affects everything from your lifestyle to your health, your mood, to relationship. It's important, therefore, to pick up truly healthier, more nutritious options. However, despite knowing that we should eat better, many often complain that those healthier options are more expensive – the cost of organic produce is too high and healthy food is out of reach for many American families that are paycheck to paycheck.
I shop for food too. And while I might not shop in the traditional grocery store, when I visit Costco to stock up on pantry staples every other month, I notice others shopping carts. Some are loaded with sugary cereal, ice cream, mac and cheese cups, drink pouches, chips and even frozen nuggets and pizzas that are fast, easy and appear to be inexpensive. Those poor eating habits can be truly expensive because they are essentially processed foods with little to no nutritional value that are loaded with sugar and artificial sweeteners.
Eating those foods can wreck havoc on your body over the long term and result in costly medical bills, excess weight. Thankfully eating healthy can be cost effective if you know how to shop in the right places – and you don't have to clip coupons to achieve that goal.
Today, Americans spend an average of 13.3% of their budget on food – and of that, 42% is spent in restaurants. As a family of 7, eating out can topple $50 – $60 if not more, which is relatively costly considering that money could be spent on local, organic produce for a mere $25 a week, without even stepping foot in your grocery store.
To afford healthy food, we basically need to shift our frame of mind. Thankfully there are several ways to stock your pantry with healthy alternatives without having to coupon or resort to not-so-wise choices. Staying out of the grocery store is always a wise choice too — and thankfully, there are so many better options, that the grocery store becomes a thing of the past.
Here are several ways you can save money, and eat healthy without resorting to coupons:
Vitacost
Combine wholesale prices with the quality of your local health food store to find everything from food to supplements, and more. Vitacost is our go-to for everything from Lentils to Organic Flour, Garbanzo Beans, Balsamic Vinegar, Coconut Products and Herbs/Spices.
Shipping is FREE over $50. They do offer their own brand (though it tends to be Non-GMO, it's not organic), and they don't charge a yearly fee. Vitacost frequently sends out coupons for 10, 15, and sometimes even 20% off (so make sure you sign up for emails!)
Thrive Market
Thrive Market is similar to Costco in that you can find wholesale prices, except that they are similar to a health food store.
You can score up to 50% off retail – and FREE shipping over $49. You pay a yearly membership free (similar to Costco) but you can reap back the savings plus more with frequent orders. You can sign up for Thrive and get 15% OFF your 1st order, too.
They carry everything from coconut products to spices and herbs, food, and even household items.
Azure Standard
Azure Standard offers healthy, non-GMO and organic food plus earth-friendly products. No membership fee, with direct delivery to your community – you can find everything from food to supplements, and items for home and personal use. It's a wonderful avenue for lentils and beans, flour and more.
If you can't find a drop in your area, you can host your own drop and gather the support of family and friends.
Join a CSA (Community Supported Agriculture)
We're huge advocates of our CSA, which allows us to get a bag of local, organic produce each week from farmers that grow without pesticides or herbicides. Our CSA, called Taste of Paradise, stretches across Phoenix. We learn what we will be receiving the Friday before the week arrives, and we have the option of substituting two items or, creating a custom bag.
Since we pick up at the Farmers Market, we can add on anything that's there too – from cilantro to green onions, squash, zucchini, butternut squash, apples & even broccoli. The produce comes from local farms that don't use pesticides or herbicides – the prices are amazing, and in most cases less than what you would pay at the grocery store. Not to mention the produce is local, so it stays fresher, longer.
Our CSA allows you to pay by the week instead of signing up for a contract, and our bag determines our meals for the week.
Warehouse Shopping
As a family of 7, we rely on our warehouse membership for some of our pantry staples – they have great prices on many organic, real food items. Their store can be great if you know what to buy – from Organic Flax to Organic Chia Seeds, they carry a considerable amount of real food items for those of us who have the space and ability to blow through smaller sizes.
Amazon
Amazon has wonderful deals not just with Prime Pantry, but through their subscribe & save offers. Things like organic corn meal and corn flour are very competitive in price. We can also find skin care items like shea butter, beeswax, cocoa butter, and aloe vera gel that we use to make our own personal care products. They also carry Vital Proteins Gelatin, that ships the same day if we run out at home.
One of the advantages of Amazon is that an Amazon Prime Membership will allow you to get those items delivered relatively fast, too.
Local Beef & Poultry
Skip the unhealthy, factory farmed meat you find in the grocery store and opt for pastured beef or poultry from a local farmer.
Use Eat Wild to find a farmer near you that offers packages based on your needs – if you are here in Arizona, there are many in the state that raise poultry and beef that are raised on pasture.
Date Creek Ranch – Pastured chicken, lamb, pork and beef, as well as fruit
Do you use any of these resources? If not, do you have any savings tips?