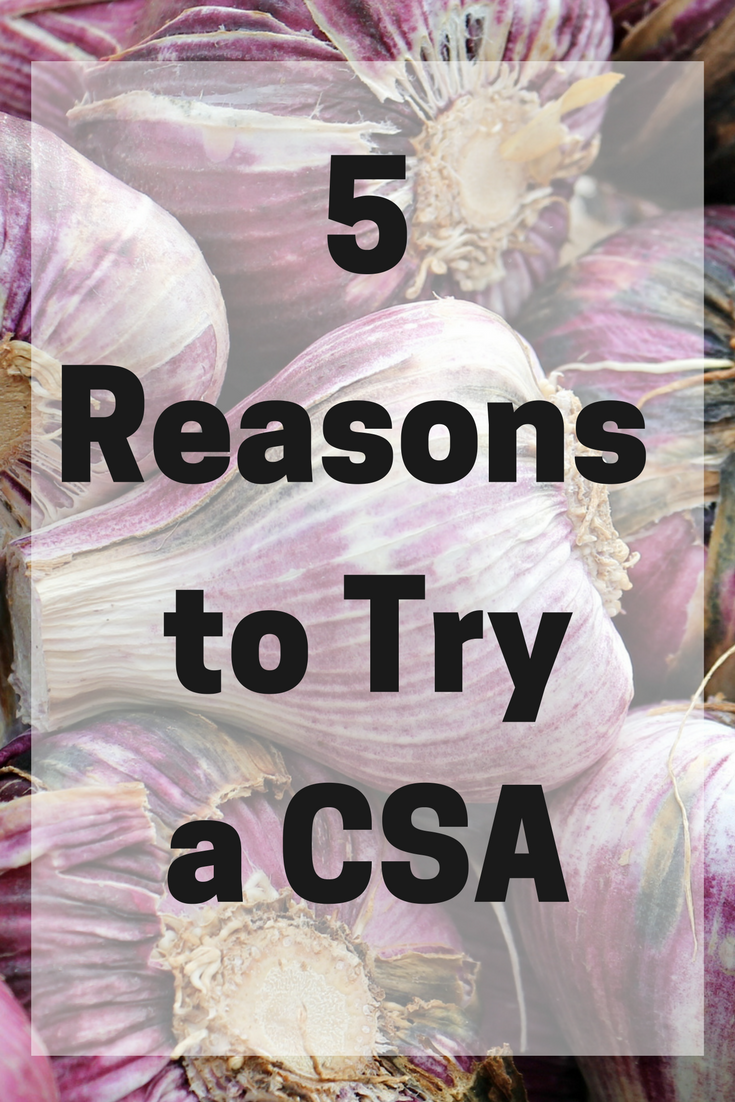 The New Year is quickly approaching, and if you are looking to make some new life changes, this might be one to consider.
If you haven't considered joining a CSA, it's a wonderful experience – it has been a few years since we made the leap and joined one in our local area — not only has it been one of the best decisions, it has been an investment in our health.
There are so many great reasons to join a CSA this next year — besides eating healthier, you'll learn how to cook fresh, healthy food, while also getting an opportunity to learn about your local environment, variety, choices.. the list could really go on and on.
CSA stands for Community Supported Agriculture — it's a weekly share in a bag of local, organic, in-season fruits and vegetables each week that you will pick up in your local area. Every CSA works differently – some require share payment for the season up front – but some operate on a week to week basis and allow you to make changes to your bag.
Here are a few reasons you may want to consider joining one this new year:
Eat Seasonally
Though you can try to eat seasonally on your own, when you shop at the grocery store, it's relatively impossible — everything is available all of the time, no matter what time of the year it is. When you participate in a CSA share, you pick up your box of vegetables each week, and everything in that box/bag is fresh in-season produce. Your local potatoes, and field-ripened tomatoes and produce will always trump the waxed produce that travels for miles to your local grocer.
Support your Local Farmer
When you participate in a CSA, you are helping support a local farmer and local agriculture – not only do you protect that land from development, you are also supporting a system that is working hard to reduce the miles that the food travels from the field to your dinner plate.
Sense of Community
Most CSA pickups are made at local businesses or farmers markets, where you get the wonderful opportunity to mix and mingle with other farmers, and local businesses that strive to get to know you and your family.
You might get to pick up fresh Lavender, homemade soap, grab a meal from a local Food Truck chef, or pick up local, raw honey or salsa on your way in to get your bag. Or if you are picking up at a local business, chances are they are small business owners that are striving to get to know those in the community.
It Might Not be Just Produce
A CSA share may lead to other opportunities that'll allow you to eat farm to table — because community supported agriculture is more than just a bag or box of produce.
CSA members may also be able to pick up pork, chicken or beef from a nearby farmer, raw milk from a local raw milk dairy, and raw honey from a local beekeeper. Joining a CSA share makes you part of a challenging system that — you give your food dollars to a local farmer, and in return, he grows food for you and gives it back. If anything, it'll help you develop a new, profound relationship with the food you eat.
You Learn how to Improvise
There is nothing like a bag full of new vegetables to motivate you to channel your inner chef in the kitchen. Not only will you have fresh food in the house, having a bag or box of produce really does encourage everyone to eat healthier. If anything, it forces you to be creative and find fun and unique ways to use your bounty. Soup is a wonderful way to use almost any vegetable – a blender can transform a chunky soup into something creamy.
Broccoli and Cauliflower can be used as a pasta sauce, and zucchini can be turned into fermented or turned into relish. The possibilities are endless – but it gives you a chance to learn how to improvise with what you have and how to use it in different ways.
Are you Part of a CSA?
Here in Phoenix, we are fortunate to have several opportunities to find a CSA. I'm in the East Valley & we have a few that stand out above others. If you are not in my area of Phoenix, check out LocalHarvest.org – a site that will help you connect with local farmers for meat, eggs and produce.
Purchasing the right size share is important – and some farms will offer a single bag or a family bag. Don't be afraid to ask questions or talk to your local CSA to find out more.
Here are some of the most popular CSAs in the Phoenix area.
Taste of Paradise – a local Phoenix CSA with locations all around the East Valley to include Scottsdale. You can order one time or as a regular repeat customer – and choose between full or half share. You will receive a weekly bag of produce that will contain 8 pre-selected varieties of locally grown, organic fruits and vegetables. The produce will vary each week and throughout the seasons, and will come in multiple pounds and quantities. Taste of Paradise will post on Facebook every Friday to let you know what will be in the upcoming bag – you have the option of single ($17) or family size ($25), and can swap out 3 items, or add on to the bag offerings, to include pastured eggs ($5/dozen). Participation is week by week.
Steadfast Farm – a local Queen Creek CSA with pickup locations across the Valley. You will pay for a weekly ($25/week for 16 weeks = $400) or a bi-weekly (8 weeks for $240), with the option to add on pastured eggs or fresh cut flowers.
You can see a larger list CSA's for Phoenix HERE.