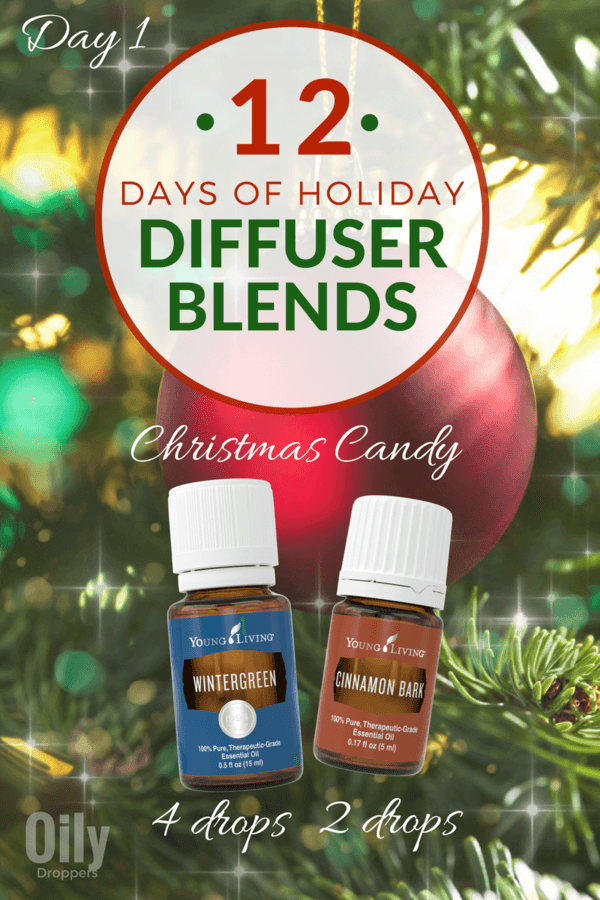 Chances are you have pulled out some holiday candles to make the house smell amazing this holiday season.
While candles can be pretty amazing, they can also be pretty harmful too.
One of the BEST ways to enjoy the holiday season is by diffusing – not only can diffusing help you support your immune system, it can freshen the air, support your emotional health and benefit many people at once.
Believe it or not, it's much more cost effective to use a diffuser ~ if you select the right one, it can run for up to 8 hours with just a few drops of essential oil.
Today we start our 12 days of Diffuser Blends – today's blend is Christmas Candy, with 2 essential oils – Wintergreen and Cinnamon:
Cinnamon Bark:
Cinnamon Bark has a hot and spicy fragrance that is said to unlock feelings of abundance. It's wonderful for supporting healthy emotions. It also supports healthy circulation and provides support to the immune system.
Wintergreen:
Wintergreen's refreshing minty aroma is stimulating and invigorating. It's a great addition to lotions that are applied after activity. It's wonderful for supporting healthy muscles, joints and includes the naturally occurring constituent methyl salicylate.
One of the best ways to get started with Essential Oils is to pick up this deal here – which has 11 Oils and a Diffuser – you'll grab a wholesale discount on oils for life and be able to get started with some of the best oils to take care of your wellness.
We use Young Living for many reasons, the main two of which are their purity and the second – their transparency (visit the farms ANY time and participate in the harvest!)
Once you have a diffuser you'll realize you will want/need another diffuser in your home since that one won't be quite enough for you… So we rounded up 5 of the BEST non-Young Living diffusers to invest in as extras for your home.