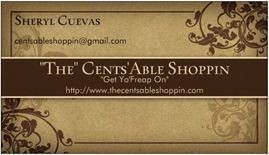 Those of you in need of business cards  -I found a great deal.  Vistaprint is offering 500 Premium Business Cards for just $10 + FREE shipping.
This is much better than the deal I noticed last week (100 for FREE + $5 shipping). This is 5 times as many for just double the price, and free ship to boot.
You will need to select from the designs marked for $10 (the selection is enormous, trust me).  They have everything from artsy, to formal, to feminine & more. Great way to get stocked back up without having to worry about shipping fees.