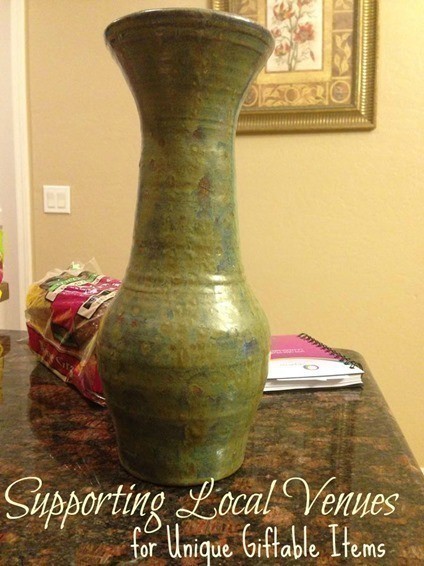 We're halfway through the calendar year, and before you know it, the stores will be decorating for the Holiday Season.
As I cleaned my house today, I pulled down my vase from the top of the bookcase – and I wanted to grab a picture of it to share – perhaps you're curious why I photographed a vase… there is a great reason behind it!
This vase is just one of 4 unique pieces of pottery I was able to gift to women in my family a few years ago – of course I kept this particular one as my gift, but the others were each unique.  You would probably never be able to guess where I picked them up – but hopefully it opens up some opportunities for you to think outside the box this year.
Before I stayed home to be with my children, I worked in Army Recruiting – I spent a great deal of time in the high schools with high-school age students giving them the Armed Services Vocational Aptitude Battery (ASVAB) to help them determine a career focus for them after high school.
In doing this daily over an 8-year span, I met so many talented students –many of which were taking part in extra elective classes for Woodworking, Art, Pottery & more.   Their instructors were extremely excited to share the work their students were doing – I'll give a few examples:
Ironwood High School in Peoria had a fabulous Art program – the students were amazing at making beautiful pieces of Pottery (like mine above)
Mountain View High School in Mesa has an incredible Woodworking Class – they make everything from Magazine Racks to Bread Boxes for your Kitchen (which they do sell!)
Catalina Magnet High School in Tucson (Construction) – I can't say enough about these students, but they made the most incredible Play Houses (for outdoor spaces!) – if you have children ages 3-8 that love outdoor play, it's a great way to support your local high school students and also score a great quality piece to give your children.
As the school year starts in just a few weeks, keep these sources in mind – seek out your local High School, and find out if they have elective courses similar to those above where they can use their skills.
The Vases I picked up took the students one week..  I paid just over $10 for each Vase and was absolutely thrilled when I saw them – as were my recipients!
It's a great way to support your local schools and give the students a chance to perfect their skills- while allowing you the opportunity to gift a unique item.