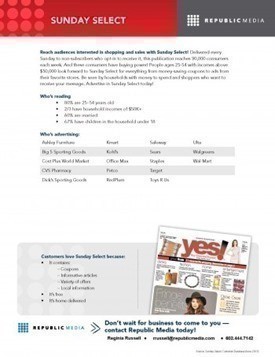 Arnold passed along this information to us last year around this time – and if you missed this post it might help you – I have talked about this in past posts but many of you may not be familiar with the offer.
If you are in the Phoenix area and do not subscribe to the AZ Republic Sunday Paper, there is an opportunity for you to score the coupons and ads within delivered to your home for FREE.
The offer is limited to specific zip codes- you can see details and a map HERE as to the qualifying areas.
To see if it's available in your zip, you can contact the AZ Republic at 602-444-8742 – my mother in law does receive this in East Mesa, some areas of Queen Creek do get this as well. It's referred to as the "YES" paper – give it a shot and see if you qualify as well.
(thanks, Arnold!)