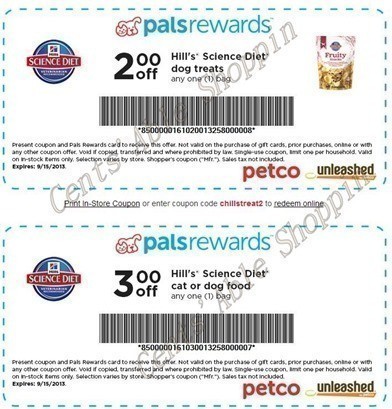 Grab 2 new coupons for Hills Science Diet – the second one, above, matches up well with a Manufacturer coupon right now as well. The coupons cannot be combined with any other Petco store coupons, but can be combined with Manufacturer for greater savings.
$2/1 Hills Science Diet Dog Treats (Bag) PetSmart Store Coupon x9/15
$3/1 Hills Science Diet Cat or Dog Food (Bag) PetSmart Store Coupon x9/15
Pair with: $5/1 Hills Science Diet Dry Cat Food zip 14170
OR pair with: register with Hills Science Diet and grab $18 in Savings
To change the zip on the $5/1 Manufacturer, go HERE – enter zip 14170 in top corner, then go back to HERE and click PETS.
The coupons are valid for those of you who are Petco Pals Members. If you are not a Petco PALS Member you can sign up HERE. Other recent Petco deals include: