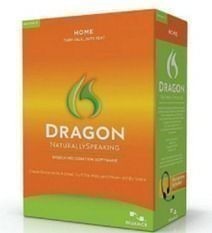 I wish Dragon could do my matchups…….I'd pay big bucks 😉  Newegg has Nuance Dragon Naturally Speaking Home for $29.99 after $40 rebate (shows by price) — it's reg. $99.99.
You can score an additional $20 off  with code EMCNBJF28, dropping it down to $9.99… after rebate that you'll send in once you get it.  You'll pay $49.99 today.
Then, catch this $40 Rebate (for purchases 8/6 – 8/20 making this deal the hottest offer of all the offers so far from Newegg in terms of software… so hot that I'm thinking of doing this so that I can TALK blog!    "Talk Blog" – wonder if that's possible?
The rebate requires the original UPC, and a copy of the receipt along with this form – dated for purchases 8/6-8/20; and mailed by 9/20.