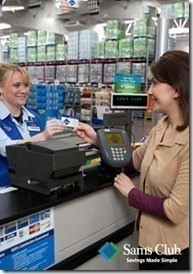 WOWsers!  This is still going! I thought I'd look and see if it was already gone but not yet!
Living Social is offering a one year advantage Membership to Sam's Club for just $45 – included are several vouchers – FREE Rotisserie, A FREE Pizza, FREE Cookies, FREE Cake & FREE Strawberries. That's 5 freebies – an $85 value.
I know not all of you think Sam's is cost effective – but there are some things that you can pick up there that do run better in cost that the traditional store (trash bags are a great example!)
The offer us valid at any of the 14 Valley Locations – I wolud encourage you to read the fine print noted (new members only) – voucher must be activated AT Sam's Club.