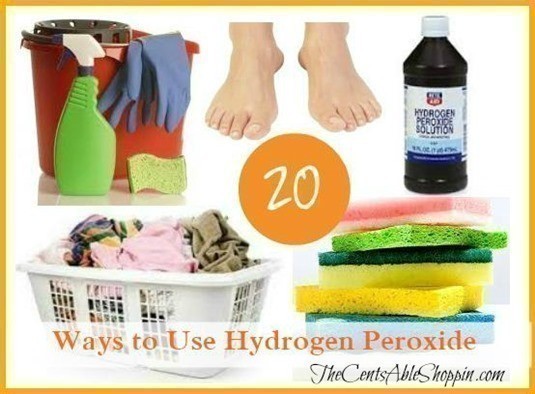 Do you have a lot of Hydrogen Peroxide? If you shop at Walgreens this week it is a GREAT price … the Walgreens Brand is just $.33 with in-ad coupon (Lim 6) – check the CVS Matchups to see the deal.
To encourage you to use up any bottles you might have, we wanted to remind you that just a few months ago we put together a fun and helpful list of 20 possible uses.
I usually use mine in the laundry, you can ALSO use as a household cleaner too – and it works super.
Some fun facts about this stuff that you may find as interesting as I did:
Fruits & Veggies naturally produce this stuff (you didn't know that did you?)
Your white blood cells produce Hydrogen Peroxide to fight infections.
It is safer to use than chlorine bleach.
AND it is used to treat drinking water and eliminate bacteria, chemicals & more.
You can print this list out for reference and hang on your fridge (that's where mine is) – or laminate and keep in a household binder for reference.