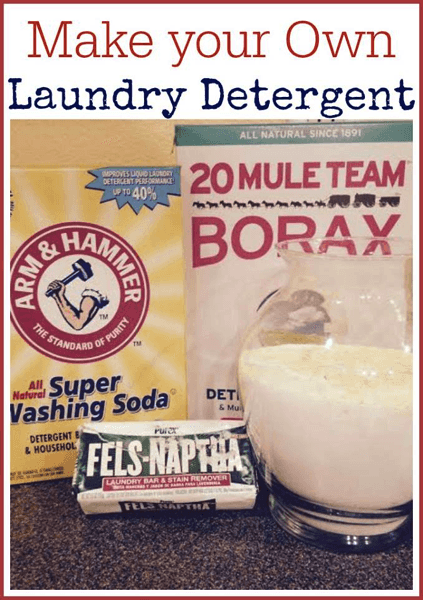 Have you ever thought of making your own laundry Soap? We don't buy commercial detergent and have been making our own for several years. It works GREAT – and it costs much less.
We made some back in July and we FINALLY ran out last night.. today we need to make some more!
We have made both liquid and powder, but I opt for powder because it's easier, takes LESS longer to make and is easier to keep.. especially with kids.
You'll need:
1 C. Borax
1 C. Arm & Hammer Washing Soda (NOT Baking Soda!)
1 Bar of Fels-Naptha
Grate the Fels-Naptha and combine with the other 2 ingredients. ..or opt to use Zote Soap (you can get 2 bars for $1.00 at the $.99 store).
If you are using Zote, I like to chop it up in smaller pieces and zap in the microwave for 30 second intervals until it gets VERY puffy – it's easier to grate. Store in a sealed container and use 1 Tablespoon per load or, 2-3 for heavier, more soiled loads.
Here's the cost breakdown:
1 – 76 oz box of 20 Mule Team Borax $3.99 (Target)
1 – box of Arm & Hammer Washing Soda $3.99 (Walmart)
2 – bars of Fels-Naptha $1 ea. (Walmart) or Zote Soap 2/$1 at the $.99 store
I prefer Fels-Naptha if I can get it, my Walmart has it, they also have Zote Flakes, too.
Can I Use it on my HE
Homemade detergent is low-sudsing, which is important for HE machines. I have successfully used both the liquid and the powder form in my HE, and had no issues.
This detergent does not hold the same commercial sudsing agents that Tide does…. which means you won't see the same soap bubbles that you would should you use Tide. However, it DOES clean just as effectively.