Step by step tutorial that will show you how to make calendula salve – a skin-friendly salve that's perfect for supporting skin cuts, scrapes, bites and more!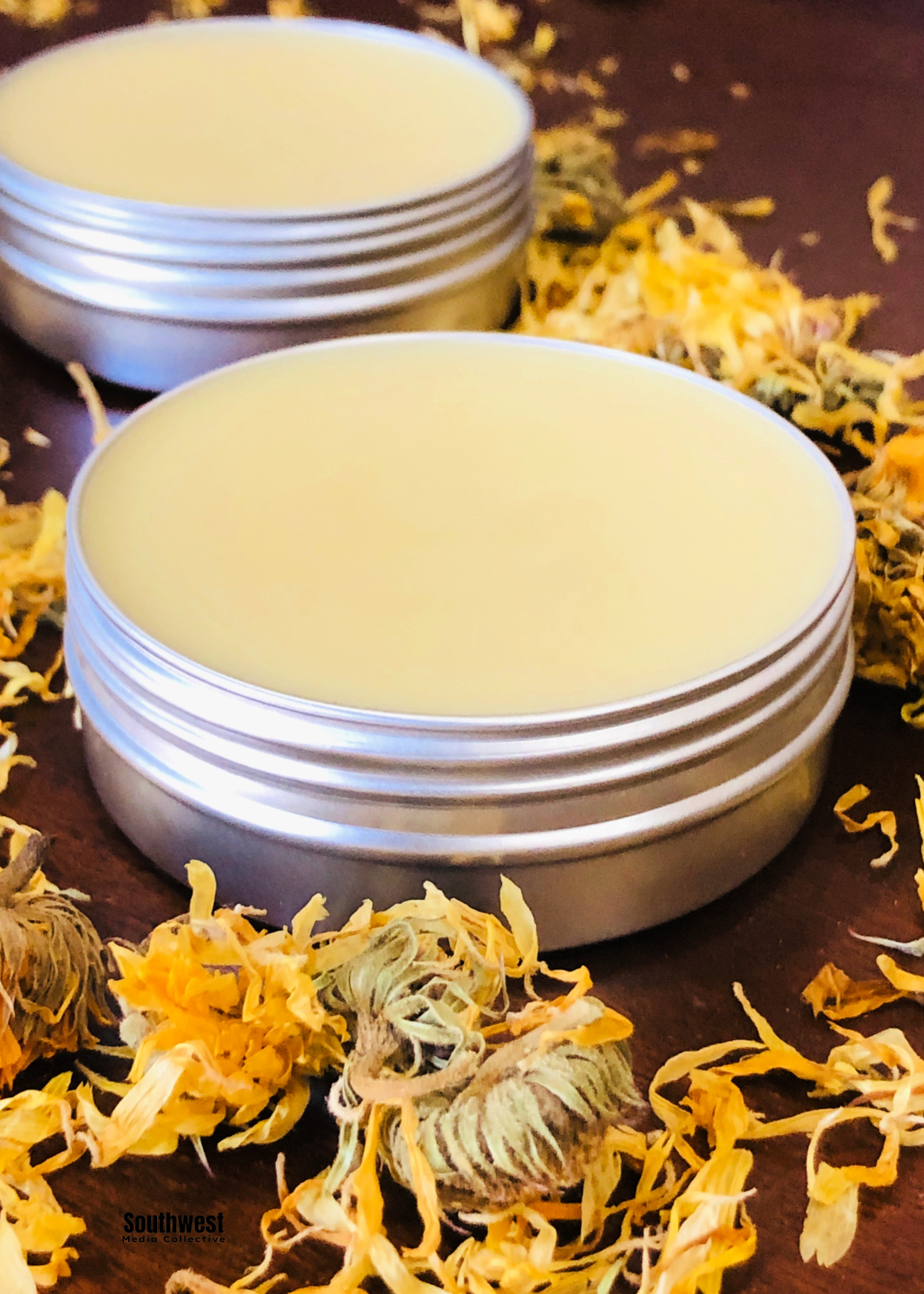 For the last 5-6 years, I've been lucky to grow calendula in my backyard garden here in Phoenix. Not only does it love the warm [ sometimes quite hot…] Arizona weather, it is beautiful to look at.
I could stare at calendula flowers all day long and literally soak up all their happy bits in my brain – they are just that gorgeous!
One of my favorite backyard plants to grow, calendula has so many wonderful uses for skin. It's a fantastic skin healer and perfect for using in a skin-healing salve for adults, kids and pets alike.
If you don't have a backyard garden or room for one at your home, you can always grow calendula in grow bags. These fabric pots can be picked up at most garden centers, or on Amazon for a great price. Pick up a few bags of soil (or, make your own living organic soil) and plant away.
How to Grow Calendula
Calendula grows best in fertile, well drained soil in fun sun or in part shade. It blooms with yellow to orange blossoms that open and close with the sun. It's easily grown from seed; in the spring, plant 1/4 inch deep and thin the seedlings 8-12 inches apart after emergence from the soil.
Calendula is a great companion plant in the vegetable garden. Good companions with calendula are tomatoes, peas, carrots, asparagus, cucumbers and spring salad veggies. It also does well in herb gardens, or along the edge of an herb, flower or veggie garden. In cold climates, calendula will die off in a hard frost and seeds will need to be resown the next year.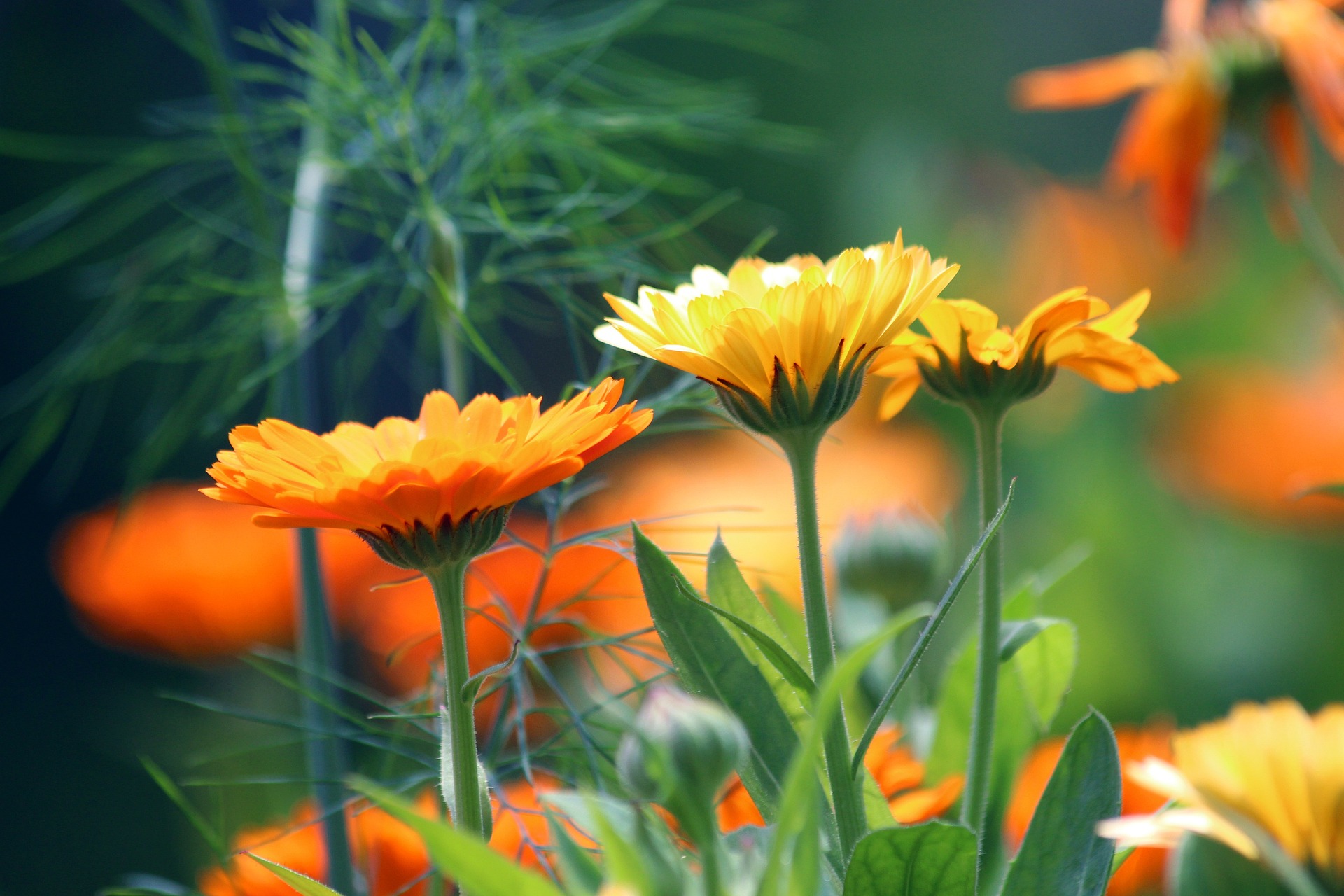 Calendula repels asparagus beetles, nematodes and tomato hornworm. It attracts beneficial insects, so it's a very useful flower to have in your garden.
One sidetone though.... there are some bugs that are attracted to calendula – which include blister beetles (for those of us in Arizona these beetles are nasty!), spider mites, slugs, flea beetles, cucumber beetles, whiteflies and aphids.
How to Make Calendula Salve
By collecting the flowers and allowing them to infuse in oil, you can extract the powerful qualities. Then use that oil to make salve, lotion, soap, or balm.
To make calendula infused oil, you'll want to allow your calendula flowers to dry. You can use fresh herbs, but the water content will be higher, and it may increase the chance of spoilage in your final salve.
To dry your flowers, spread them in a single layer on a paper towel and allow them to dry, undisturbed, for a week or two. However, if you don't have your own calendula flowers, then you can buy some online. Mountain Rose Herbs is a great place but you can also find some on Amazon.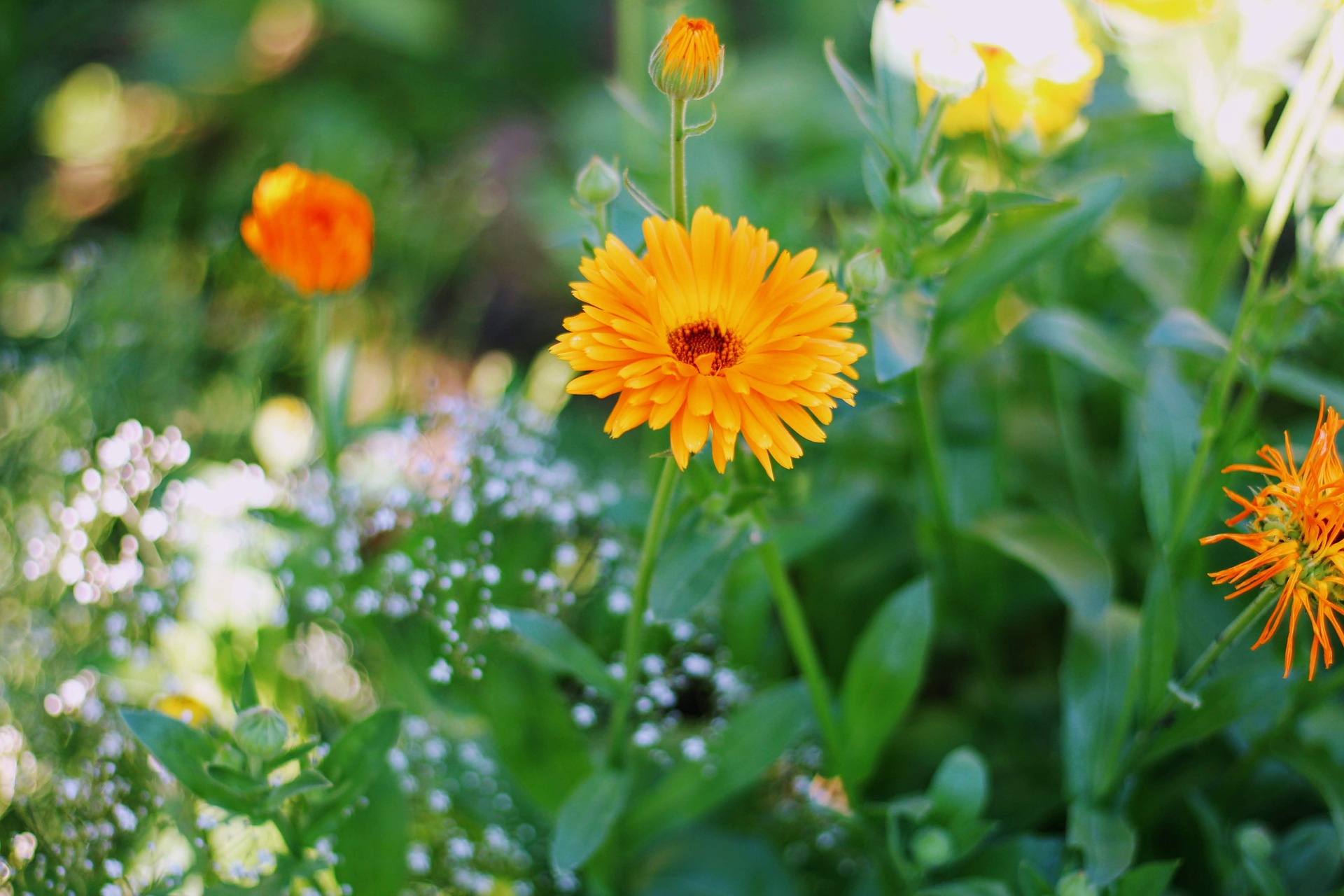 Step 1: Make Calendula Infused Oil
To make calendula infused oil, fill a pint canning jar 1/2 full with dried calendula flowers. Then pour your choice of oil over them – you can use olive oil, avocado oil, sunflower seed oil, or even sweet almond oil, and fill it to the top.
Cap the jar and store it in a cool place for several weeks, shaking each day before you strain and use. Or, if you are looking to infuse your oil more quickly, set the jar in a pan or pot of water over low heat. Over the course of several hours, infuse the oil and then remove the pan from the heat. Once done, strain the calendula out of the jar, and keep the oil in a separate, clean jar. Now you are ready to make calendula salve.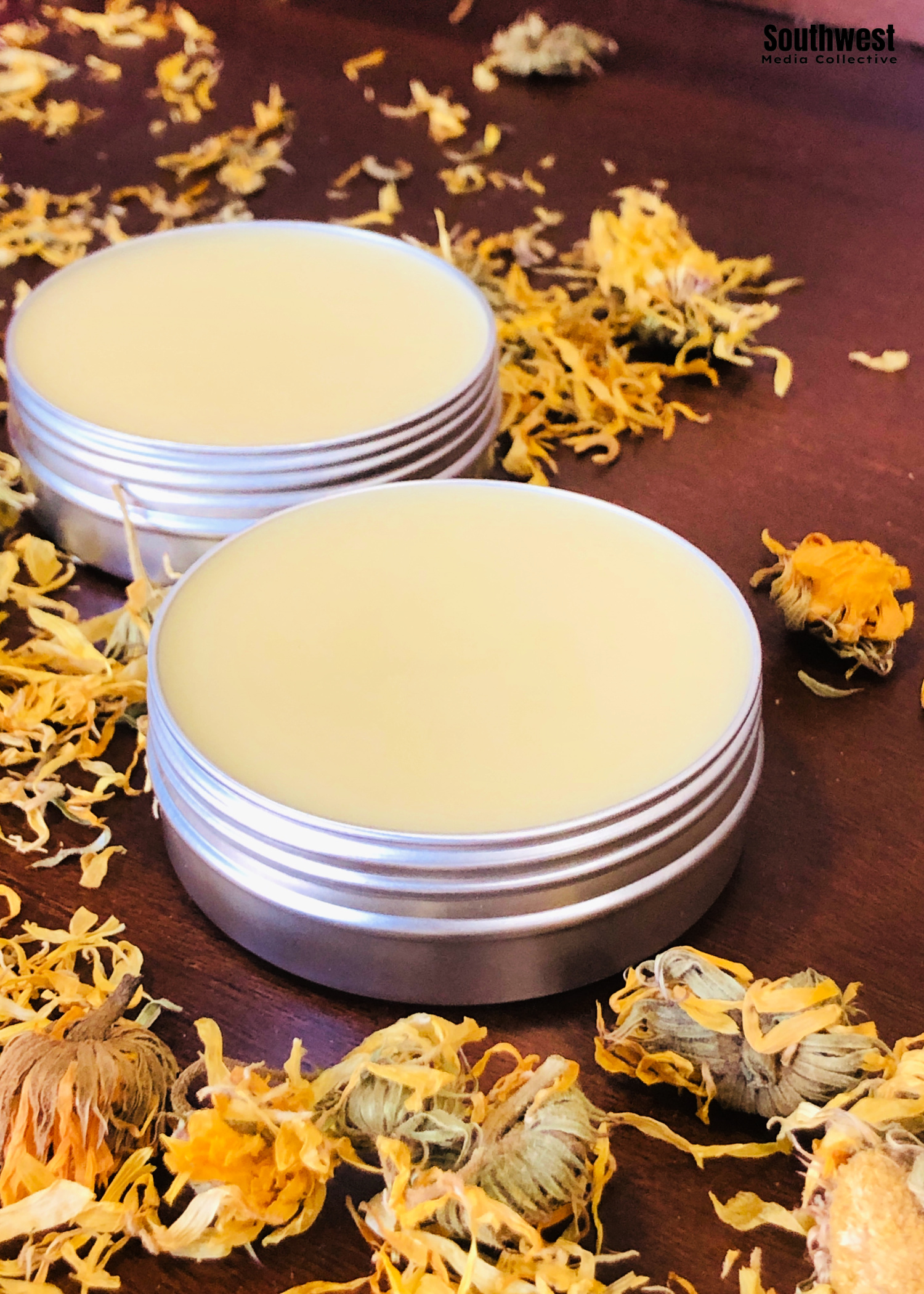 Step 2: Make Calendula Salve
To make the salve, you will need the following:
5 oz of strained calendula infused oil
1.25 oz of beeswax pellets
(3) 2 oz tins or jars with lids (you can find these at Hobby Lobby)
Add the calendula infused oil and beeswax to a heat safe pint canning jar. Cover and set into your pan of water – do not allow the water to get into the jar.
On low/medium heat, allow the mixture to come together – the beeswax will melt gently into the oil. Pour into your tins and allow to cool, undisturbed, until hardened. Then top with lid and optional label, if gifting.
If you would like to make labels, Avery 2″ kraft labels work beautifully on the 2 oz tins and can be designed and printed on your home computer.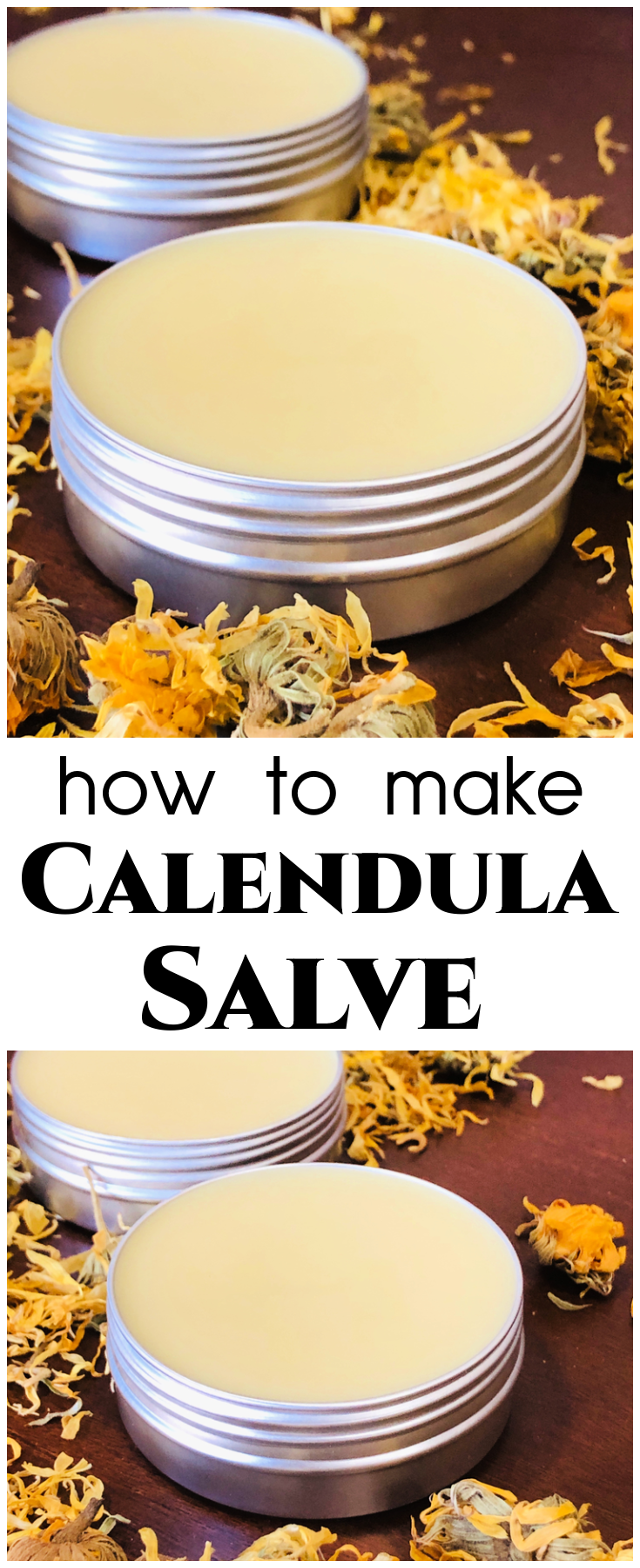 OTHER DIY'S YOU MIGHT LIKE:
Don't want to make your own salve?
That's ok too! You can find ready made Calendula Salve here in my Etsy shop – not to mention, each purchase of salve will score you a bonus Calendula Lip Balm!