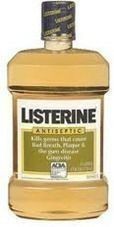 Early last year when I went on a splurge and bought a ton of Listerine for free at Walgreens, CVS & Target, I found myself with much more than what I could use.  I won't lie, I dislike Listerine. My hubby, on the other hand, loves the stuff. He'll even pay $7 a bottle for it.
So when he was gone at Army Training in Georgia, I had a plan to use it all – ha! And since I don't usually buy a ton of bleach, I figured I could use it to mop floors. I usually use Borax, but Borax is also something I use for killing pests outside (as once again, I wont pay for pest control).  Mixing Borax with water and spraying in corners around the outside of my house has found to be very helpful for that, and it saves me $30-$40 a month.
I resorted to Listerine to mop my floors in the bathroom & kitchen. Not only do they smell great, they get clean.  Simply add a capful of Listerine to a gallon of water and mop vinyl or tile floors. The same product that kills your bad breath and mouth germs also zaps the nasty gunk that you walk on in your house. 
Besides being a floor cleaner/mopping agent… you can also use it for other areas of your house:
Disinfectant – Kills Germs around the house, use in a spray bottle.
Toilet Cleaner – Use a capful in the toilet, let sit an hour, scrub using a toilet brush & flush.
Rid Mold & Mildew – Spray mold/mildew with Listerine; let sit, then scrub with a brush.
Use in a spray bottle to spray in your shower after you are done – it'll alleviate the build up that accumulates from soap & conditioners.
Personal Uses:
Splash under your arms as a deodorant – of course, the scent you choose will determine how you smell
Treat poison ivy, rashes, and bug bites by dabbling on Listerine
Use it in place of After Shave – it contains essential oils that will leave men smooth
Take care of a bad dandruff problem by spraying Listerine on the scalp, let it sit for 15 minutes and massage it in. It may take a few times, but it will alleviate your issues without expensive shampoo.
The best Listerine to use is the Original Antiseptic – even more, if you or your husband have very bad calloused feet, or suffer from fungal infections, soak your socks in Listerine and wear them all day in a pair of dry shoes (yese, your shoes will get wet but you can dry them out).  My hubs has bad feet from wearing boots for Army duty, so this is one remedy.
I'm all about using things I already have at home to conquer household tasks – I'm definitely not an gal who "loves" to clean, but it has to be done; and it sure is better when you mop & smell "Minty Fresh" in lieu of no scent at all.