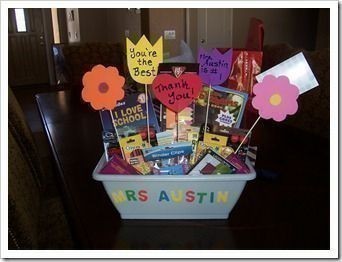 I got a wonderful email from a reader just a few days ago, who has already finished making her teacher appreciation baskets for the end of the school year. Wow….someone is a planner!  Seriously though, the end of the school year is fast approaching and many of you will help your kiddos make appreciation gifts to thank the teacher for a wonderful year. Some people will spend upwards of $20 or more on gift cards…….I personally won't!  I would rather do-it-myself and make a fun & practical gift.
You can get creative for a containment device: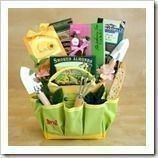 2-liter soda bottle, washed and rinsed
Basket – look in thrift stores
Popcorn bucket – from the Dollar Tree
A Garden Tote – see right! I see things like this on clearance at JoAnn Fabrics quite a lot
So what do you toss in? You know all those awesome samples you get in the mail? That would be a great start!
For the Men in your life
McCormick Grinders
BBQ Sauce
Marinade!
McCormick Grill Mates
Chapstick
Chocolate/Gum/Seeds
Gummies
FREE Lotion Samples / Trial Size Lotions
For the Ladies
Nivea lip care
Lotion & Body Wash – FREE trial size bottles
Small 2 oz candle (Glade) or Air Wick Candle
Glade candle tin
Revlon beauty tools
Sample sizes of St. Ives…Ponds cloths, etc.
Office items like clips and fun tidbits
Dove chocolates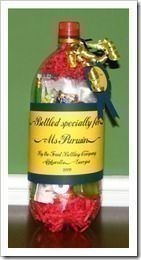 For the last few years, I have used 2-liter Coca Cola bottles to "house" my gifts. I just take the label off (carefully), cut a "U" in the side of the bottle under the label, and put some frilly fluffy paper in there as decoration .
Then stuff till my hearts content with all the  neat tidbits I can fit!  I then either put the original label back on, OR, make my own label and glue it around (after taping up the "U" shaped hole of course)!
Put some curly ribbon on the cap, and you are in business!
Thanks Danielle for the awesome pictures!