It's getting WARM outside here in Phoenix and with that, comes putting up your hair so it's more manageable. For some of us, that means cutting…
But if you are my daughter with hair to your butt, you refuse to cut. So we manage, as best as we can.
I wear a bun because it's EASY – and she does too, most days. It takes a mere 30 seconds to throw up – and it can be done with a Black Sock.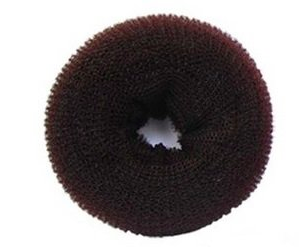 Dad's Black Socks. Lets not tell dad that we stole another black sock today – ;) You can buy these "Donut Buns" at the store, but there really isn't a need to when you can make your own.
Simply take an old black sock (we use our old (but clean) Military Socks since we wear GREEN socks now), and cut off the toe. Then roll it up like a DONUT. Then, grab the following:
Elastic Hair Tie or 2
Scrunchie (like we have above)
Put your hair in a low ponytail. Either right in the back of your head, or on the side, or whatever. You can even be creative and put it up high.
Put your Ponytail THROUGH the sock donut.
Then, spread your hair around the donut, so that the donut is covered by your hair all the way around. Use the elastic to put around the donut, securing your hair. You will have scraggles sticking out, it's Ok!
Take the "excess" hair, and form it around the donut, and then throw a scrunchy over it. You may need two. Tuck any loose ends under the scrunchy… and you're good to go!
Or.. you can try something different.. like we did today. We put our hair through the donut, then we made SMALL sections of hair, divided in two and twisted (like a braid, but with 2 pieces). At the end of each piece, we put it under the donut and pulled it carefully back through the top, twice (we have long hair!)
No Elastic was needed, we just finished by putting a scrunchie around the bun at the end.