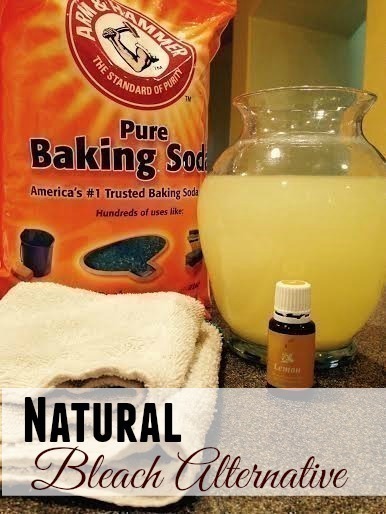 Do you have Hydrogen Peroxide at home? We have a TON of it. Over 2 years ago acquired quite a large amount at Walgreens when I needed a filler to use my register rewards. I knew I could use it, so another bottle wasn't a huge deal.
Two years and 20,000 bottles later (kidding.. but yes I have a lot) I'm still using all of it, and I have lots left.
Bleach is VERY effective on your whites – but not something that is always too safe to have at home. We will occasionally buy it, but very rarely – I really don't like keeping it in the house even if it's up high, my kids get into everything.
The BEST form of whitening your clothes is the sun – and quite honestly, since we are in Arizona, that works well for us. I would so much rather throw my whites outside to dry in the sun than throw bleach in the wash ~ my diapers go outside and the sun does wonders for them.
Thankfully…. al that Peroxide we have pairs up super with Lemon Juice and works to clean your clothes AND your counters – not to mention it's cheaper and a little safer than using liquid bleach and does just as good of a job.
We use Lemon Essential Oil in ours because it has whitening properties and does great in the wash.. it's not required but if you have it, then it's a great way to use it.
DIY Natural Bleach Alternative
6 Cups of Water
1/4 C. Lemon Juice
1 C. Hydrogen Peroxide
3/4 C. Baking Soda
15 Drops Lemon Essential Oil
I use a large glass jar to mix mine – and you can do the same. But you'll want to make sure you transfer it to a dark colored bottle (as it has Hydrogen Peroxide). I keep mine in the garage which is right next to the washer, and where I do clothes normally.
You'll want to use 1 Cup in the wash – depending on your machine you can load it where the detergent goes or throw in the bleach dispenser.
We make this 6 Cups at a time and that runs us just around 2 weeks – we wash 2-3 loads of whites a week (including sheets, and diapers). You can pick up Hydrogen Peroxide quite cheap at any store, usually $1 or even less.