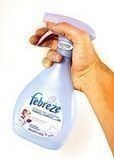 Why buy smell good scents for the house – when you can make them for a fraction of the price? I was reminded today that I have loads of smelly stuff in the bathroom closet – sitting there, because I don't like to use it in my house. I'm not sure why, but too much of a smell good thing causes me serious migraines.
I buy my Essential Oils from Botanic Choice – as do many of you.  They last me quite some time. I use them for everything really, and this is just one area that I can incorporate one of the 3 bottles I have left.
Do it Yourself: Homemade Fabric Refresher
1 c. distilled water
1/4 c white vinegar
1 Tbsp rubbing alcohol
1/2 Tbsp baking soda
(essential oil drops if you want it to smell like something) – I use lavender
Mix together. Put in spray bottle. Shake it up.  Use as you would regular refresher……..  works just as well, without paying real money for Febreze.