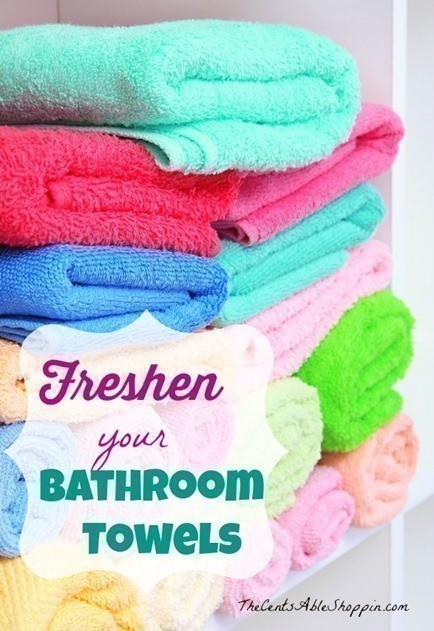 Have some Bathroom towels that are a little stinky? It doesn't take long for the smell to build up – and I'm sure I'm not the only one who has that problem.
Over time your towels accumulate detergent build up. AND if you use Fabric Softener, that softener actually absorbs into the towels & makes them less effective at absorbing water – which is their main purpose (right?) We actually try to avoid using softener here.. and if I do need to use anything I use Vinegar in the rinse cycle – it's cheaper and just as effective.
Because your towels build up grime, you need to recharge them every so often to help strip that build up and allow them to absorb water, AND thus rid themselves of the stinky smells.
Wash your towels in hot with 1/2 C. Vinegar
Do a second load on hot with 1/2 C. Baking Soda.
Because Fabric Softener is essentially a great way to make them LESS absorbent.. which is not what you want in a towel.
If you want to try to keep the towels fresh, try using 1/2 C. Vinegar in the rinse cycle in lieu of softener, and make sure you don't overload the washing machine when you wash to give the towels ample room to move around.