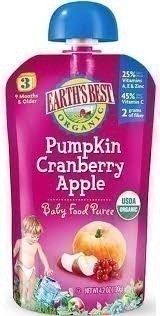 If you are a Mom's Meet Mom's Ambassadors member, check your email yet again today.
I got yet ANOTHER survey today to see if I qualify to participate in another panel – For Earth's Best Pouch Purees.
You must be a Mom's Ambassador to apply…. if you are not a Mom's Ambassador, take a trip on over HERE – once you apply to be an Ambassador you can apply for the review above.
Earth's Best Organic® 2nd Foods Baby Food Puree Pouches samples plus coupons to give to your group members and Earth's Best® Lavender 2-in-1 Wash, Chamomile Lotion, and Apple Pear Toothpaste just for your little one!
Sounds like fun :)  Hopefully you get selected; my kiddo goes crazy over these pouches, just yesterday he sat on the kitchen floor and sucked down two of them within a matter of 3 minutes.