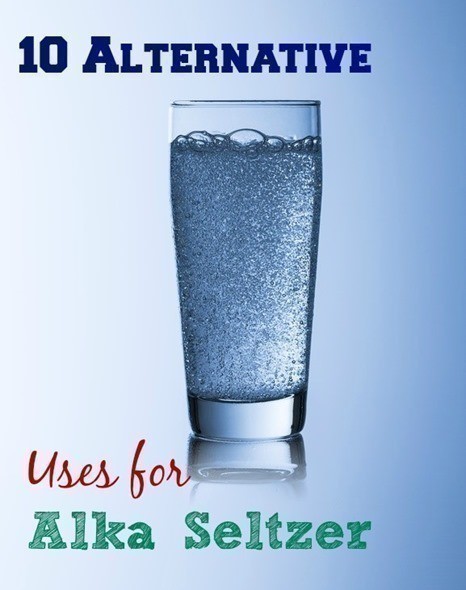 Have an over abundance of Alka Seltzer? Well here are ten alternative uses for alka seltzer. I found 6 boxes in the garage after we finished cleaning this past weekend. Just a few months ago it was a Gift Card offer at Target, I went crazy and bought a TON of boxes.
Here are some FUN ways to put it to use!
UNCLOG your Drain. Drop 4 Tablets down the drain, and follow with a Cup of White Vinegar. Let stand 8-10 minutes and flush with boiling water.
Clean your Toilet. Drop 1-2 Tablets in the Toilet. Watch it fizz, and then scrub with a bowl brush.
Keep Odors out of the Fridge. Drop a tablet in a cup of water and let it bubble up in the dish – let it sit in the fridge for 30 minutes.
Clean your Glass Dishes. Dissolve the tablets in hot water and let your dishes sit in that mixture for an hour, then scrub.
All Purpose Cleaner. 5 Tablets into a Half Gallon of Water work super to clean counters, tile & tubs.
In the Laundry. Soak your Whites in a Gallon of Water with 3 Tablets of Alka Seltzer.
Clean your Retainers. Dissolve a few tablets in water and let your retainer soak.
Clean your Lunch Containers. Drop 2 Tablets in each container and let sit 30 minutes – if you have Spaghetti Stained Containers then they should clean up super.
Clean your Coolers. Just like cleaning your containers it works super to clean your cooler, especially if it's been sitting for a while. Drop 3-4 tablets in the cooler and let them dissolve in a few inches of water. After 30 minutes you should be able to dump, rinse out and dry.
Take that SMELL out of those Baby Bottles. Drop 1-2 Tablets in water in your bottles and let sit 20-30 minutes to freshen them up and take the milk smell out.
Don't miss our last post on 15 Ways to Reuse Citrus Peels.