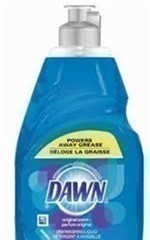 Many of you may have an overabundance of dish liquid … I have a small 3 bottles in the pantry – of the blue Dawn, and several of the Seventh Generation (which is my preferred).
I always try to keep at least 2-3 Dawn Dish Soap – I use it for the Shower Cleaner I posted HERE, and after our rain storm tonight, I'm fairly certain I'll need it next week again for weeds that pop up through the front yard of rocks. I just told Dave tonight when it was raining – as much as I love and want rain, I know that weeds follow closely afterwards.
I wanted to remind you that not only can you fight soap scum in your bathroom with Vinegar, you can also use it to kill those weeds in your front yard.
You can pickup Dawn in the 10 oz Bottle for $.69 at Safeway after doubles – every day price is $1.69;
Remember that Safeway doubles up to 3 like coupons per transaction. The large jug of Vinegar is $2.29 at Fry's – I just picked some up a few days ago for the shower cleaner.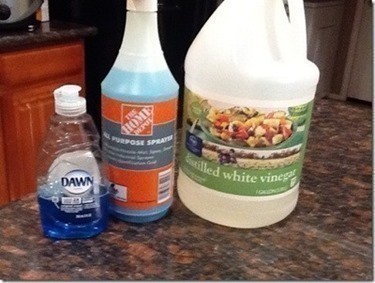 Homemade Weed Killer – using Dawn and Vinegar:
::: 1 Gal of White Vinegar + 1 C. Table Salt + 1 Tbsp of liquid Dawn Dish Soap
::: Mix in Watering Can…… Stir Well & Spray on the Weeds
You can also use the mixture without salt as well – works just as well. Or, if you have Pine Sol around your house, you can do this number:
::: Equal amounts of Dawn Dish Soap + Pine Sol = Mixed into a spray bottle.
The latter ( Pine Sol + Dawn ) actually serves a secondary purpose – it kills the weeds and any ant hills, fleas, & bugs that might be lurking in your yard – but as with anything commercial OR homemade – please make sure you keep your pets away.
As with anything homemade – I can't give you feedback on what you should do if you have grass, or, with Pets. We don't own Pets that hang out in our yard – and, while we do have Grass in the back yard, we primarily use our homemade weed solution only in the front yard – where we only have gravel and a few random desert plants.
Please see my disclosure policy.
Recently In This Category