How to save huge at Arizona Goodwill locations with this 20% discount + additional information on discount days that last all week long!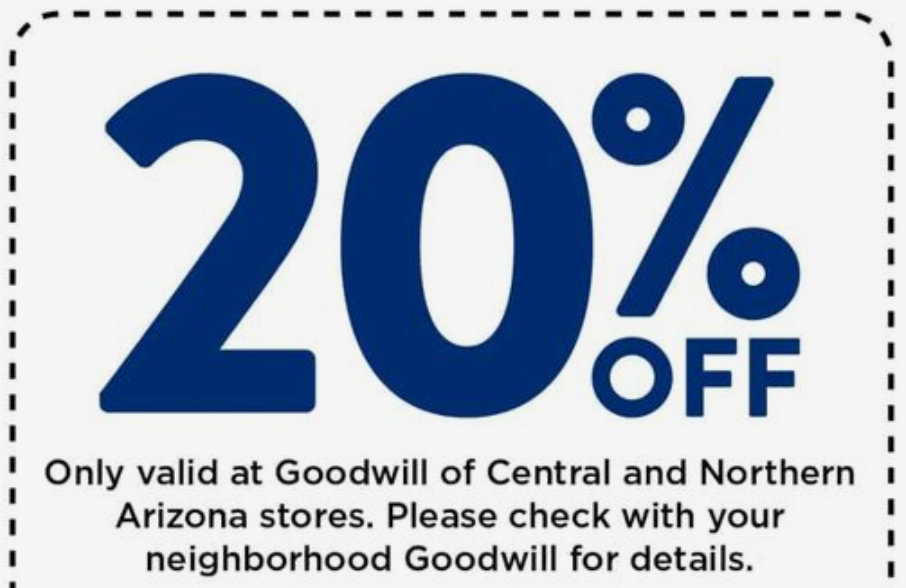 Arizona Goodwill 20% off Coupon 2023 + Discount Days
Goodwill is a wonderful place to find things for a low price – but even better when you can find those things at an additional discount!
Save 20% off at Goodwill with their monthly coupon.
Click the image above, or print the coupon here to show on your mobile device.
Facts about the coupon:
The 20% off coupon is valid only for central and northern Arizona stores (you cannot use the coupon at locations south of Phoenix, Tucson, or southern Arizona) – they have their own discounts.
You must spend $20 or more prior to applying the coupon
Coupon is not valid for food, drink, seasonal items (think Christmas, Easter), or new items. It is not valid at any of their redesign centers.
Does Goodwill have $1 Day?
Goodwill discontinued $1 day in 2023 – however, they do have select $2 colored tags every Thursday. In addition, if you don't make it to $2 colored tag day on Thursday, should you find that colored tag on Friday or Saturday, they will still give you the chance to buy that colored tag (should you find it!) on Friday and Saturday, too!
25% OFF Senior Day at Goodwill
Seniors age 55+ can save 25% at Goodwill on Tuesdays with valid ID. The offer applies to merchandise at locations in the central Arizona, Yuma and Flagstaff locations.
Student, Teacher, Military, Fire, and First Responder Discount at Goodwill
Teachers, Students, Military, and First Responders can score a 25% discount every Sunday at Goodwill. The offer is valid at central Arizona, Yuma and Flagstaff locations.
Students (of any age) with a valid ID can achieve the discount
ID is required
Goodwill Dollar Tag Day
$2 Dollar Tag Day is every Thursday at Goodwill where a designated colored tag is $2 storewide.
In addition, this tag will remain $2 Friday and Saturday, too – which is great if you can't get to Goodwill on a Thursday. This is only valid at central Phoenix, Yuma and Flagstaff locations.
Goodwill Gift Cards
Goodwill sells gift cards in-store only. They are valid for purchases in the area in which they were purchased – ie. if you purchase a gift card in central Arizona, it is valid for stores within central Arizona.
Goodwill locations in other regions have gift cards valid for their respective region.
Sales Tax
Goodwill is a non-profit, therefore, there is no sales tax on your purchase at Goodwill.
Goodwill Discount Days
Sunday
50% Select Colored Tag
25% OFF for Military, Student, First Responder Discount, Students can be any age, Valid ID is required
Monday
50% Select Colored Tag
Tuesday
50% Select Colored Tag
25% OFF for Seniors 55+, Valid ID is required
Wednesday
50% Select Colored Tag
Thursday
50% Select Colored Tag
$2 Tag Day
No additional discounts apply to discounted merchandise
Friday
50% Select Colored Tag
Saturday
50% Select Colored Tag
Follow the Goodwill Discount Calendar for additional discount days.