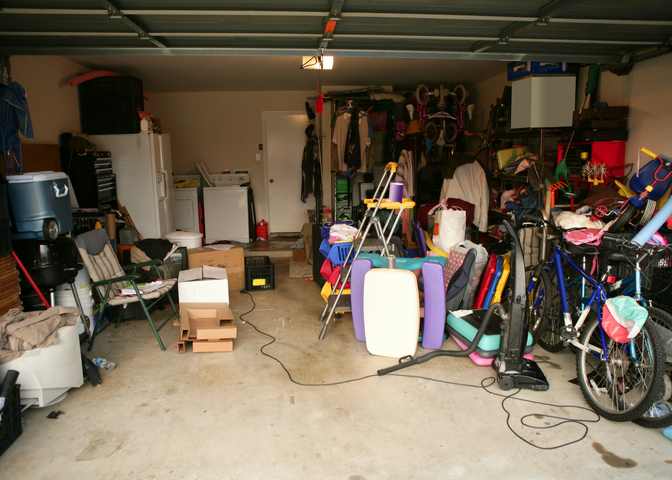 If you are reading this post, you probably either have a problem controlling clutter… or, you know someone who does.
Face it: we all have clutter somewhere in the house. For me, it happens to be our kitchen counter – papers, and mail, and more papers… keys, sippy cups, and lids for containers. Every day I'm clearing the counter but within hours it's back to state of clutter because I have a family that doesn't quite want to follow suit.
Who hates clutter, but does not have the energy to fix this problem? The truth is …household clutter can cost you some pretty big bucks. HUGE bucks. Ok.. well, maybe I'm exaggerating. I'm serious though – it can be a wallet waster. With 7 of us in our house, I'm always trying to make a valid attempt at getting rid of clutter but it almost seems overwhelming.
Every time my kids bring something home, I always try to get rid of an equal amount of stuff so that we aren't buried in more nonsense. But.. I'll admit – it's hard as ever! Earlier this year I took several bags of excess stuff to the nearest secondhand store in efforts to minimize, but it almost seems like keeping clutter away is, and should be, a full time job in itself.
Whether it's paper clutter or other household clutter, clutter can be a pretty costly venture in more ways than one.
#1. Losing your bills to the clutter
Do you just throw bills into a pile on the table and call it a day? I have some bad bad news: this clutter is costing you some serious moolah. Because you can't find your bills, you're most likely paying them late or not paying them at all. Find a good place to put your bills and get them paid on time. A little organization goes a long way, especially when it comes to your bills.
#2. Losing gift cards in the clutter
When you get a gift card and toss it into your clutter pile, what good are you doing yourself? Not using these gift cards are costing you money. The truth is, gift cards are hard to track anyways. When you lose the gift card in the clutter, you might as well say goodbye to them. It's also costing you time because then you have to call and double check the balance on the gift card, when you do find it.
Last fall, I nagged at my spouse to clean his home office to no avail ~ I finally got fed up with the office as it was and cleaned it myself. Just minutes in to the cleaning rampage, I found a $25 Lowe's Gift Card. His loss was my gain – and in the process, I was able to pick up several plants to up the curb appeal on my front yard.
#3. Losing important documents
Can't find your kid's birth certificate? Can't find your receipt for paying your rent? Sometimes not filing away those important documents can be costly. Get a few file folders and a folder to put them in. You'll be thankful the papers are where you want them when you need them. Nothing is worse than losing your important documents in the clutter.
#4. Rebuying items you already have
Not all clutter is paper. However, rebuying items that you can't find can be incredibly costly. Let's say your kid is about to play baseball and you can't find those baseball shoes. The truth is, those shoes are going to cost you. Why not keep track of those items to begin with?
Just grab an inexpensive tote and keep those extra pairs of shoes in them. This small step of clutter organization is going to save you a lot of time down the road.
#5. Paying for extra storage
It's crazy that people pay their mortgage with their stuff in it, but then the crazier part is that people pay for storage units to house their extra stuff. If you have a storage unit right now collecting your clutter, think about this for a moment: you're paying for extra clutter.
There are some situations in life in which you have no choice but to use a storage unit. However, if you haven't used the items in your unit for over a year, it's time to rethink your extra clutter and what you're paying to house it.
How bad does your head hurt right now? The reality of knowing your household clutter is costly is frustrating; thankfully you can make a wonderful effort at reducing your clutter with the help of everyone that resides with you.
I love keeping a huge, empty laundry basket in several places around the house (one in the bedroom and the other in the mud room) – as I clean the house each day, I throw random items in the basket that I uncover as I go from room to room. When the baskets are full, I dump them into a large, black trash bag and load up in our truck.
Reducing your clutter isn't an easy task – in some cases, it almost seems like it could be a full time job; one thing is certain though – if you don't make a valid attempt at keeping clutter out, the cost of that clutter can mount up over time.