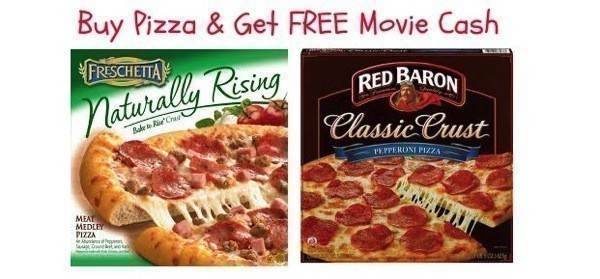 Here's a great deal you can pick up at Walmart. Julie let me know about this deal today by sending it to me on Twitter.. it's a super one!
We love having pizza on hand for late nights.. days I don't feel like cooking, or days that Dave just doesn't like "my" cooking :)
Pick up 3 Red Baron Multi-Serve Pizza OR, 2 Freschetta Multi-Serve Pizza at Walmart & score $10 in Movie Cash.  Here are the details:
::: Promotion requires purchase 7/28 – 9/30
::: Pick up 3 Red Baron Multi-Serve or 2 Freschetta Pizza at Walmart.
::: Recipe must show retailer name, time, date, receipt total and quantity.
::: Each receipt can be used only ONE time.
:: You can do up to (4) submissions per customer 
You will need to purchase the pizza, and then take a picture of your receipt via cell phone / camera, and send it to pizza@drvsusa.com – by 9/30. 
Upon validation, you will have the option to receive an up to $10 e-Movie Cash ticket or a credit to watch a movie at home via your local cable or satellite provider. Supplies are limited. eMovie Cash can be used at this list of retailers.
thanks, Julie!