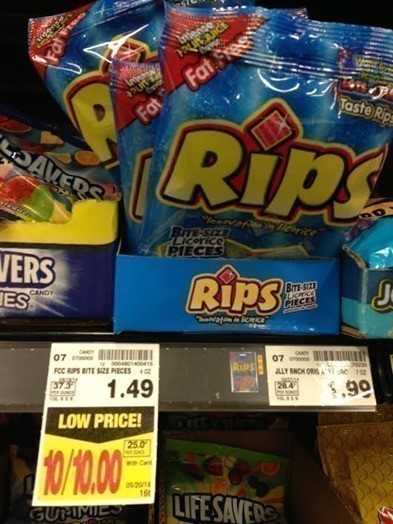 Starting Sunday … pick up Rips 4 oz candy FREE at Fry's with a coupon in the 4/27 Inserts:
Rips Candy, 4 oz $1.00 (through 5/20)
Use $0.50/1 Rips, 4 oz or Larger – 4-27-14 SS  (exp 07/31/14)
FREE after doubles
Should you need to order coupons or inserts, I recommend using We Clip U Save, or Coupons & Things By Dede.
If you are picking them up .. you can send to the troops at Bagram Air Base in Afghanistan – we send our candy there (all my Haribo & the Brach's from Easter are in a box ready to post on my kitchen table).
They serve over 50,000 troops per month in their USO Center and you can ship your box to them directly.
USO Bagram
Bagram Air Field
APO AE 09354
Visit the post office for a flat rate box – boxes run $13 – $17 at the post office. You can use this opportunity to send over additional items such as chapstick, popcorn, tuna pouches & more.