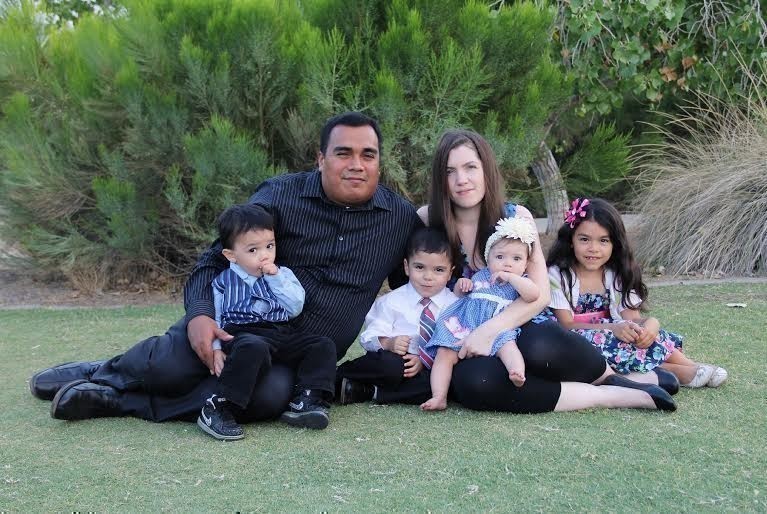 I'm Sheryl, the person behind The CentsAble Shoppin.
Thanks for visiting my site – if you found your way to this page, I'm humbled that you stayed long enough to read more about my family and I. With the sheer number of frugal blog sites available on the internet, it truly means a lot to me that you have landed here on mine.
I'm a mom of 4, wife to 1 and have one more baby on the way. I love saving money – and over the last 6 years we have managed to knock out ALL of our consumer debt (including over $100K in Student Loans for our Bachelor's and Master's Degrees). We cut back, lived under our means, paid for things in cash and ditched the "urge" to shop in order to save.
Saving money does not mean clipping coupons and slaving over your grocery budget either. We believe wholeheartedly what what you eat plays a huge part in your health – we love supporting our local farmers, very rarely if ever do we shop at the traditional grocery store. I love to cook from scratch and we make most if not all of our food that way – it's the best way to save. Eating better, healthy, organic and real food is not much more expensive – it requires you to make a shift in your mindset and some changes in your household but it CAN be done!
Some other random facts:
I love the Military. Not only did we serve, I spent 8 years working in the Army in the area of recruiting. I gave high school students valid career guidance that helped guide them after graduation.
I have been married for 15 years. We have FOUR kids – Wendy is 9, Rylan is 6, Easton is 4, and Eliora is 2. We have a 5th on the way – due in July, 2016. We love children and are excited to bring another into the world.
I am originally from a rural farm town in Minnesota. I have a love/hate relationship with cold weather and snow. I visit up there often.
I love Essential Oils! They are a huge part of our health, and continued wellness. We use them daily for everything from personal wellness to household cleaning, emotional support & more. See more of our Oily posts HERE.

Legal Information:
Read the Privacy Policy and Disclosure to find out how I use information on this site and how we use affiliate links within our posts.
Contact us:
To get in touch with us, please fill out the form HERE – you can also leave a comment on a deal that has already been posted and we will respond there as well. You can find me on Facebook, Twitter, Pinterest, Instagram and Google +.