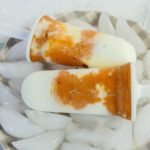 Print Recipe
Pumpkin Breakfast Pops
Refreshing Pumpkin Breakfast Pops that are super easy to throw together, healthy for the family and perfect for breakfast or snack time!
Place yogurt into a bowl and mix well with sugar. If using honey then same process in place of the sugar.

In another bowl add cinnamon and pumpkin and stir well.

In a popsicle mold layer in yogurt then pumpkin then more yogurt and more pumpkin.

Freeze overnight. Once frozen light run the pop under warm water to remove mold.