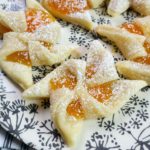 Print Recipe
Apricot Pinwheel Cookies
These Apricot Pinwheels come together with just four simple ingredients to make a beautiful cookie that is great for gifting to family and friends!
8

oz

cream cheese

1.5

C

butter

unsalted

3

C

all purpose flour

plus more for rolling cookies

1

C

apricot jam

powdered sugar for dusting
Mix cream cheese and softened unsalted butter in a stand mixer. Add in three cups of flour. Mix well. Wrap and place in the fridge for 1 hour.

Place a quarter of the dough on a dough board and roll out to a thin layer. Cut into 2 inch to 1 1/2 inch squares. Then using a pizza dough cutter slice the corners lengthwise into the center of the square. Do this on all four corners. Leaving some uncut in the middle where the jam will be placed.

Put a small amount of apriot jam into the center of the square. Fold in one end of each cut. Place one end into the center then skip the next then do the next one to the center and repeat. Us a little water to press all of them together in the center. This allows for them to stay well when baking.

Preheat oven to 350 degrees F. Place the cookies on a baking sheet lined with parchment paper. Bake for 13 to 15 minutes. Remove to cooling rack.

Dust with powdered sugar. Store in airtight container.