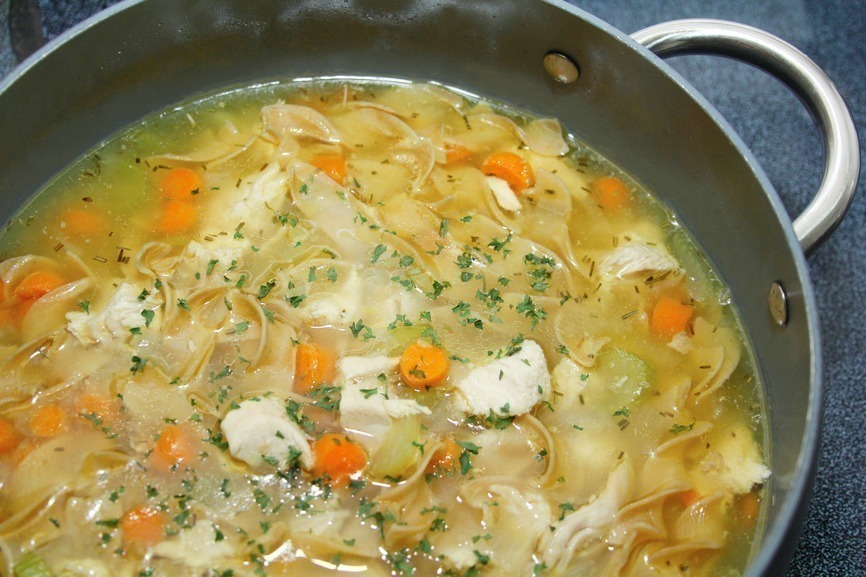 Just a few days ago I mentioned that Zaycon is coming back – with Chicken. Not just to Arizona but Nationwide.
Have you put in an order? I have ordered 4 cases in the last 6 months, and plan on getting another case this time around. We are not too big on beef in our house, but chicken is something that we always have to have in the fridge.
Not only can we use it for Posole, we can use it for Enchiladas, Tacos, Crock Pot recipes, and so much more. If I had to tell you how many days we make chicken each week…. I could honestly say close to 4-5. (Did I mention it also works great to help us drop some extra weight?)
One of my favorite ways to use Zaycon Chicken is making Chicken Noodle Soup. YUM! It's relatively easy to do, and always well loved … serve it up with a loaf of Garlic Bread and it's a meal that can be eaten and reheated for a few days.
Classic Chicken Noodle Soup
2015-04-21 02:39:39
Ingredients
1 pkg. Reames Homestyle Egg Noodles
4 Quarts Chicken Broth
2 C. Carrots, Chopped
1 C. Celery, Chopped Fine
2 C. Heavy Cream or Half & Half (I use Half & Half)
8 Tbsp. Butter
1/2 C Flour
1 lb. Boneless Skinless Chicken
Seasonings to taste: Bay Leaves, Pepper
Instructions
Cook your chicken beforehand, and roughly cut into rough pieces - we love to have large chunks of chicken in our soup instead of smaller bite-size pieces, so do as you wish.
Bring the Chicken Broth to Boil with Bay Leaf, add the noodles & simmer 20-25 minutes.
Add the Celery, and Carrots. Simmer 10 minutes.
Add the Butter to a skillet and melt - then add flour. Whisk together until a heave paste, 1-2 minutes.
Then add the cream to the butter & flour mixture, and whisk again thoroughly on LOW heat until well combined.
Pour the creamy flour, butter & half and half mixture into the broth/noodle mixture - stir well and bring back to a simmer. Stir well until thick - 4-5 minutes.
Add the chicken at this time and throw out the bay leaves.
Notes
Prep time was noted for one hour to allow you time to cook the chicken.
Adapted from Marzetti Kitchens
The CentsAble Shoppin https://www.thecentsableshoppin.com/
One tip… I love Land O Lakes Half & Half and that is what I always use for my Chicken Noodle. Thankfully… I wrote to them a few times over the last two years and they always send me a
multitude of FREE product coupons
, so I haven't ever paid for it.
Yet… ;)
To grab the deal, you order from Zaycon directly through their secure website, and then you pick up your order at a specific Zaycon Food Savings event – which is held at a specific location.
Do you love Zaycon? We do… and we partnered with Zaycon for this review opportunity. While they did provide us a case of chicken in exchange for our honest review, we absolutely think their chicken is delicious and would have to say it's one of MANY ways we save on Groceries without having to shop at the regular grocery store each week. All our opinions are our own.
Related Posts: