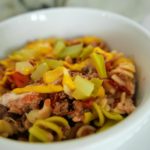 Print Recipe
Cheeseburger Casserole
This kid-friendly cheeseburger casserole comes together in less than 30 minutes with simple ingredients to make a nice twist on traditional cheeseburgers!
Preheat oven to 350℉. Spray a 9 x 13 inch baking dish with cooking spray. In a large pot, bring salted water to a boil. Add the rotini pasta, and cook until al dente, approximately 8 minutes. 

While the pasta is cooking, heat the olive oil in a large skillet over medium heat. Add the onions and cook approximately 5 minutes, or until soft and translucent. Stir in the garlic, and cook for 30 seconds. Add the ground beef and cook until browned. Season with salt and pepper. 

Add tomato paste, diced tomatoes, and dijon mustard to the skillet, and cook for 2 minutes, or until slightly thickened.

Pour the meat mixture into the well drained pasta, and mix well. Add ½ c cheese to the pasta and meat mixture, and stir well.

Spread mixture into the prepared baking dish. Top with the remaining cheese, and bake until the cheese is melted, about 15 minutes. Top with a drizzle of yellow mustard and the diced pickles before serving.