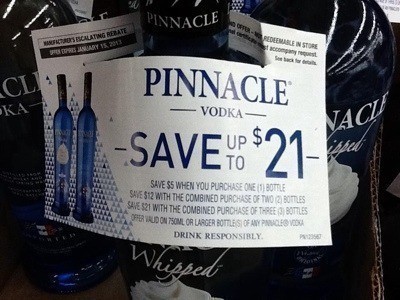 I found this in Walmart today – let me preface by saying that I am very clueless when it comes to liquor, and I did not look for this deal. It happened to be on a display on my way to the soap 🙂
Pinnacle Vodka 750 ml is $11.47 at Walmart. At the store I was at tonight (Mesa, East) – they had hangtags on every bottle on the display for Up to $21 back by rebate. Makes a great deal on Vodka – what better gift to give your in laws?!
You can score $5 back with purchase of (1), $12 back with purchase of (2) or, $21 back with purchase of (3).
The purchase must be made 10/15/12 to 01/15/2013 – all bottles MUST be purchased on the same receipt. You are required to send in the receipt, the hangtag with UPC info filled out – and the rebate is limited to certain states. I'll punch in those states when I get home, I have my hands full.
Deal Idea; Buy 3 at $11.47
= $34.41
Send in for Rebate of $21 | Earn $21
Final Price Paid $13.41 for THREE or $4.47 ea.
You might be able to do better if you can find the hangtag at Fry's or Safeway – if they run a sale on this very same one.