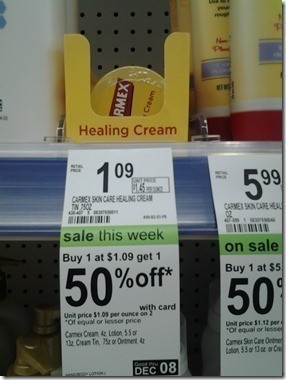 I ran into Wags this morning to get chocolate milk for my boys – grabbed this great deal.
Carmex Items, B1G1 50% off – Healing Cream Tin $1.09
Buy 2 at $1.09 B1G1 50% off
= $1.63
Use 2 – $1/1 Carmex Skin Care Product  (FB)
= 2 FREE
*They will adjust the second coupon down to $.63.
Great for gift baskets; I did not realize they were on sale, so I did not take coupons; but I did pick up 2 anyways for baskets I am making.
Make sure you take the Walgreens coupon policy that states they are able to adjust the coupon down should your cashier not be familiar with handling a coupon that exceeds the value of an item.